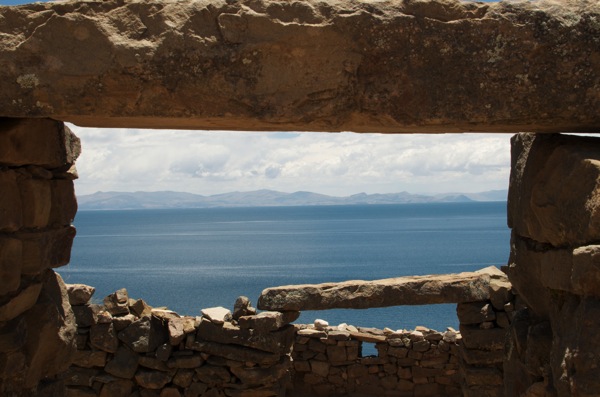 Having only a week and a half for Bolivia, I narrowed down the places I planned to visit: Isla del Sol and the Uyuni Salt Flats (the main reason I wanted to go to Bolivia!). Going from Cuzco to Puno, Peru and then crossing the border to Copacabana was a very frequented backpacker trail, so it was a pretty uneventful border crossing, and I managed to make it to Copacabana in time to take a ferry out to Isla del Sol. I met up with a few British girls and an Israeli guy, and we all stuck together for the day. 
Isla del Sol is a scenic little island surrounded by Lake Titicaca, with a cluster of hotels and restaurants. We all walked up the hill to find a hostel, with our packs and braving the altitude, and finally settled on a very basic little hostel with a lovely view of the lake. The next day, one of the Brits, the Israeli guy, and I hiked from the south part of the island to the north, which was a massive challenge for me, between altitude sickness (average altitude of 4,000 meters), bad knees and not having much stamina. Despite stopping to catch my breath every ten minutes, I managed to made it all the way north and back again, a total of 6-7 hours of hiking. The views and scattered ruins (pictured above) were lovely, completely worth the challenge, and that evening the British girl and I had a candlelit dinner in a restaurant with the nicest staff ever, and the best Quinoa soup I've had yet. All in all, it made for a nice stopover on the way to Uyuni.
After two nights on Isla del Sol, I hopped in a collective to La Paz and stayed a night, organizing my Salt Flats trip with the Tupiza Tours office nearby the next day. Later I got a bus to Tupiza, the town where the tour started from, a 14 hour ride away. That wasn't the best bus trip I've ever taken. I was pretty sure the bus was going to fall apart at the seams; the seats barely reclined, the brakes squeaked, and it stopped pretty much everywhere until around 9pm. I caught a few naps on the ride, which luckily wasn't through any steep mountain roads. I arrived in Tupiza at 6:30am the next day and didn't do much, though frankly I found it pretty dull anyway.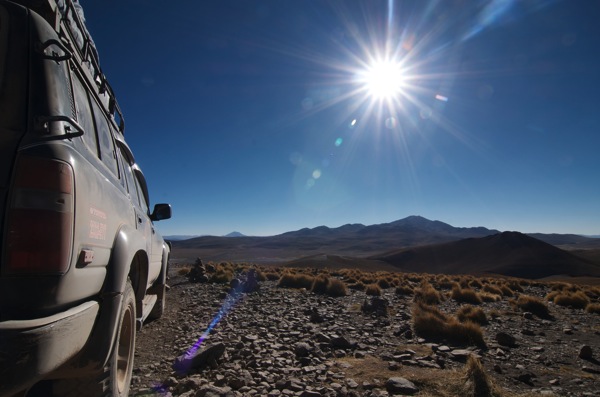 Finally, I met up with the tour group the next morning. I'd lucked out and got moved last minute to a group with an English speaking guide, and while the maximum group size is six, we only had four in our group, making the crammed 4×4 a lot less crammed. Also, it pays to be short sometimes.
Our tour was four days, three nights, starting in Tupiza and working our way around the National Park (Reserva Nacional de Fauna Andina Eduardo Avaroa) and up to Uyuni, where we ended in the salt flat.
I could sit here and write a paragraph about every single thing we saw over the four days, but honestly that's a bit much, so I'll just go through the highlights.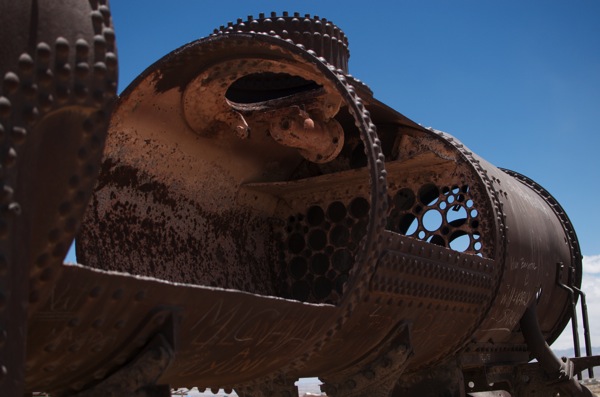 Ruins: Since I love ruins, I loved the two sites we saw. On day one we went through an abandoned mining village, which was completely falling apart, and had a formerly nice church.
On the fourth day we saw the "Cementerio del Trenes", which was an awesome collection of old, rusty trains sitting around, swarmed with tourists. They were 19th century British trains used to transport mined minerals to the coast for export. Really cool place, though I spent a lot of time waiting for tourists to get out of the frame. I could have spent hours just at that site; this kind of photography is even more up my alley than landscapes.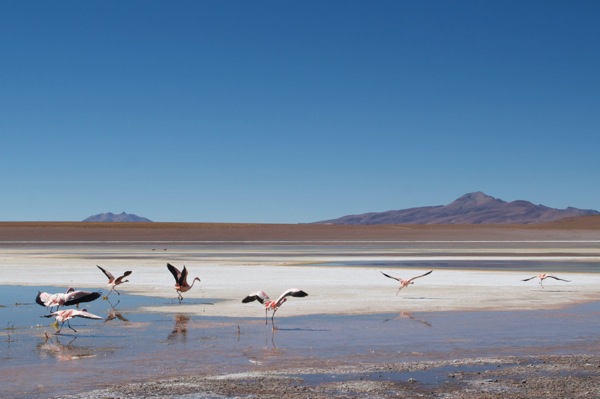 Lagunas: We stopped at an innumerable number of beautiful lakes throughout the four days, ranging in color from pure turquoise to crystal clear, to the amazing shades of white, pink and red at Laguna Colorada. The colors of the lagunas are due to various chemical reactions. Our guide was very knowledgable about what chemicals caused what colors, for instance that the flamingos are shades of pink because of the beta carotene in what they ate at the lagunas, and that the beautiful turquoise Laguna Verde is actually poisonous due to a high content of arsenic. No one ventured a sip, luckily.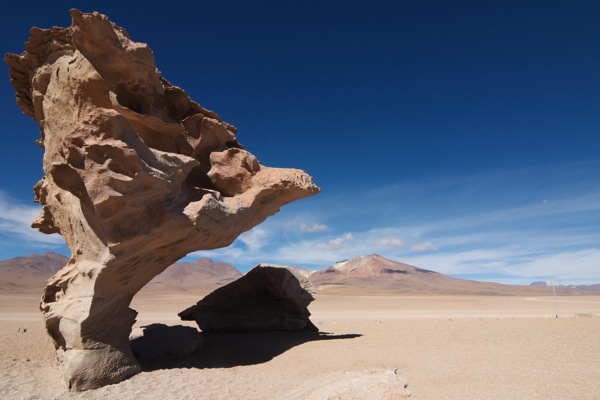 Minerals and Rocks: Pulling into a laguna that produced Sodium Bicarbonate (aka baking soda) was pretty incredible. Standing in this production area, though devoid of workers, we could see piles and piles of this substance in the most unexpected of places. Along the edges of many lagunas was a ring of salt as well, which of course wasn't surprising.
In another life, I could be a geologist; rocks and minerals are fascinating. The effects of volcanic eruptions from hundreds of years ago make for very cool photography, especially in a place like Arbol de Piedro (pictured, left). Another random spot was dotted with fallen rocks from an eruption thousands of years ago, and was nicknamed the Desert of Dali.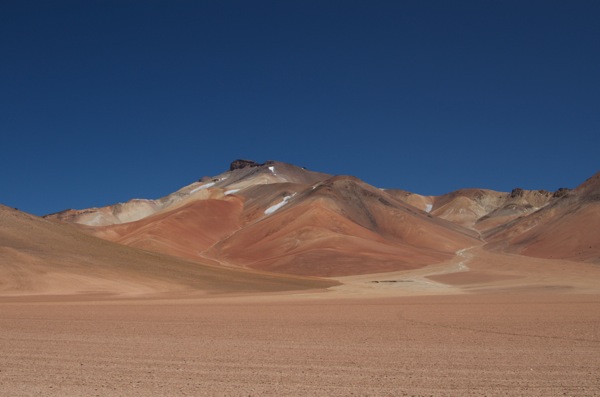 Landscapes: We drove through all kinds of landscapes, vast deserts, and of course the salt flats. The range of colors and shapes was incredible, from round hills dotted with sparse brush, to sand as far as the eye can see, to this beautiful mountain range on the left.
I love seeing places where the landscapes change drastically, and this area of Bolivia reminded me a bit of New Zealand in that respect. Photographically speaking, it was well worth the four days of sitting in a Jeep, and even the two days without a shower!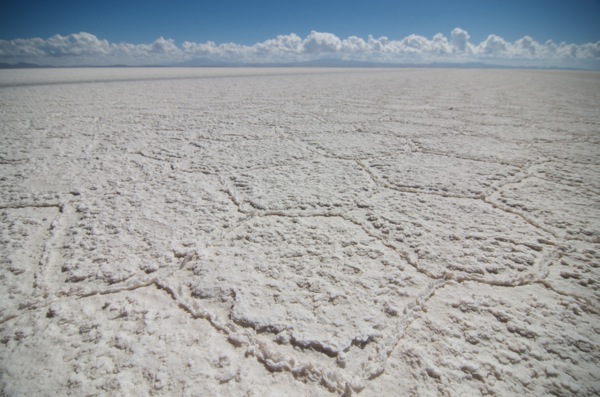 Salt: Of course, the main attraction of the area is Uyuni, the world's largest salt flat. Basically, this is over 10,000 square kilometers (or 4,000 square miles) of nothing but ground covered by salt a few meters deep. 
The area was originally at the bottom of a prehistoric saltwater lake. You can see dead coral structures at Incahuasi Island, a strange oasis of cacti, rocks and coral in the middle of the flat. Over time, tectonic plate movement pushed the ground up to its current altitude (just over 3,600m), and, now devoid of water, the salt remains.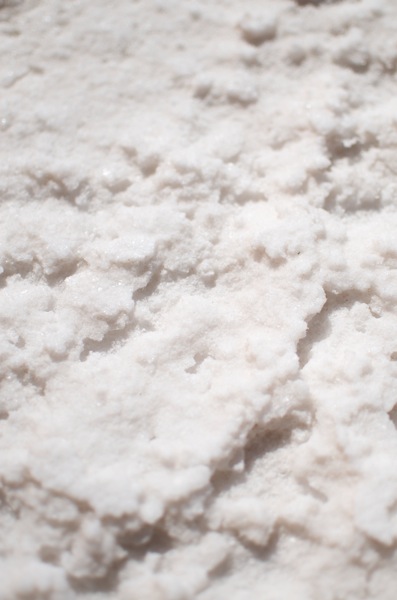 There's one small area in the flat where they cultivate salt for use solely in Bolivia, which I think is great considering how exports have raised prices on goods all over other South American countries. Our guide also told us how the government has been working to bring electricity and clean water to the more rural areas of the country, and raise the standard of living. It's encouraging to hear that from someone on the inside.
The Bolivian government also kicked out foreign companies trying to extract minerals (Salar de Uyuni has large amounts of Lithium), and to this day there's only one foreign company working in the area; many family-owned operations exist to mine other minerals like gold, sodium bicarbonate, and of course the salt.
They also removed a salt hotel in the middle of the flat which had posed pollution and waste problems. Further away there are still various hotels made with bricks of salt, one of which we stayed at. Pretty neat. Lick the walls if you want.
I was hoping to be there when it rained, because of the amazing reflections, but it didn't. It was still very interesting without the water, especially the pattern of the ground all throughout; amazingly consistent, and very photogenic of course. It was hard to go through all my pictures and pick only some to show.
Photographically speaking, I've been incredibly lucky throughout my travels; great weather for most of the time. I've been privileged to see some amazing things both over and under the water. I'm sad to leave South America, because as always I'm coming away with an even longer list of things to see. I didn't expect to like it as much as I have, and honestly it wasn't very high on my priority list to begin with. However, like with everything, just going somewhere is mind-opening.
From La Paz, I fly to Belize, where I'll hopefully do more scuba diving, and then travel to see ruins in Guatemala and Mexico's Yucatan Peninsula. The adventure continues…
---