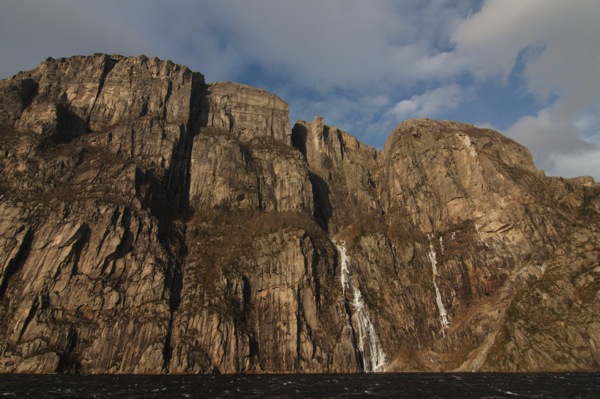 In Norway I had more relatives to visit: my stepmom's good friend moved there years ago, so I had an open invitation in Stavanger! I stayed with Karen and her husband for a few days and enjoyed her amazing cooking, lots of conversations about what my dad and stepmom were like when they were my age (haha), and other more or less funny topics ranging from American politics to WWII history and scuba diving. We went to the movies the first evening I got there, and saw the Secret Life of Walter Mitty, which ironically involved the character travelling to at least a few places I want to go. It was very appropriate.
Stavanger is a beautiful little town on the west coast of Norway, with some lovely old buildings in town, and impressive fjords nearby. In the first picture, if you look closely, you'll see a small rectangular ledge that juts out. It's just to the right of the vertical middle, in the sunlight. That small ledge is actually a huge tourist spot, called Preikestolen or Pulpit Rock in english. The view from up there is incredible, though in the middle of winter and with my fear of heights, I quite enjoyed seeing the fjord from the water below.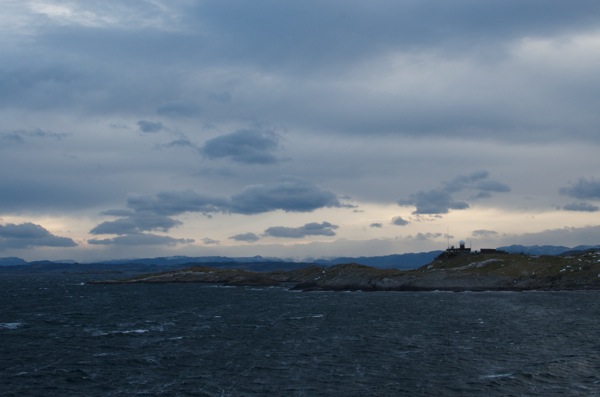 I took a scenic bus ride up the coast, winding through the edges of fjords and over the ocean (2nd picture) via a ferry or two. That's one of the nice things about countries with beautiful landscapes: it's completely fine to spend bus rides just staring out the window.
I wound up in Norway's second largest city, Bergen (which really isn't much of a city at less than 300,000 residents). It's a lovely town with a UNESCO World Heritage listed site called Bryggen (3rd picture). This small, cheerful section of buildings is pretty much the oldest part of Bergen, which has been (along with Stavanger) a major trading city for hundreds of years, dealing mostly in fish. Bryggen's old buildings are made of wood, and are visibly leaning, though they still house shops and restaurants. There's nothing like having your afternoon coffee in an old wooden building that's slightly off-kilter. Apparently there's a trading company that's been in business there for 300 years. Which is older than the USA. Just… think about that for a minute.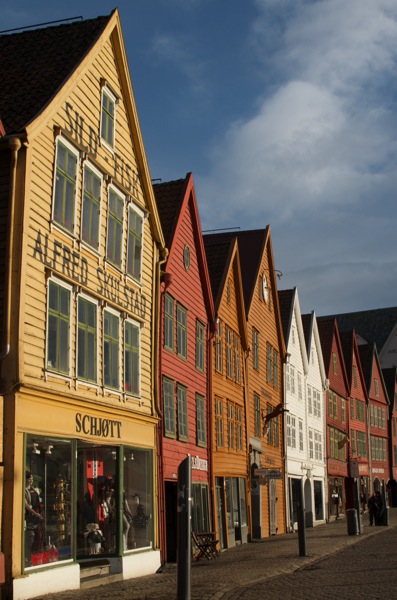 That's one of my favourite things about travel – being reminded how far back history really goes. My concept of 'old' is quite, well, older than it was before. After seeing so many natural wonders above and below the water, ancient and modern temples and ruins, iron age bog bodies and preserved communist leaders, viking ships and cannons from the 1700's, etc, the USA really is just a teenager in the world; maybe even a tween. I really appreciate Scandinavia's progressive values, civil rights, and general approach to everything, not to mention their quirks. Like fish salad in metal tubes (think toothpaste, but for your lunch), and the dichotomy of the relaxed national attitude versus the innovative heavy metal scene. I could definitely live in either Denmark or Norway, and want to visit Sweden at some point!
Anyway, after a nice couple days in Bergen, I hopped on a train inland toward Oslo. This train ride, known as the Bergen Railway, is considered one of the world's most beautiful train rides. And it was definitely beautiful, though there are pros and cons to traveling in winter. In this case, the pro was that it was much cheaper to do than normal. The con was that I only had sunlight for the first part of it.
Still, it was quite a treat to speed through the mountains, watching the tiny villages that were completely buried in snow glide past the window while sipping hot chocolate and listening to music. And still have the seat next to me empty, for plenty of extra sprawl space. The stations each announced the altitude, because apparently this is the world's highest altitude train ride. After Peru and Bolivia, though, anything under 3,000 meters isn't worth batting an eyelash at, and the high point here is only around 1,000 meters. Overall, the scenery was gorgeous, and now I want to come back in summer to do it in both seasons and compare. Any excuse to come back to this country will do, and add to the above all the scuba diving I didn't get a chance to do yet… I'll be back.
I honestly didn't do very much when I got to Oslo, because in Bergen I had started to get sick, and so I spent the first few days in Oslo getting acquainted with Karen's daughter's couch. Although we'd never met, Karen offered me Anne Brit's couch, which I gratefully accepted. After being a terrible, sick guest for the first few days, we finally got to get to know each other and spent a few days walking around the city, drinking good beer, eating good food, and laughing about our crazy parents. It was, yet again, like being home with friends and family. She's even a good cook like her mom. We walked around the Opera House (which was nice, but not like Sydney's) and the Astrup Fearnley Museum, which is a museum of incredible bizarre and entertaining modern art. I had the right company for it, though, which is what makes modern art museums a fun experience and not one where I stare at some strange piece and wonder what I'm doing there. Oslo is a nice city, but it doesn't have nearly the charm for me that Copenhagen did, though I would love to go back and visit more of the museums I didn't have the time for when I was sacked out on Anne Brit's couch.
On one of my last days in Norway, I took a short detour down to another small city called Fredrikstad, in order to visit someone I'd met back in Australia, from my dive course. Knut had been taking the same dive class, along with his son and daughter, and the two of us had a really nice dive together at the end of that trip. We kept in contact, and once I knew how close to Oslo he was, I got in touch. I took the train down and met up with him and his girlfriend, Christine. We drove around and they showed me the town and Fredrikstad Fortress. After a stop for coffee in the ambiance of a fortress cafe, Christine cooked a delicious vegetarian dinner for us in her very adorable purple apartment. Another great day with friends in Norway!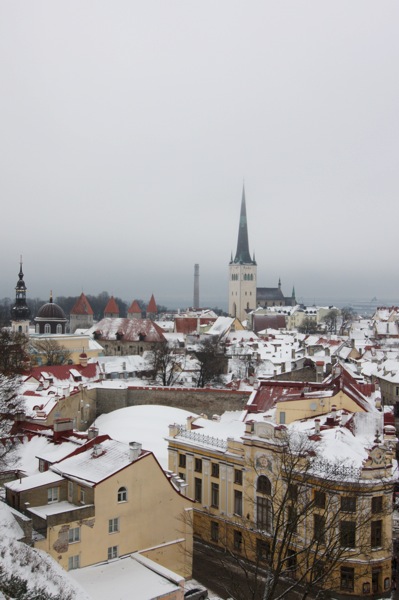 With the Olympics getting closer, I had a short amount of time left to get to Saint Petersburg before my flight down to Sochi. Despite the perceived time crunch, I still had time for one more stop: Tallinn, Estonia (pictured). This is a town I'd wanted to see for a while, after seeing in and reading up on it during the time I was saving money and would sit at UPenn's bookstore cafe with a stack of Lonely Planet guidebooks, researching for hours.
One day while researching the Baltics, I was texting my best friend, Laura. At that time, she was visiting a relative in Helsinki, Finland, and had actually taken a quick ferry ride across to Tallinn, where she was messaging me from. Just as I was reading about Estonia. Talk about good timing. Anyway, she recommended it highly, and everyone I talked to agreed that one or two days was fine to see the old city. Even though I try to stick to the 'enough time to immerse' theory, Tallinn was perfectly situated to work as a short stopover en route to Saint Petersburg overland.
So I found myself on a plane to Tallinn, and booked into a cozy hostel inside the old city walls. Luckily, everyone was right, and two full days was enough to wander all over the city, getting to know its cobblestone alleyways and squares very well, explore both sides of the walls, and climb to the highest spot for a nice view of the snow-capped rooftops. It's full of restaurants and pubs, souvenir shops of course, and beautiful churches and towers, and the nicest thing is that everything fits together. The old town is not a place where old and modern buildings stand next to each other (not that that's a bad thing), but where it probably looks nearly the same as it did years ago, and it's still completely functional. If anyone wants to take a vacation to a fairy tale land (ignoring the parked cars), than Tallinn is the place to be! Absolutely charming.
After this perfect stopover, I took a bus up to Saint Petersburg, where I went through the nerve-wracking experience of crossing the border into Russia. I normally don't worry during border crossings, but the fact that the Olympics was the core around which my entire trip outline thus far was built meant that this crossing was one I especially didn't want to have complications.
Luckily, everything went completely smoothly, and I breathed a huge sigh of relief after we continued on. My first introduction to Russia was the tall, straight trees in the snow, and the passing houses in vastly different styles. And then, there was Saint Petersburg… another entry in itself.
---