I never quite finished talking about Russia. Considering I spent three months there, that's not too surprising. Russia is huge, dynamic, diverse, and provides plenty of interesting topics of conversation!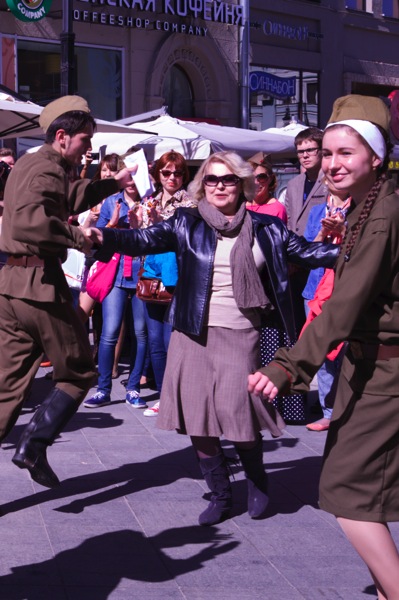 After a brief visit back to the states to see family and friends, I returned to Moscow and prepared to travel to Central Asia. While back in Moscow, I had the benefit of being there for Victory Day, which is perhaps the biggest holiday in Russia. On May 9th, it celebrates the success of the Soviet Army over Nazi Germany in World War II. Basically, Moscow turned into a big party, starting with a parade of tanks and trucks through the centre, then celebrations through every major neighbourhood. Girls and boys in Soviet style outfits pulled pedestrians over to dance to the music of the period, sidewalk cafes were packed, and decorations spread all over the place, with placards giving information about various cities and their struggles against the invading army. Volgograd, the Hero City, was mentioned often.
In the US we have Memorial Day, but our celebrations focus on simply having a day off of work, not uniting to celebrate military dominance or the contributions of our war dead. It's a very different vibe, and not always in a positive way. While for me it was strange for a celebration of a war to be so festive, after the staggering losses suffered by the Soviet Union, maybe it made sense at the time to focus on victory and how that unites the whole country.
Russia definitely has a lot of Soviet nostalgia, and even though there aren't as many statues of Lenin as there used to be, there are remnants all over the place. I walked around one day with a girl I'd met through Couchsurfing, and went through a sculpture park full of Soviet memories. In the outskirts of the city (and often its centre) are the characteristic big buildings from the era, and the hammer and sickle is prevalent in the metro stations. Who wants to tear down a reminder of a system that theoretically worked so well? So many people still have fond memories of life in the Soviet Union; it's just us, "here in the West" who thought it was nothing but horror and starvation, and expect that all Russians feel the same. Of course, there are plenty of people who take a more critical view, but as big as Russia is, there's room for different opinions. Either way, it was a very interesting time to be in Moscow.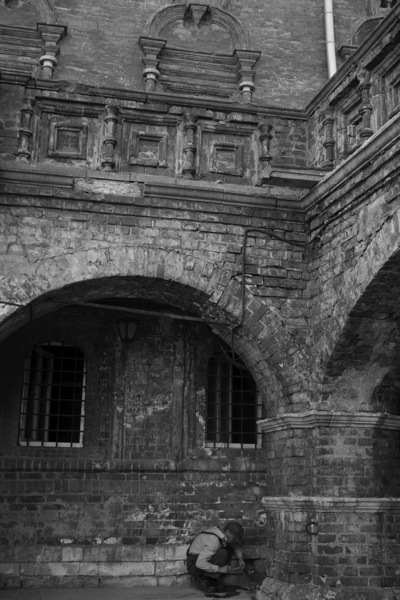 With all the extra time I spent in Moscow, I had the chance to see more of its quieter, lesser known attractions. I wound up Couchsurfing for a week with a really cool girl outside the city, so that week was spent just like a local: relaxing, socialising, and occasionally heading into the city to take care of my Uzbek visa application and see other sights.
One of these places was Vysokopetrovsky, an old Monastery near Pushkin Square. It's not shiny and restored like many other places in Moscow are, but has a really nice atmosphere and the authenticity of crumbling bricks and uneven sidewalks. After pretty much overdosing on the glitz and glam of Red Square and the hundreds of other Russian Orthodox churches all over the country, this was incredibly refreshing. I watched the same monk scuttle from one end to the other throughout the half hour or so I was there, with very few other tourists poking their heads through the gate.
Another stop I made was to Kolomenskoye, a large park to the south of the city with a collection of churches, and Siberian wood buildings that were relocated to this former royal estate during Soviet times. It's kind of an open-air museum with a number of lovely restored buildings from various time periods, but full of normal people walking, running and cycling along the river.
After finally picking up my Uzbek visa from the Consulate, I relaxed by the river with a celebratory kvas and enjoyed the absolutely perfect weather. This itself was a victory: the Uzbek visa being in my hands meant that I could finally book a ticket to Central Asia and begin this important part of my trip.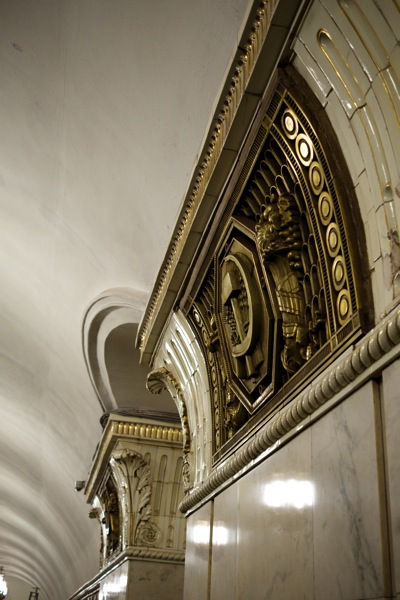 Museum Day and Night crept up, resulting in two great trips for me. One was the Soviet Cosmonaut Museum, which I went to with Anastasia, a Russian girl I'd met in Sochi and hung out with a number of times in Moscow. The museum itself was really cool, and made me wish even more that I was an astronaut. The rocket monument outside is classically Soviet, and made of the same materials as rockets. We laughed at the ridiculously Soviet statue inside, too, and got to see two famous dogs who went to space: Strelka and Belka, stuffed and looking quite creepy. Afterwards we walked through another massive park with huge, ugly buildings dedicated each to the Soviet States. Gloriously hideous.
The other museum was the recently opened Jewish Museum and Tolerance Center, a mammoth construction that's actually quite impressive. I met up with Maria, a friend of Anastasia's who I'd met in Sochi and again in Moscow, at 11 at night to get in for free and join a tour with her, her mother and friend. The visit started with a 4D presentation, complete with rocking, shaking chairs and bursts of mist that complement the 3D story of Jewish history. The presentation was in Russian, with English subtitles, and very succinct and interesting. The accuracy of the exhibits was very good, and it didn't seem to downplay any anti-Semitism in the USSR.
The rest of the museum is, well, huge and detailed, with interactive displays, a Holocaust memorial, library, and packed wall-to-wall with people that night. Apparently it's normally incredibly expensive to get into, so I was happy to deal with the crowds in return for free entrance.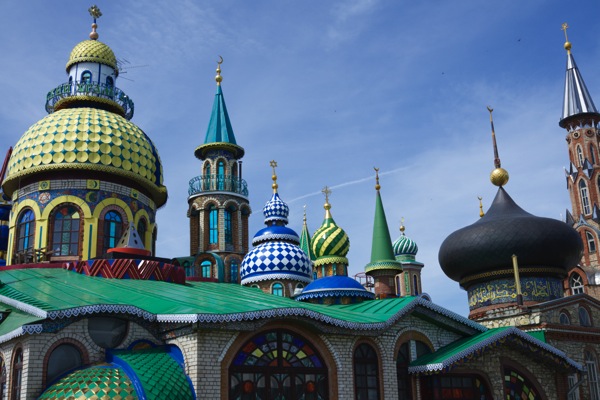 My last few weeks in Moscow were also spent in cafes, planning and plotting for Central Asia, but my last few days in Russia were actually spent in Kazan, a city in the south that's the centre of the Republic of Tatarstan. Another semi-autonomous republic of Russia, this area is home to ethnic Tatars, who are Muslim, and the city is known for being a place where Muslims and Christians coexist peacefully. Another refreshing change from Moscow's orthodox churches, this was also a nice segue into Central Asia's Islamic culture and history.
Kazan was a surprisingly modern, bright city, having been recently renovated in preparation for a number of upcoming sporting events, including the 2018 World Cup. The Kremlin is one of the nicest I've seen, and home to a new but huge and beautiful mosque. Across the river there's also a building in construction: the Temple of All Religions, a huge masterpiece with domes representing a number of different religions – see picture. Can you count all the religions? There's a Buddha statue in the front as well.
From Kazan, I flew back to Moscow, spent one long night in the airport, and flew into Dushanbe, Tajikistan the next day. My Russian chapter has been closed… for now. I don't think it'll be too long before I wind up back again!
---
---
---
---
---
---