One of the main reasons I went to Russia was my love of Russian literature. Anyone who knows me knows how much I adore anything by Leo Tolstoy, and of course other writers like Dostoevsky and Bulgakov. So, I wanted to dedicate an entire post to the literary sights I enjoyed the most in Russia. There are monuments to Russian authors and poets all over the place, particularly in Moscow I noticed, but the best spots are where they converted an author's old flat into a museum.
Pictures are all taken with my iPhone and not my DSLR.
Dostoevsky: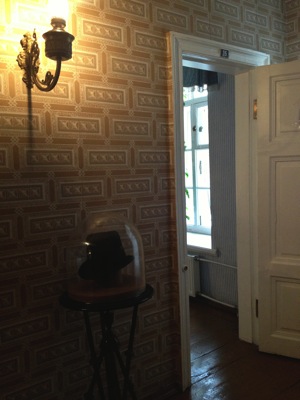 The first place in Russia I visited was Saint Petersburg, and visited the Dostoevsky House Museum there. The first part of it was a museum exhibit with a narrative of the author's life, and various objects to illustrate. Some where Dostoevsky's, but some may have been added as examples from the time period.
The flat itself was pretty small, starting with a hat of his covered with glass. I actually really enjoy seeing small things that (theoretically) belonged to authors – it's a little personal, and makes you feel like a giddy fan who got to sneak into your favourite star's house.
Each room had a stack of laminated cards with some information, and luckily one of those was in English. It described the life of the author and his family while he lived there. This is where he lived before he died, though before he had moved around quite a lot.
My favourite part of all of these museums is the writing desk, and the bookshelves next to it. To see where a great author penned their work is really something special, if only especially nerdy! I'm not sure what works he actually wrote here, but I'd like to believe the desk wasn't usually this neat and tidy…
Gogol:
I'd read Dead Souls a few years back, so in Moscow I checked out the Gogol Museum. Frankly, it was disappointing. The space was overwhelmed by some weird audiovisual installations that didn't really add anything to the experience, particularly for someone who doesn't understand a lot of Russian. 
There were some things from his life, though, and of course the writing desk was there, albeit not set up in a very natural way. There was also a statue outside, sporting Gogol's distinctive hairstyle.
Bulgakov: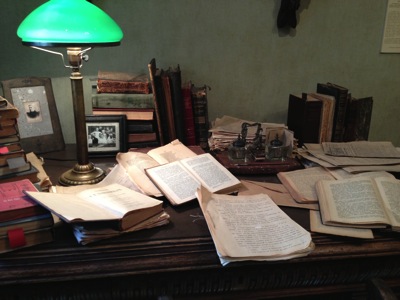 This was my second favourite of all the museums. There were actually a few parts. First, a museum in a different part of his building, with an exhibit about his life and work, which also sported a cafe and a theatre nearby. Russia loves Bulgakov, whose famous work, Master and Margarita, definitely demands a reread at some point. There are places all over Moscow that play tribute to his work.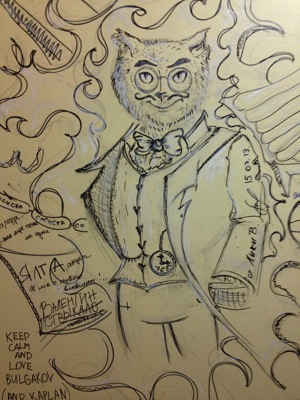 The staircase leading up to the flat is a museum in itself; there's drawings of all kinds with imagery from the book, particularly featuring the infamously snarky, vodka-drinking black cat, Behemoth! You just have to read the book. The main part of the museum is his flat, which also features installations, but ones that give the whole place a Master and Margarita vibe.
The flat itself was crowded with people visiting, which was nice to see. It was a great place to linger in for a while, and the installations and artwork really contributed to the experience. There was even a permanent resident in the flat… a black cat.
Tolstoy: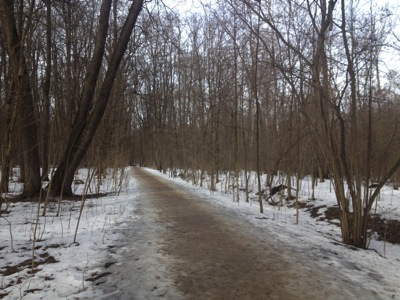 The ultimate experience for me was visiting Leo Tolstoy's estate and gravesite in Yasnaya Polyana, a village around 3-4 hours south of Moscow. I decided to stay two nights at the one hotel there, and also take a few classes in Russian, so it wound up being a longer trip, and, naturally, a pilgrimage. 
The estate sits on a wide section of land, with a few gardens and ponds built it. I went in March, so the pond was still mostly frozen and the ground muddy and brown, but it was still all I could have wanted. After a day of Russian lessons (my poor brain!), I went the next morning with my Russian teacher to the site when it first opened. She took me through the museum in one of the houses, explaining at length his biography and experiences (in English!), and it was really nice to only be two people in the whole museum. That is, until a tour of Russian kids came, but the employees simply closed the doors behind us and we managed to stay ahead.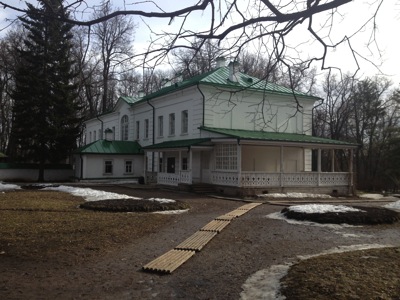 Next she took me through the main house, where he actually lived and worked with his family. There were two rooms that really meant a lot to me: the one where he wrote War & Peace, and the one where he wrote Anna Karenina. Something about being in that space was magical. The whole place had a simple, cozy feel to it, much like the simplistic ideals that Tolstoy was trying to follow towards the end of his life. He believed in being kind to his fellow people, generous and supportive of the peasants, and not coveting wealth. Though these ideals caused problems between him and his family members, they send a powerful message through much of his later work.
The last stop was the most important one… Tolstoy's grave. There was a story he and his brother shared when they were kids, about a magical green stick that held the secret of the universe and would bring peace to the world. Apparently it could be found buried at the edge of a ravine. A metaphor that remained with him for life, Tolstoy was in the end buried at the edge of the woods, overlooking a ravine, in a simple grave covered by earth and sticks. When I visited in March everything was brown with a little late snow still lingering, but the grave was laid with simple cut flowers.
The next morning I returned, this time on my own, and had a peaceful moment at Tolstoy's grave. I stood and pondered for some time, watching the way the sunlight came through the trees at intervals and lit up his grave, and listening to nothing but the rustling of the wind threading through the leafless branches.
---