In between the mountains of Tajikistan and the sights of Uzbekistan, I also got some time in Kyrgyzstan and Kazakhstan, two countries with similar cultural roots but very different experiences.
After the Pamir Highway trip through much of Tajikistan, I ended in Kyrgyzstan in the city of Osh. Osh itself wasn't particularly impressive, but I learned a bit about Kyrgyz culture and spent some time Couchsurfing and meeting other independent travellers who'd been in the region longer than I.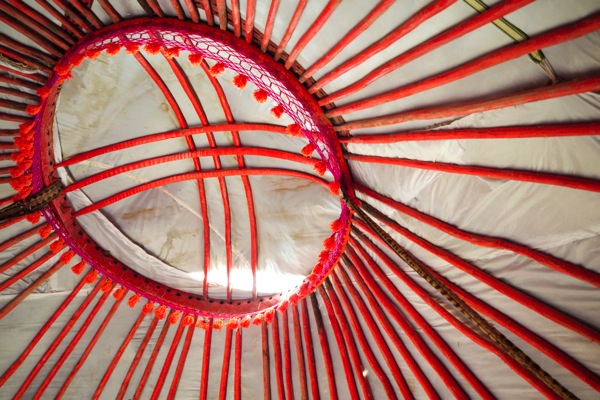 Since many tribes around the region are nomadic, you can see yurts all around the countryside outside the city. These are easily constructed (and deconstructed) round houses constructed of beams, covered with fabric and felt (the picture is of the signature roof, whose caps moves over to let the sun in). The people housed in them still live simply, and much of Kyrgyzstan's original culture is preserved through them.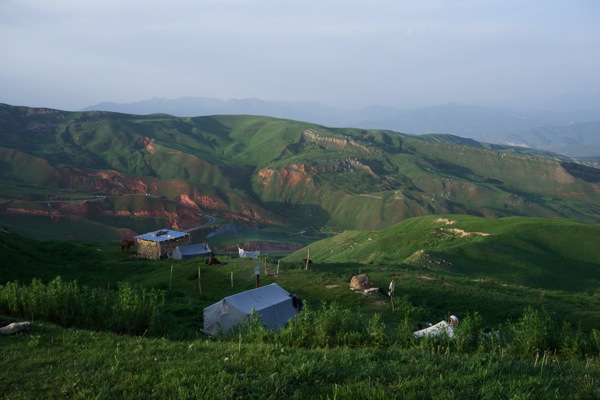 Through a program called Community Based Tourism, I got to go out and stay in a yurt for a few nights with a family living there. They spoke no English, but we were still able to communicate with my basic Russian. I went for a long horse ride with just a guide, riding over and through the rolling green hills, and stopping for a short lunch with a lovely view. We got back to the yurt just after it started raining, and then I settled down for a meal of fresh naan bread, fresh cream, fermented horse milk, cooked vegetables and kefir, all fresh from the land, and the cows and horses that aimlessly roam and graze on it.
At night the family sets up beds from thick mats, along with warm blankets and pillows as hard as rocks. During the day they are stacked up against the wall, leaving the whole area open for meals and games played by their two little girls. I spent most of my non-horse riding time reading and writing in my journal by the light from the yurt's door, and the clean breeze sweeping through, making it a seriously relaxing experience. That and a refreshingly nap without the pressure to get up and "do something". A group of travellers came through on the last stop of a multi-day trek through the area, so I had company for a bit, including another day of horse riding, which was hilarious as my horse was particularly uncooperative and didn't want to do anything but stop and eat, and roll in mud.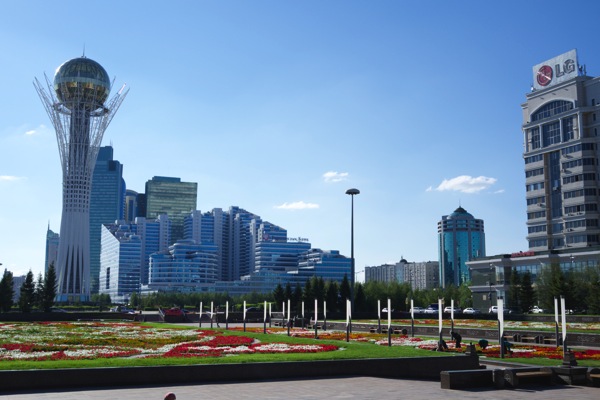 From Osh I entered Uzbekistan and from there went to and from Turkmenistan, afterwards going north from the Uzbek capital of Tashkent into Kazakhstan (pictured above). Kazakhstan was not originally on my itinerary, but the government had recently announced that 10 nationalities could go to Kazakhstan without needing a visa (better than the US$160 visa I'd needed before!), starting July 15th. I was able to enter on July 16th, though it meant at least 15 minutes of confusion and phone calls by the border officials who didn't know about the visa-free scheme. It was only possible to enter for 15 days on those conditions, so that's exactly how long I spent there.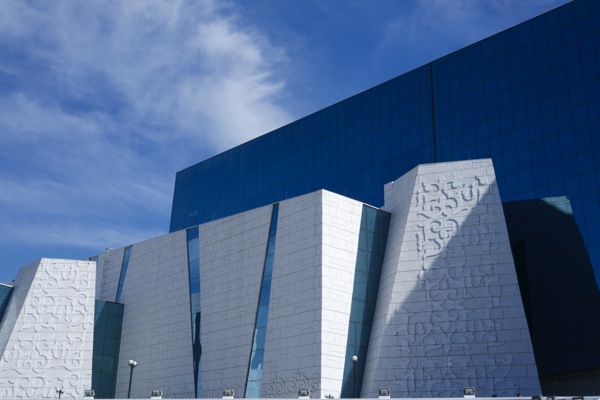 My first stop in Kazakhstan was the city of Shymkent, not too far from the Uzbek border, where I got to Couchsurf with an exuberant Quebecois who made my first days in Kazakhstan very enjoyable! She works with the tourism department of the region, and it was very interesting to hear about the plans to make the area more interesting and accessible for tourists. Unlike its neighbouring countries, the tourism industry in Kazakhstan isn't as developed, or at least as obvious. While Kyrgyzstan has its well-run and well-liked CBT (Community Based Tourism), Kazakhstan doesn't have such an obvious go-to. The gems of Kazakhstan are certainly in the countryside, and hopefully I'll one day get to go back and see more.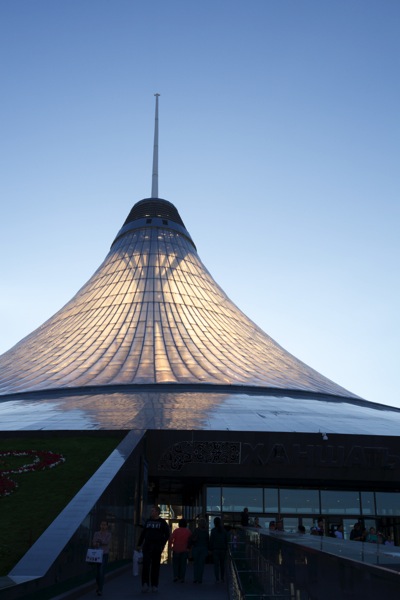 Kazakhstan is the most developed of the 'stans, sporting many new buildings all over and especially in its capital, Astana. Astana was named the capital less than 20 years ago, and has been the centre of a flurry of development ever since. While Astana gets compared often to Ashgabat in Turkmenistan, mentioned in a previous post, it's quite different — all the buildings are different styles, not all white marble, and people actually live, work, and go out in this city, a nice contrast to the creepy emptiness of Ashgabat.
I made it to Astana and got to see its array of new buildings, like the impressive new National Museum (pictured above), famous tent-like Khan Shatyr shopping mall, and the whole stretch between there and the Presidential Palace, which was chock full of new and impressive buildings, a proverbial paradise for a photographer who shoots architecture (aka me). There was also an aquarium that was noted as being the furthest away from the ocean, and had a whole presentation about how dangerous sharks are, which of course was factually incorrect 90% of the time. Luckily, I don't foresee Kazakhstan instituting a shark cull anytime soon.
From there I went to Almaty on the overnight train, my second in Kazakhstan. Kazakhstan, being the most Russian of the post-Soviet states, has Russia's stolid old trains, making for a very familiar experience. While the ride up from Shymkent to Astana was mediocre, the train from Astana to Almaty was probably the best quality in the region. It was a newer train, air-conditioned, and the people were also particularly nice and not that noisy or drunk. Pleasant experience all around. They even provided a packet each of free coffee and tea.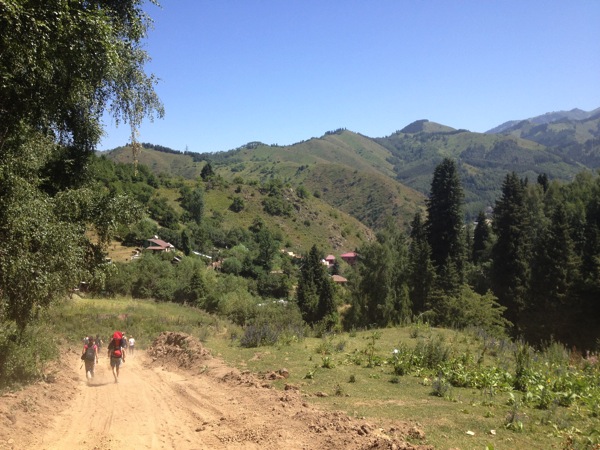 Almaty is the old capital, which is still the de facto capital. It's more populated than Astana and home to more businesses and foreign embassies and consulates. I Couchsurfed with an absolutely lovely Kazakh girl and her boyfriend, and got to go on a day hike in the Tian Shan mountains, which are just south of the city. My knees were still pretty terrible and unreliable at this point, something which I don't seem to have much control of, but I pushed through and managed to survive the long hike. The views were beautiful and it was nice to be away from the city, but I was particularly happy to have a comfortable couch to crash on once we got home!
Being in Kazakhstan was so much like being back in Russia. It was quite strange, actually. So many signs and things in Russian, old Soviet monuments and buildings, so many Russian products, so many people speaking Russian. In fact it seems that more Kazakhs speak Russian as a first language than they do Kazakh. Definitely a holdover from the Soviet era, which of course has its complex mix of curses and blessings. In the National Museum in Astana, there's a sculpture with a quote by the president, Nazarbyev, saying that the future of Kazakhstan will depend on its ability to communicate in three languages: Kazakh, Russian and English. I can't say I disagree. Central Asia is caught, geographically and political, between many powerful regions — China, Russia, and Europe in particular, with its politics most closely aligned with Russia's.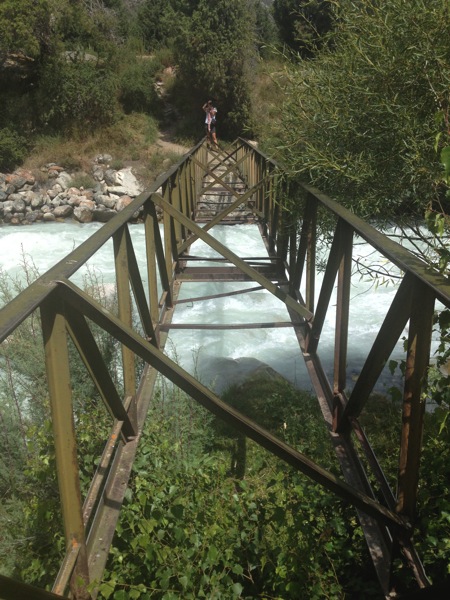 After Almaty I took a marshrutka (Russian minibus) to Bishkek, the capital of Kyrgyzstan, on the other side of the Tian Shan. This city was very much like Almaty, but a bigger hub for tourists, travellers, and expats. It's a very popular place to stay and teach English, which I considered doing. A twist of fate, however, had me book a plane ticket to Istanbul, so I only stayed a week and change in Bishkek. While there, I got to meet up with a number of backpackers I'd met before, all over the 'stans. This included a few guys I'd met and travelled with in Uzbekistan. So we all had a few nights out with shitty beer but great company, and even a few sub-par pizzas. Luckily, Turkish food is prevalent in the region, and even some decent Korean food thanks to the history of Koreans being relocated to Kazakhstan and other 'stans by the Soviet Union.
In Bishkek I went on yet another day hike with my bad knees, where the altitude also took a toll on me. Compared to that whole week of hikes, walking in a flat city for 8 hours is nothing! This walk also included the most ludicrous "bridge" I've ever seen (see picture). Luckily I'm good at climbing, even with my bad knees and fear of heights, so neither I nor any of my companions wiped out crossing it.
I also lucked out and met up with Eugenette, the girl from Quebec I'd Couchsurfed with in Shymkent, Kaz., and we stayed at the same hostel for a few days and shared great conversations, walks around, and I was treated once again to her great cooking. We also stopped at the ultimate expat hangout, Sierra Coffee, where all the English teachers have meetings, and the Kyrgyz cool kids stop by for lattes and frappes. I went there so much that half the staff knew my name, and I theirs. I could've settled in that city for a bit and taught English, but fate gave me an opportunity in Turkey that made too much sense to refuse, and so I finally left Central Asia for Turkey, and got back on the more beaten track…
---
---
---
---
---