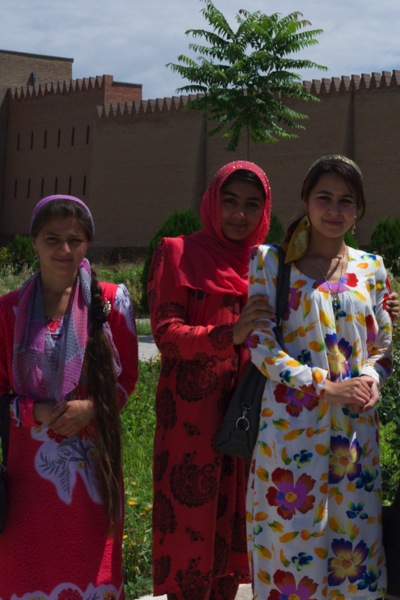 I was ready for a change. Getting to Tajikistan was a nice change of pace after practically living in Moscow for 3 weeks, and having spent 3 months in Russia. Different atmosphere, different culture. Much less developed, but with friendly people and beautiful scenery. It's the land of naan bread and cucumber & tomato salad, headscarves, traditional culture, and the famous Pamir Highway, a route carved out through dramatic mountains leading from Tajikistan to neighbouring Kyrgyzstan.
I spent five days in Dushanbe, a comparatively underdeveloped but nice capital with just one real hostel that was recently established. There, all the travellers gathered in the common room and swapped stories and tips, which I appreciated, having just arrived.
There's a strong "trail" in the region, meaning that people you meet in one city you're likely to meet in another. There are comparatively few travellers in the region, but also few backpacker-style hostels, so everyone winds up at the same places. I often walked around the city with other travellers, ate food, including a vegetarian national dish called Qurutob, and learned more about the local culture.
Since Tajikistan, and all the other "stans" are Muslim countries, you see a wide variety of headscarves, and the traditional Tajik dress of the women, which consists of a colourful patterned gown worn over (usually) matching trousers (pictured). Almost all the women had long, long hair, since apparently it's bad luck for a women to cut her hair. One of my best friends is known for her really long hair, but she'd be just another girl in Tajikistan!
Unlike those of the rest of the 'stans, the Tajik language is actually related to Farsi. The other languages in the region are Turkic. In Dushanbe I met a number of people who were studying Farsi there because the Iranian visa is so difficult to get. Tajik culture also shares similarities to neighbouring Afghanistan, and to Iran.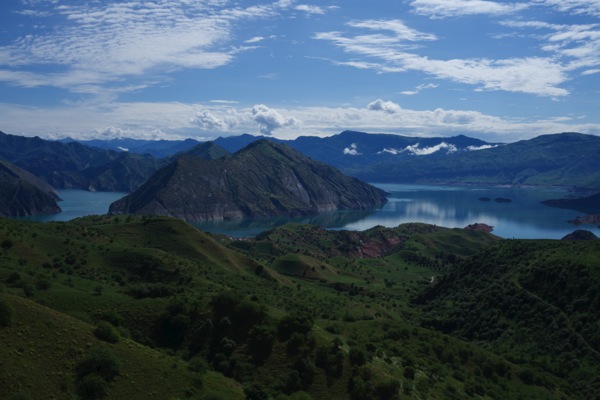 The most-travelled section of the Pamir Highway, by backpackers anyway, leads from Dushanbe, Tajikistan's capital, to the southern Kyrgyz city of Osh, mostly following the M41. The scenery changes along the way, from green hills (pictured) to dramatically steep cliffs surrounding the river that runs along the Tajik/Afghan border, vast, flat desert, and multicoloured mountains nearing the Kyrgyz border. My tour took the slow route, with many stops and an overnight at beautiful Karakol lake. The first day was the green hills, ending with a home stay/guesthouse with delicious food. My two travel companions were a Russian women who loved mountains, and a Spanish guy living and working in Belgium. None of us knew each other beforehand, we just connected through the internet to share the cost of the tour. We got along fine, though we did have some very opinionated political debates. Luckily we had a very comfortable Land Cruiser for the tour, and since there were only three of us there was plenty of space to spread out.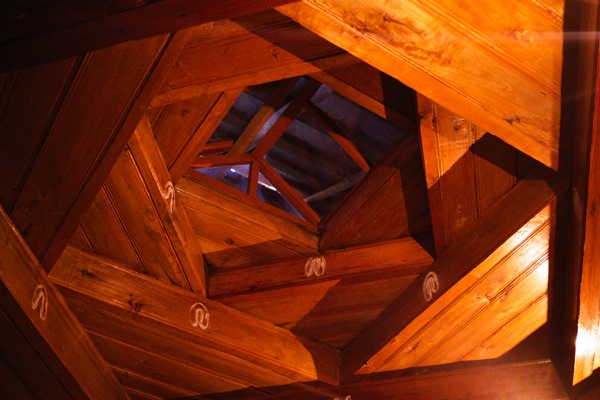 Most of the homestays we slept in were traditional Pamiri houses, the design of which incorporates Islamic and Zoroastrian elements. A skylight (pictured) represents all the natural elements, with fire being the highest, touched by the sun. There are 5 pillars in the room itself that represent the five members of Ali's family in Islam. Knowing what the architecture represents makes sleeping under the skylight a very interesting experience. The Pamir people are mostly Ismaili, a very relaxed branch of Islam, but before that there was Zoroastrian, still a very important part of the culture.
The homestays were family-run, and by family-run I mean by the entire family. Many generations, children running around, and some of the friendliest, most welcoming people in the world. Since we were on a tour, our guide did all the translation necessary, and took us for walks around some of the villages. Often we were followed by curious children, which was more annoying to me than cute, though luckily the children at the homestays were used to foreigners and were much less impressed by our foreign-ness.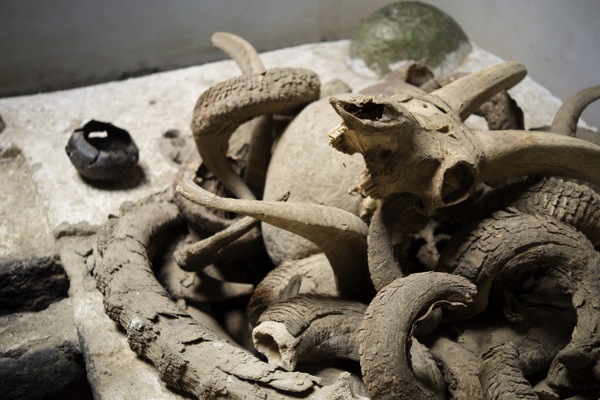 Other sites along the Pamir Highway were Zoroastrian shrines, characterised by the presence of Ibex horns and other important symbols of purity. I wish I'd had more time to learn about Zoroastrianism and see more of the shrines. These predate Islam, conjuring images of sacred fire rituals, and make for great photography! We also got to stop at the museum of Mubarak Kadam Wakhani, who was a Sufi / Ismaili mystic, and whose house museum was a great exhibit of Pamiri culture, with traditional house elements, textiles and households objects. He was also an astronomer, and outside the museum is a stone solar calendar.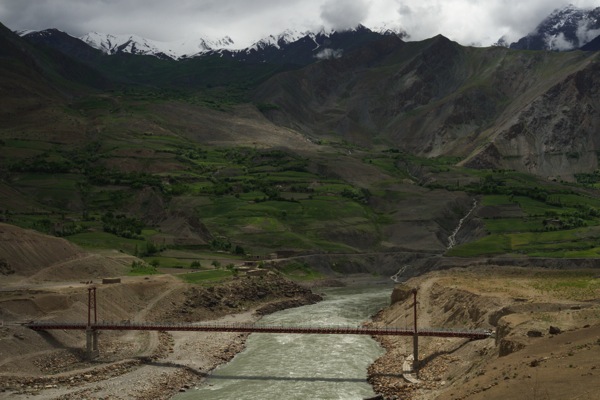 For part of the Pamir Highway, we followed the river that divides Tajikistan and Afghanistan's Wakhan Valley. The above picture is of a bridge that connects Tajikistan and Afghanistan. This river, at some parts only a few metres wide, is an arbitrary border that cut in half the Pamiri people, so the Afghans on the other side are not the same culturally as their compatriots from Kabul or other parts of Afghanistan. What you can see is the difference in development on either side of the river: power lines, running water and mostly paved (if not in great condition) roads on the Tajik side, and almost nothing on the Afghan but mud huts and gravel/dirt roads. Power mostly comes from portable batteries and generators.
On the Tajik side the infrastructure isn't that great. Sometimes that means that there's only electricity in the evening from a generator or solar panels, and that you wouldn't want to drink the water, but if you're coming from the Afghan side, being in Tajikistan is like 5-star luxury. Squat toilets are common, but if you've been travelling long enough you just get used to them and are quite happy to see a sit-down toilet whenever you get back to the city.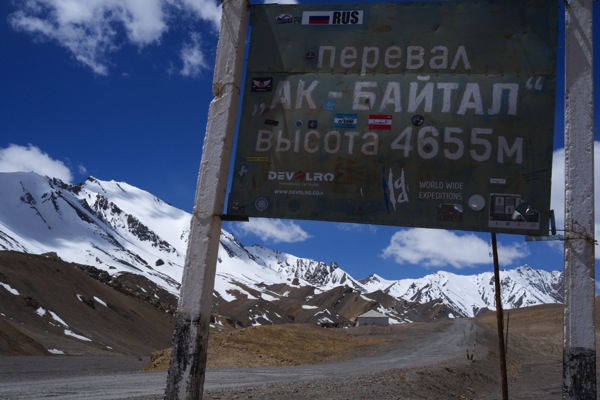 Gradually the population changed. As we got closer to the Kyrgyz border, we stayed in places where the population was mostly ethnically Kyrgyz, to the point where our guide said that if they needed to visit a doctor, they'd cross the border into Kyrgyzstan rather than go to the capital of Tajikistan… because they don't even speak Tajik in these towns. The borders in Central Asia are some of the most messed-up you can find, almost arbitrarily drawn to divide cultures and keep people fighting each other inside of uniting. There are a number of enclaves around, e.g. a small Uzbek enclave inside neighbouring Kyrgyzstan. Go look at a map and you'll see what I mean.
Murghab, a dusty town over halfway through our trip, was almost entirely Kyrgyz, and was also where the majority of the Pamir tour guides were from. When we were there, our guide was stopped and greeted by many of the people on the street, and while we stayed in our homestay he was visiting his family. Unfortunately, my companions at this point were sick from the day before, and then our poor guide got sick as well that night. That day, and the next, were lazy and uneventful because of that.
After Murghab, we crossed over the highest mountain pass, at 4655 metres (pictured above), which is high, but not the highest I've been (that's somewhere around 6,000 metres in Bolivia). Above 3,000 metres is when I get sick from the altitude, and that was about 3-4 days into the trip. After I finally acclimatised, being at around 4,000 at Karakol was the same as 3,000.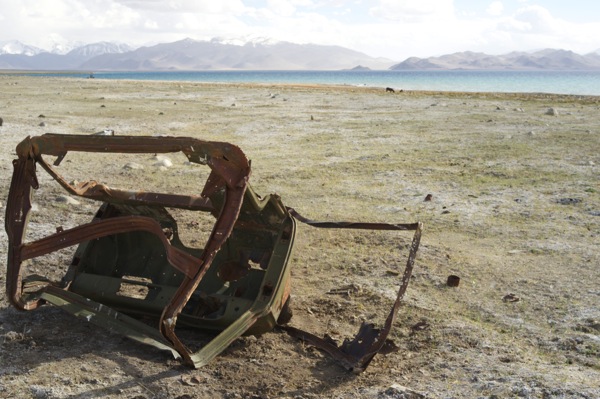 Our last stop before hitting the border was Karakol, meaning "black lake". Very creative name, to go along with the equally creative names of "white lake", "fish lake" and "smelly lake" that we'd already passed. The town of Karakol was very small and flat, with the mountains in the distance and a bright turquoise lake. We spent two nights here, a nice change of pace from relocating every evening. The second day, we walked around for hours in the fierce wind and took pictures, chased donkeys, and otherwise enjoyed the freedom of having nothing to do for the day. Various bones were scattered around the shore, along with some rusted car parts that I thoroughly enjoyed photographing. I also took a long walk alone and came back refreshed.
Finally, we took off for the Kyrgyz border, which was actually over another mountain pass. It's here that we noticed the biggest concentration of cyclists, those crazy people who physically tax themselves cycling up muddy slopes of mountains in the bright hot sun, and then the icy cold altitude over 3,000, all while carrying kilos of personal items and gear on their bicycles. I have a lot of admiration for them, and absolutely no jealousy. The motorcyclists, well, I could see myself doing that someday.
As soon as we left the Tajik side, the scenery changed again, to an incredible combination of red clay, multicoloured mountains, and white snow that looked like icing on cake. Once in Kyrgyzstan, everything changed to rolling green hills and red clay with the high mountains in the distant background, before flattening out once we got into Osh, our final destination.
The Ibex says goodbye to Tajikistan, and welcome to Kyrgyzstan.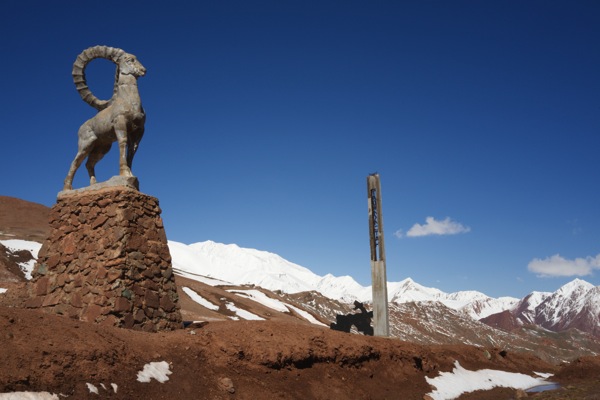 ---