I took a ferry across the Cook Strait, a pleasant three hour journey on a big ship. It was a mix of passengers, cars, and cargo, and had a few decks where you could go outside and admire the passing scenery. The ferry was actually delayed, which meant I missed my connecting bus, but one of the benefits of traveling without planning to far in advance is that you can afford to be flexible. There was an i-Site on board the ship that helped customer rearrange their travel plans, so the lady got me on the phone with the bus company, and I was able to redo my reservation for the next day without extra charge. i-Sites in New Zealand are basically comprehensive information centers and booking agents who are completely trustworthy. They've always been impartial, friendly and informative, and this one was no different. I felt bad for the bombarded woman, though… not everyone is as flexible and relaxed about things as I am.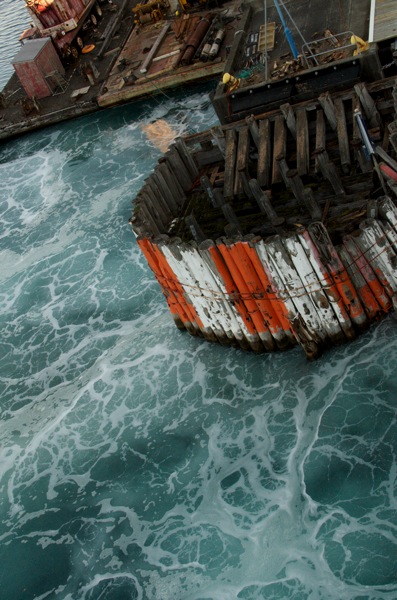 The ferry got into Picton, a really small town across the strait from Wellington. It's a small place with rolling hills and a lovely little harbour. I found the most adorable hostel I've ever seen, and met some really awesome travelers there. Went on a good bike ride with a girl from Hawaii, which got me refreshingly sore the next day. We combined resources and made an awesome dinner, then met a few others and found an Irish Pub downtown. Next day I went on a short hike before my bus out. This is what I love about travel – a late ferry meant I "got stuck" in a cute little town, where I actually had a great time. Anyone too concerned with a timeframe and itinerary wouldn't have found it so pleasant. I love my life.
My next stop was Kaikoura, which very well may be the most beautiful place on earth, or at least in the top 5. It's a small strip of land right on the ocean, with a gorgeous backdrop of snow-capped mountains. I took about a million pictures and loved almost all of them. Checked into a hostel where I got the last dorm bed facing the ocean. I stayed outside for most of the sunset, just taking pictures and loving the view.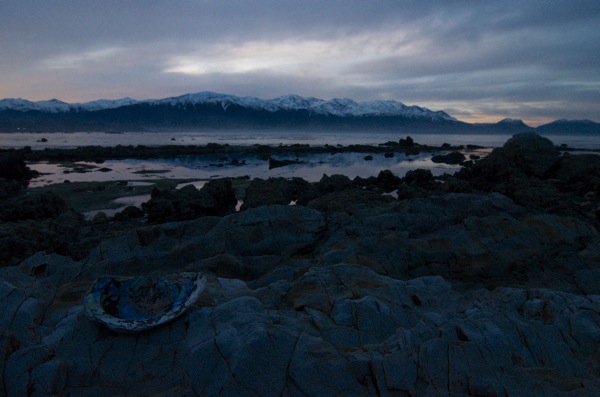 The next day, after waking up in time to photograph sunrise as well, I went on a 4-hour hike all around the peninsula. The first part of the walk was right along the coastline, passing a colony of seals along the way. You could almost reach out and touch them, though that's not recommended, as they're not as chill as they appear. I did pass a very curious looking baby seal, though, who just stared at all the people with those huge eyes as they all took pictures.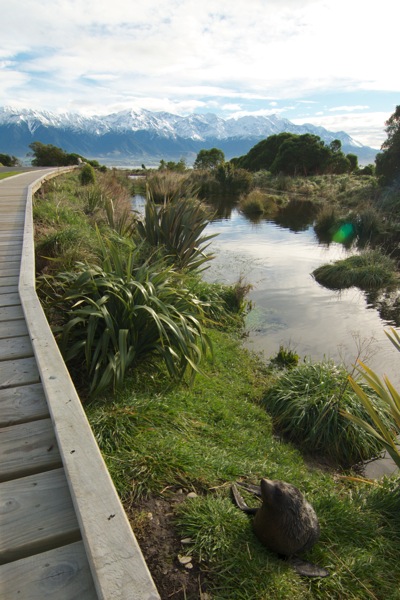 After the seal colony, the path wound up into the hills with incredibly views overlooking the ocean and mountains, adding to the layers of scenery. At the top there were also a bunch of cows, and I was reminded of how the receptionist at the hostel said it made her think of the Swiss Alps. Like I said, New Zealand is the country of every kind of landscape imaginable! Kaikoura is a good place to witness this.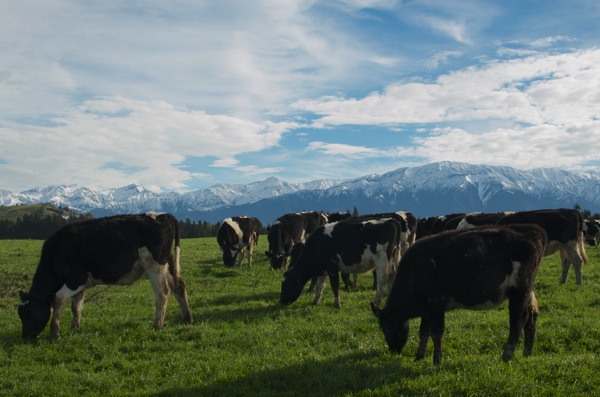 About two thirds of the way through my walk, as I was descending, a cloud of fog rolled over the landscape in just a few seconds, and suddenly I couldn't see more than a few meters in front of me. That made it the creepiest, but one of the coolest, walks I've ever been on. After all, there was nothing I could do about it, so I just found some music to match the mood. I remember standing on a muddy path, with two routes in front of me: one, noted as under construction, and not looking very promising. The other, further distant, was just a gate down a corridor of pure mud, and nothing but fog around. I took the second one, hoping it was the better way to go. All I have to say about that is, thank God my hiking boots are very water resistant. It was the right path, leading right to open road, and I wound up back safe at the hostel, in time to eat lunch and catch my bus out, glad to be on the move since the fog hadn't lifted.
Stayed the night in Christchurch with a friend, and went out to a random live show which was so bad it was great. I got up early the next morning and walked through the gardens to the bus stop. Naturally, it was the biggest park I've ever walked through, and I was in a hurry. At the bus stop I actually ran into the same driver who had both driven me from Picton to Kaikoura, and from Kaikoura to Christchurch. We chatted for quite some time while waiting. Really cool that she remembered me, and vice versa. New Zealanders have got to be the most friendly people I've ever met.
Queenstown, unlike the rest of the places I'd been to, was in crazy peak season when I got there. It's the biggest adventure sports and snowboard/ski hub in winter (which, of course, it was). I had no accommodation booked, and was told there was nothing available. Luckily, after asking a couple places, I got the last bed at Base. Unfortunately, Base is pretty much the worst hostel ever, so I might as well have slept on the streets anyway! I guess I'm getting too old or mature for party hostels… I have expectations for a certain level of cleanliness and noise control, and Base just doesn't have either of those things. Anyway, I switched over to a better hostel for the next few days.
Queenstown is a little city on the edge of a lake, nestled in the mountains. Very picturesque, and very, very busy. It's teeming with tourists and backpackers, lots of shops and travel companies. It's the heartland of bungee jumps and skydiving, rafting and whatever other crazy things you can imagine doing in beautiful places. I stayed on the conservative side and booked a day trip to Milford Sound.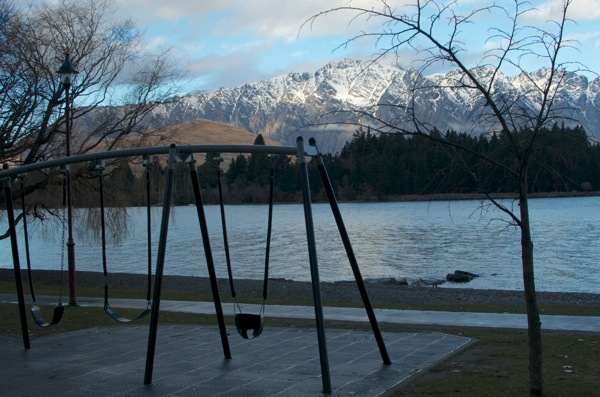 Milford Sound, and especially the bus ride through Fiordland National Park, qualify as another of the most beautiful places on earth. It was a bit foggy and raining, but that just added to the jaw dropping scenery. The jagged mountains the bus wound through on the way to the sound were snow-encrusted, but since it was raining there were hundreds of waterfalls running down the cracks of the mountains like gushing rivers, mountains bleeding water. We stopped in a number of places, including Mirror Lakes, which has a view of the mountains that played the role of the Misty Mountains in Lord of the Rings, and one with a stream that we refilled our water bottles in. Cold, delicious, fresh water. In the fog, the mountains seemed to go on forever, the more distant ones just peeking out as another shade of grey, little layers fading into the background. As much as I consider myself a good photographer, I really feel like I couldn't begin to capture how amazing it was.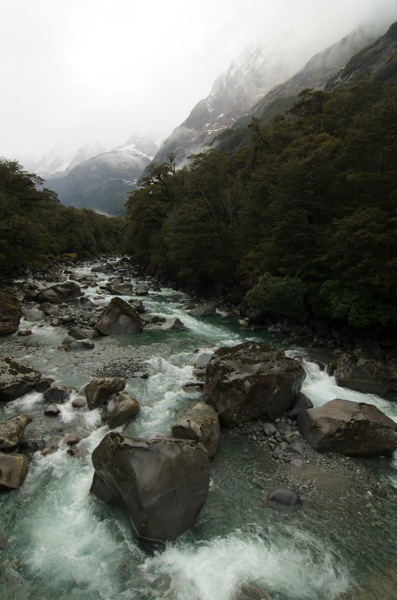 The boat cruise on the sound was pretty awesome, but equally foggy. You'd be floating into the grey, only for it to clear and show you more and more. Waterfalls vigorously running down to meet the water below, but these were taller than the ones from the mountains. They moved the boat almost right under them, so as you were standing on the deck you'd get doused with the water. We saw some more seals, too, and I was amused watching everyone go nuts over them. I guess I've been spoiled by the Elephant Seals in California, and the ones I'd just seen in Kaikoura. I actually wound up talking to the skipper for the last half hour or so about scuba diving, which is, of course, my latest expensive hobby. I'm sure that Milford Sound is pretty cool to dive in, just not in winter.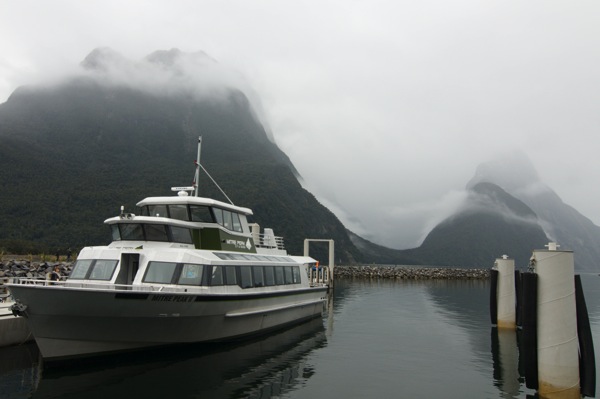 The next day was an off day that I used to catch up on the sleep I was desperately lacking (thanks in part to the party kids at Base), so I took it easy and just walked around town. I went up to the Skyline, a Gondola that runs up to the top of a hill overlooking the town, lake and the mountains in the background. From there you can spot at least 3 other Lord of the Rings filming locations, which is not surprising in the South Island. I spent sunset with a glass of wine from the bar, just looking out over that view.
The other location I saw was Skipper's Canyon, on a Jetboat tour. Actually, the ride there was the best part. There's one tiny, narrow road that winds through the canyon. It's only got room for one car at a time, although it's a two-way road, and 4WD is pretty much the minimum requirement. Apparently rental cars won't insure you if you drive on that road in one! I picked that Jetboat tour because it sounded more out of the way, more scenic, and more informative. Sure enough, while we were weaving our way up the road in an army vehicle driven by a guy who'd obviously been driving that road for years, we learned a lot about the gold mining industry, and how many people used to live in the valley. Only a few do today, and those that do either work there, are hermits, or have a plane in case they need to leave and the road is closed! At one point, we stopped at a spot where our guide casually mentioned that if we fell, we wouldn't touch the side of the cliff on the way down. The edge was maybe six inches away from where the tires were. I'm amazed my fear of heights didn't decide to attack me at that point.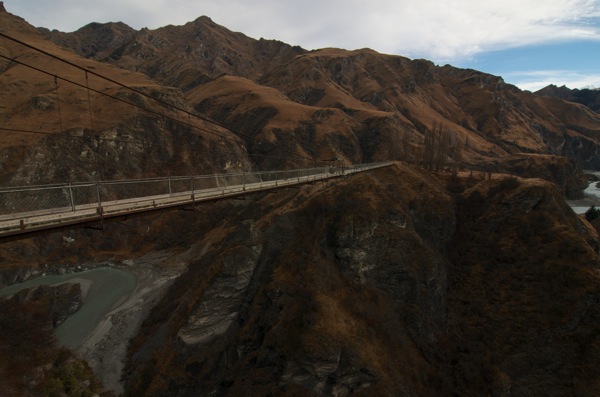 The Jetboat part of the tour was cool, but the ride there still wins. We sped up and down part of the Shotover River, also stopping at a part where they filmed that scene with Arwen that everyone loves. You know, the one where she fends off the Black Riders by raising the river. (Which wasn't even done by her character in the book, grumble grumble… anyway). They also showed us an old bridge that was also the first bungee jump site in the area, to which I quite happily replied that I preferred the view from below. Besides, fear of heights is saving me money – skydiving and bungee are not cheap. Got great shots of it from above after the boat tour ended.
It's never enough time, whatever amount of time you have. I had almost four whole days in Queenstown, and I keep thinking I could've done so much more. On the bus ride back we stopped in lots of pretty little towns I kept remembering the names of from guidebooks and forums. I've promised myself I'll go back. At least all the bus rides in my quick little trip were incredibly scenic.
I stayed a few nights with new friends in Christchurch, and had one full day to walk around. The earthquake was over two years ago, but there is still so much of the city that you can't drive through, and that apparently only recently opened up for pedestrians. Apparently this is a local point of contention, which is understandable. The area of worst damage is called the Red Zone, and is basically the whole heart of downtown. You walk through and see scores of empty buildings that are waiting to be torn down, and of course there's the sad spectacle of the Cathedral. The area around it is a memorial in itself, with artwork and creative, expressive media surrounding it. I solemnly watched it for a while, watching locals and other travelers with interest. Although watching someone grin for a photo in front of a devastated cathedral is actually quite disturbing. It's like people flashing the peace sign in front of the 9/11 Memorial. You just don't do it.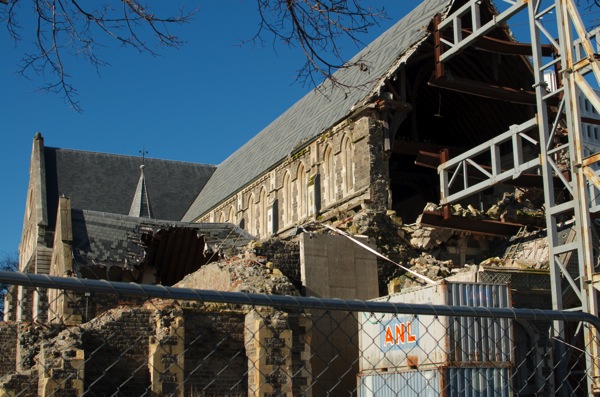 I think one of the coolest parts of the city was the RE:Start container mall, which is basically styled shipping containers set up to house shops and cafes that had lost use of their storefronts after the earthquake. It was supposed to be temporary, but it's still there after two years. As iconic as it's become, I think it should stay there. There are also random memorials and creative works around, some that I saw and probably many more than I didn't. The oversized green astroturf couch on the street was one I liked a lot. Stopped in the Canterbury Museum, another beautiful building, and one that didn't seem to suffer much damage, although there were some things that were removed from the cases due to damage. I've really gotten a sense of the "Pre-" and "Post-Earthquake" mentality in New Zealand. It seems a bit like 9/11, but on a much smaller scale. And, as an act of nature, there is no external source to blame.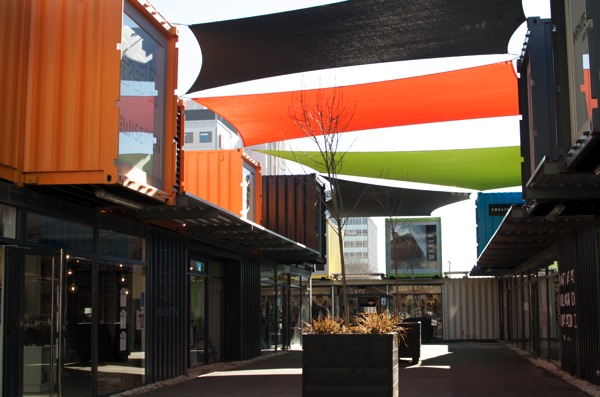 The last few nights in Christchurch were absolutely awesome. I've met so many cool people, and had great experiences in this city. From home cooked (and amazing!) food, finding friends you never knew you had before, needing out hard core, and going for drinks at the coolest bar that you never would have found on your own, I've really lucked out with the people I've met, and I was very sad to leave this awesome country. Though I could go to Canterbury University for Engineering….
---
I just left New Zealand, where I spent the last three weeks. I was definitely sad to go, and have added it to the (very long) list of places to go back to. NZ has every kind of scenery imaginable, from beaches to rolling hills, glaciers and mountains to canyons and endless fields. It's like a showroom for the entire planet! There are sheep and cows everywhere. I don't think I've ever seen so many farm animals in my life, and I doubt I ever will again.
I spent the first few days up in the North, covering Cape Reinga and the lighthouse at the very tip of New Zealand, 90 Mile Beach (which is actually something like 66 miles), and Te Paki Giant Sand Dunes. Which are, as aptly named, gigantic, really cool sand dunes. Most of the North Island's other landscape is endless rolling hills, which make all the roads long, winding and very narrow! I was traveling with a friend in a camper, so the first night we camped in the very north with nothing but the stars and the ocean rolling in nearby. I woke up to one of the best views I've seen in a long time.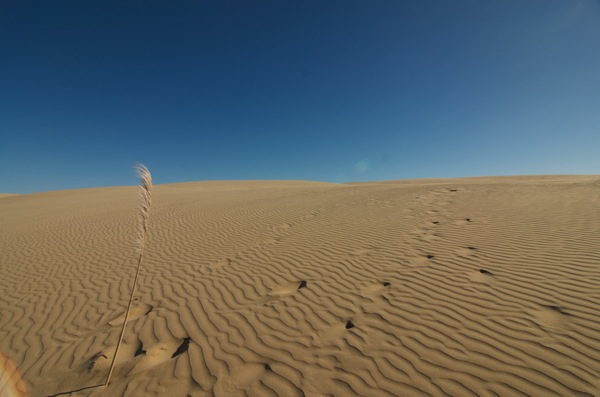 After the North I visited Hobbiton, the Lord of the Rings set tour. It was completely worth it for me – detailed, lovely little Hobbit holes, a drink at the Green Dragon, and knowing I wasn't the biggest nerd there. Afterwards, we went to Rotorua, known for its thermal areas. It's quite cool to walk around a place and see pillars of steam rising from various parts of town (cordoned off of course). We spent a day at Wai-o-Tapu, a park with a whole bunch of thermal areas, geysers, and hot springs, marked by more steam and bright green, sometimes bubbling water.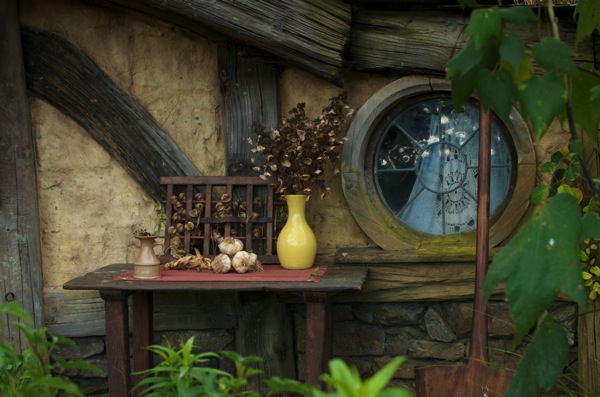 Waitomo, our next stop, is home to the glowworm caves that probably appear on quite a few "amazing nature" lists. They're actually all over the place, with a concentration in Waitomo, and numerous tours that run from the tiny town near the first cave that was opened. We chose one that was a bit further away and spent time in two different caves, so that was most of our day. On the last part of the tour you sit in a raft and float around in the dark, staring at thousands upon thousands of glowworms that light up the cave. It's like a blanket of millions of stars that you could almost reach out and touch. In fact, as all the tours explain, they're basically maggots. Glowing maggots. Romantic, ey?
Then there was the pilgrimage to Tongariro National Park. The hope was that we would be able to do the Tongariro Crossing, a 7-9 hour full day's hike through challenging parts of the park, with great views the whole way. However, we'd arrived in winter, so Mother Nature would be the deciding factor. Our Plan B was to go snowboarding. Unfortunately, both got shut down due to heavy snow up in the mountains, and it was also very foggy. We decided to still go and attempt one of the day hikes (Taranaki Falls) just so we weren't sitting around all day. That was the best decision – there wasn't a lot of snow on the ground on that level, so it was a decent walk, and the fog cleared for a lot of it, giving us great views of Mount Ngauruhoe and its surroundings. Ngauruhoe is the mountain that stood in for Mount Doom in the long shots, so bonus nerd points for me! After the hike we went back to our hostel, which so happened to have an indoor rock climbing wall, and with that we had a fun, vigorous evening.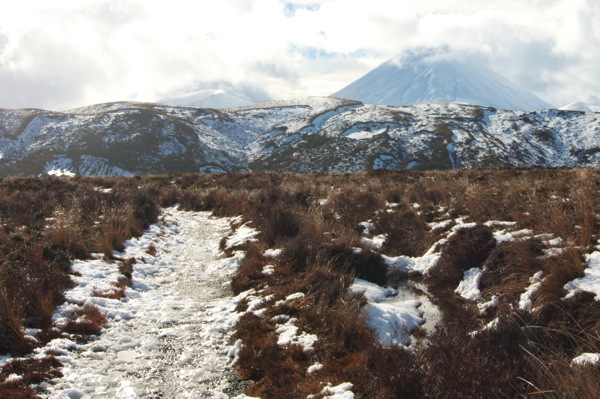 From Tongariro, we actually took the Northern Explorer train down to Wellington, a 5-something hour ride that was incredibly scenic, and was one of the best parts of the North Island. We went from snowy mountains, with bonus views of snowed-on sheep, back to rolling hills in time for sunset. I always prefer trains to busses, before you can move around, stretch and sleep more comfortably if you need to. My companion and I spent more time sitting in the cafe car staring out the window than in our seats, and there was even an outdoor observation car. Totally worth the (slightly) extra money.
Wellington, a small city clustered near the sea, was a nice place to be for a few nights. Since my companion was leaving the next day, we went out and found a nice pub to grab a drink at, and saw a bunch of the city at night. The next day, I saw her off, and explored a little more myself. Even this small city feels big compared to most of New Zealand.
I decided that instead of flying down to the south, I should take the ferry. So, the next day, I set sail to the South Island.
---
Well, I'm sitting in the hostel kitchen in Kaikoura, New Zealand, which has to be one of the most beautiful places on earth. It's sunrise, and I'm still amazed I got myself out of bed to watch it. The view opposite me is of tall, snow-capped mountains, reflected in the calm ocean waves below, which are rolling against the jagged rocks of the shore. Pretty idillic.
I have a lot to write, or I should anyway. All of my month in Australia, and my week and a half in New Zealand. The time has been going so fast and yet so slowly; it seems like a lifetime ago that I was still at work and counting down the days until I left! Travel really changes your perception of time, and your perception of everything else. Friendships are formed in hours instead of years, resulting from deep conversations with strangers whose names you don't remember to ask until you're about to part ways. A bus ride is an adventure, a train ride an experience. Simple acts like buying groceries or looking for that random thing (duct tape, pens and paper, black beans) turn into a circus, especially when you're somewhere whose language you don't speak.
I think I'll start with that.
---