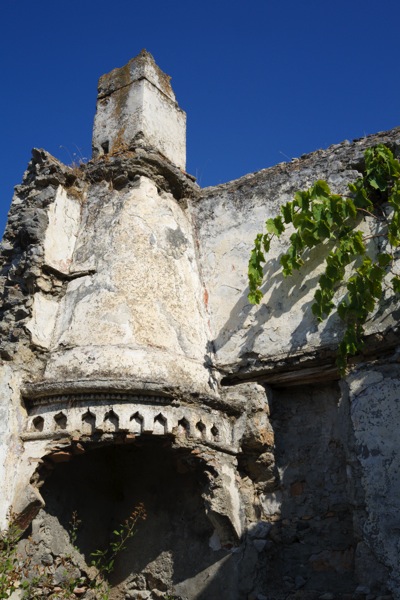 After spending time in Urfa, so close to a war zone, arriving in Fethiye after a night bus was kind of a shock to the system. It took a lot of adjustment, and forgiving of the partying backpackers. Fethiye is a bright summery getaway on the southwest coast of Turkey, perfect for beachlovers and partiers, while also being one of the coastal spots of the Lycian Way, dotted with Lycian tombs carved into the cliffs.
Another day trip from Fethiye was Kayakoy (pictured), an abandoned village that's set up for tourists now. Crumbling and ghostly aside from a steady stream of sightseers and trinket sellers, it's also oddly bright and cheery. Its previous inhabitants had been persecuted and fled, many to Greece, and by the end of the Greco-Turkish war in the 1920's, the town was abandoned.
I also went to a nearby village / settlement called Kabak, which was basically a bunch of small hostels and hotels nestled in the side of a mountain, overlooking the ocean, and sat with cups of tea just enjoying the scenery for a couple of days. The bus ride there and back was also worth the money just to stare out of the window and do a lot of thinking. 
Finally, I took yet another long bus ride out to Izmir, one of Turkey's biggest cities, on the west coast. I'd been in touch with a backpacker, Peryal, who I met in Peru and Ecuador almost a year before. She was home visiting her family in Izmir, and invited me. That wound up being one of the highlights of the trip!
Somehow, even if you only spent a few days with someone before (or two weeks, in extreme cases like ours), to see them again feels like visiting an old friend, and we'd gotten along so well then that it didn't feel odd at all to visit her with her family. I stayed for a week or so with her mother and sister, sharing the comfortable living room with Peryal and enjoying authentic Turkish breakfast with her authentically lovely Turkish mother. Her sister Burcu, an English teacher, was also nice to get to know, and it really rejuvenated me so have a rest at a place that felt like home. I owe her and her family a debt for that one!
That week was mostly spent walking around Izmir, sleeping in, sharing cups of tea and coffee over long conversations with Peryal. We talked about politics and life, which is always interesting with someone who's been outside of her home country for so many years (10, 15?).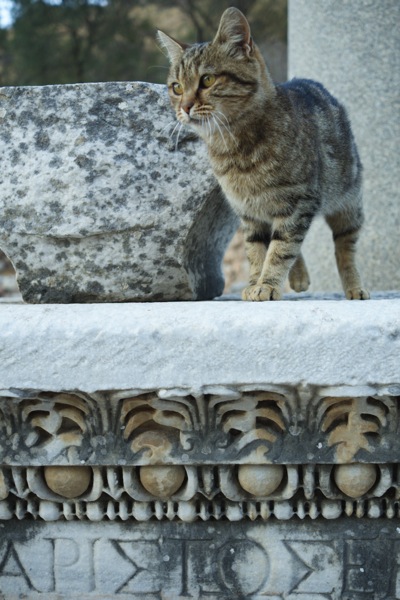 From Izmir I did one overnight trip to Selcuk, a very small city next to Ephesus, a famous Greco-Roman ruins site. Although I'd figured out that I'm not very interested in Roman ruins, I decided to visit this one because it's one of the most enthusiastically talked about ones. It wasn't very far from Izmir, either. While there, I quite unexpectedly ran into a guy from the US that I'd met before. Interestingly enough, I'd met him almost a year beforehand, in Mexico, which was his first international holiday. Turkey was the second. What are the chances of that happening? We laughed, marvelled, had a beer and caught up.
Ephesus was heavily restored and very impressive; the detailing in some parts was pretty incredible (pictured). It's also known for an abundance of stray cats (also pictured). Turkey in general is home to so many stray animals that you can sit in Istanbul and pet cats for hours — they're friendly, usually vaccinated by the state, and used to all the attention.
Ephesus also has a huge amphitheatre, but in addition to my indifference to Roman ruins in most cases, I apparently have even less interest in amphitheatres. That's a benefit of having travelled so much; I understand what I do and don't want to spend my energy I want. In Ephesus, the little carved details were the most interesting, stone in particular.
The next day, I went with two others to a small village called Sirince, known for its fruit wines and charm. It was incredibly lovely, matched with a bright blue sky and calm breeze, so it wound up being perfect for a half day. We done with fruit wine tasting, and I fell in love with a cherry wine that was just too impossible to buy and bring back with me. I still kind of regret not buying a bottle. Anyway, from there I parted ways with the others and went back to Izmir for a night or so, before venturing back toward Istanbul.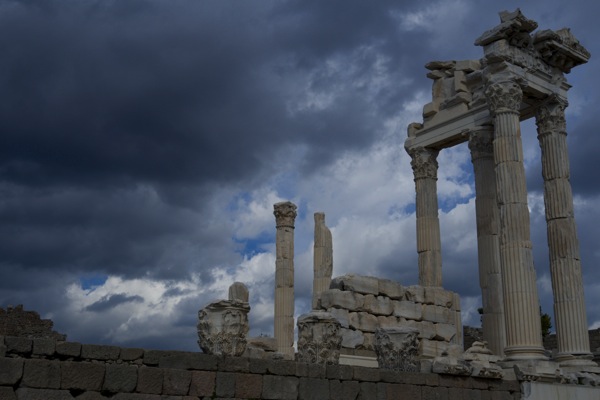 The last "touristy" stop I made was in Bergama, which in retrospect should've just been a day trip or stopover. The site, known more commonly as Pergamon, was small and quite standard for Roman ruins, though I managed a few good shots (see above!). I was happy to be on the move again, though, and got back into Istanbul for a few days of wandering the streets and sightseeing.
In Istanbul, I made it into the Blue Mosque, one of the city's major sites, next to Aya Sofia. The Blue Mosque is a beautiful structure, and so popular for tourists that there was a long line stretching from the entrance, with lots of foreign women struggling to figure out how to put on a headscarf. Luckily, I've gotten a bit of experience with that! Over the next few days, I walked up and down Istiklal, the shopping street, through markets and all over, and caught up with the Couchsurf I'd met, had some beers with her and her friends, and prepared myself for the mad dash through Eastern and West Europe, which I had about five weeks to do.
---
---
---
---