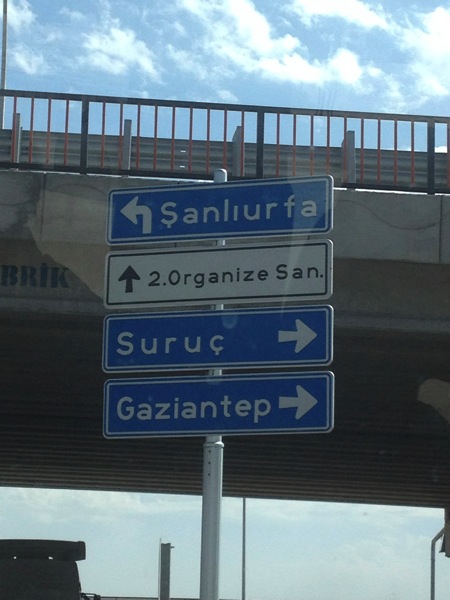 The time I spent in Urfa was half visiting archeological sites, and half spending time with people I'd met in the hostel, along with others I'd met through Couchsurfing, including an NGO worker who I wish I'd had more time to get to know!
With two other travellers, I also went to donate goods to the refugee camps in a nearby town called Suruc, which was a jarring learning experience. I'd found a contact who told me where the goods distribution centre is, as opposed to simply showing up and handing out supplies indiscriminately.
We were able to see how things worked in the facility thanks to an English-speaking volunteer, and got a glimpse of the monumental amount of NGOs, charities, and volunteers. I chose not to go inside the camps themselves, because I felt I had nothing to contribute, couldn't communicate or listen, and generally didn't want to be a 'poverty tourist', if you will.
I wrote a piece about one of my experiences there, and added an addendum at the end for context, which I'll post here, edited for clarity and anonymity. The picture was drawn by a young refugee that V. met at the pond, who is amazingly artistic.
*
It started with the stories. Refugees, NGO workers, journalists, photographers, all telling their stories. The city of Urfa is diverse. It's a Turkish town with a Kurdish and Arab population, with an influx of Syrian Kurdish refugees, making for a tragic scene of beggars and unpaid labourers, and a much less tragic increase in places to find good falafel.
Everyone you talk to has a story. These are stories with different angles, different good guys and bad guys, different rage and indifference, different causes and solutions. There was a young man that V. (another traveler) met at the pond, that she's been trying to help find a job ever since. He sat at the guesthouse and told his story in accented English, of how he lost his father and other family members, painting a picture with all the details he left out. Another story was that of a teacher I met at my favourite Syrian-run falafel place, educated and fluent in English, trying to help the refugee children keep learning in a time of total chaos and insecurity.
One that really inspired me was the NGO worker who was from Kobane, this city under siege with its plumes of smoke curling upwards. She speaks Kurdish, Arabic, English, even Turkish, and stayed on this side of the border to help support the masses of refugees that cross to escape Kobane. H. has an amazing smile in all the pictures of her I see. When I see her name I think of her kind, beautiful eyes and light smile, short stature and loud laugh, with a strength inside that I can't even imagine having.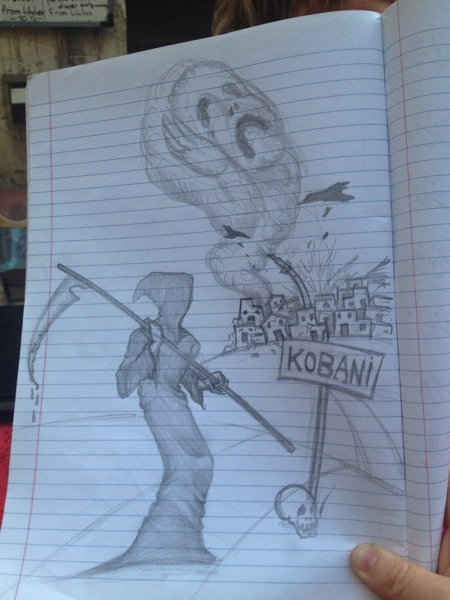 H. told me she waited so long to leave Syria because she didn't want the label of refugee, and I can understand why. When we talk about refugees, we think of old women clutching children, stumbling through the dust and dirt toward the kindness of another land. We think of people that don't have choices or opportunities, that are helpless and in need of our open hands, hearts, and of course wallets.
The refugees at the camp in Suruc are these: they are the desperate ones, the poor ones. The ones on posters and in fundraising ads. They aren't the ones that were lucky to have extended family on the Turkish side of the border, family who could take them in and help them get jobs.
We don't think of the protesters, political dissidents and freedom fighters who cross borders simply because they can't fight from the other side anymore. H. isn't really a refugee the way we see it — she's a displaced Syrian who's still fighting in her own way, just from a different place. And it's people like her who will be the future leaders of Syria, if it's ever really safe to go back and start again.
On the second night of protests in the city of Urfa [by the Kurds, against the Turkish government's lack of support for them], we were out for beer, because life just goes on no matter where you are. Instead of going to the protest, we devoured beers and surreal conversations that you could only have sixty kilometres away from a city at war, with the photographers, journalists, Syrians, NGO workers, and travellers all mixed together. H. was with two friends who were also Syrian, from a part that wasn't Kurdish. They said, though, that it didn't matter; they were united.
They all went to the protests in Syria early on, they all knew that it wasn't certain they'd come back at all, and that was simply the risk they took. They were lucky they did come back; just lucky and not blessed, because they don't believe in god. As H. talked about going to the protests in Syria, we sat at the table and breathed through our headscarves when the tear gas crept through the open air at the bar. It was something like normal to us now, the tear gas. And yet these protests were nothing to people like H. and her friends, because what was a little tear gas compared to bombs and chemical weapons and a government who wants nothing more than to destroy any ounce of resistance? And what was a little tear gas compared to having ISIS come up from nowhere and take over your hometown, slaughter your family? How little I knew about life and fear compared to them. Gradually the tear gas dissipated, floating onwards to find new people to terrorise.
---