From Istanbul I had about 5 weeks to get to Amsterdam overland. It was a bit of a blur, and I left a long trail of places I want to go back and "do properly" sometime. I'll talk about the highlights, reminding everyone that there's so much more to a place than just a city or two.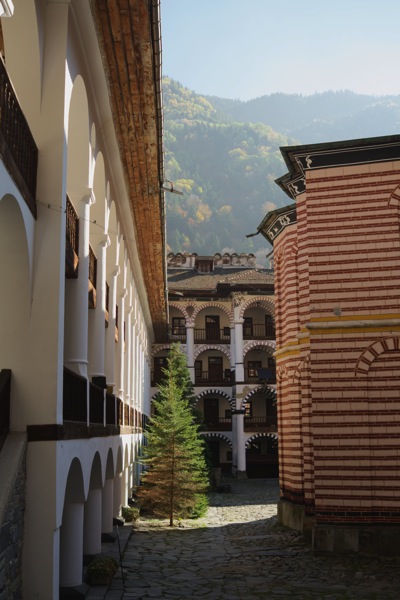 I wound up spending about a week and a half in Bulgaria, which was a surprising gem that I really enjoyed. It had an interesting mix of Roman ruins and Ottoman empire history sandwiching the first and second Bulgarian empires.
My first stop was Plovdiv, with its small old town peppered with Roman ruins. I'm not a big fan of Roman ruins, but the combination of shops and restaurants surrounding partially-exposed ruins made a really lovely stop. I took a free walking tour that covered pretty much all the major sites in the old town in just a few hours, and even though I only spent two nights there, I felt like I saw a lot of it.
Sofia is Bulgaria's capital and biggest city. Also fairly small and walkable, it also has quite a number of ruins throughout. After one night in a hostel I wound up Couchsurfing with a Bulgarian woman who'd studied in the UK and taught at an international school. We spent a weekend hiking in the countryside with her friends, took a boat out on a lake, generally relaxed, and ate her delicious salads. I got introduced to some local cuisine, in the form of yaitsa po panagyuski (eggs on ice: eggs, yogurt, cream and butter!). There was also a day trip out to Rila Monastery (pictured), a striking complex in the mountains, which I did on a day trip from Sofia.
I had wanted to stop in Kosovo as well, but the timing wasn't going to work out. Instead, I went straight into Serbia. Belgrade, Serbia's capital city, isn't exactly on the trail of beautiful cities, but I wound up loving it anyway. It has nice architecture, but it's real gold was all the graffiti. Knowing the history helped it all make sense, and it's hard to believe it was at war less than 20 years ago. There are still a few bombed-out buildings, a chilling reminder. On a happier note, another wonderful stop there was the Tesla Museum. Tesla was actually of Serbian descent, and the museum holds much of his personal papers and electrical pieces.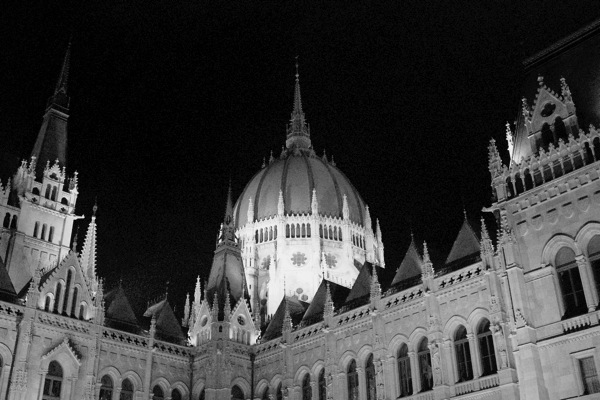 Next on the whistle-stop tour was Budapest, where I spent four packed days exploring. I did a few free walking tours in Hungary, joined by, Kerry, an Aussie I'd met on Couchsurfing. Budapest was the biggest city I'd been in since Istanbul, and full of life, tourism, architecture (pictured above), and of course language — Hungarian is in the same family as Finnish and Estonian, and together they are pretty far removed from anything else in the entire region. The sound is pretty distinctive, very different than the slavic sounds of Bulgarian and Serbian I'd gotten used to. It was strange to not even be able to discern root words.
Made up of Buda on one side and Pest on the other, the city was the second capital of the Austro-Hungarian empire, the other being Vienna. The walking tours covered the history of the city, from before those times and up through Soviet times, with the Communist-themed walking tour covering life and rebellion behind the Iron Curtain. There are blissfully few ugly communist buildings in the city, but there remain a number of monuments, including a massive one to the USSR that stands in a courtyard next to the US embassy. From the monument, you can look over and see the parliament building, obstructed (intentionally, perhaps?) by a statue of Ronald Reagan stepping forward, as if confronting the USSR.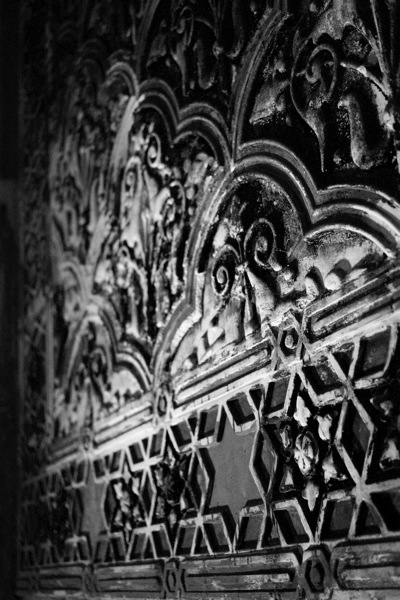 The Jewish quarter of Budapest is perhaps the most popular part of the city. It holds most of the "ruin pubs", creatively restored and redecorated buildings which now are bars. I went with Kerry and checked out a few of them. They were all creatively decorated, my favourite one having furniture attached to the ceiling.
Also in the Jewish quarter, unsurprisingly, a number of synagogues are being restored, and there was one large one that is now a massive museum and monument to victims of the holocaust. My favourite was a much smaller one with only one big room, falling apart but beautiful in a decrepit way, with some amazing carved wooden details (pictured). Given the size of the Jewish quarter, it must have been massive at one time, but even now there is still a reasonably sized Jewish community.
Budapest was definitely a highlight of this part of the trip. It just had such an interesting vibe and history, plus being so photogenic helped. I wish I'd had more time to get to know it.
My next stop was Vienna, which I hadn't expected to go to this trip, but it was perfectly on the way to allow me to visit a friend, Malina. We were in the same hostel in Urfa, and we were, along with another woman, the three travellers who went to the protest and then to the refugee camp near Kobane. That was quite a bonding experience. Visiting her was like being with an old friend, even though it had only been a month or two since we'd even met.
Vienna was a taste of western europe. Very clean, but also very expensive, and beautiful. Malina and I just relaxed, mostly, and met up with some of her friends for drinks. She took me around the city and showed me some nice spots, Viennese coffeeshops (oh coffee, my perpetual weakness), and we randomly wound up at a cabaret show. It was in Austrian German, which I don't get much of, but one of the comedians was actually German, and I was happy to discover that I could get the gist of what she was saying and enjoy it. An Austrian guy got on piano and did some hilarious parodies of pop musician styles, which you don't need language to enjoy. He also parodied Herbert Gronemeyer, a German pop artist that I've heard before. Overall, the night was absurd and fun,  and decidedly not touristy. We also managed to hit up a Turkish cafe, where Malina practiced her Turkish with the worker, and I remember at least 'please' and 'thank you'. I miss Simit.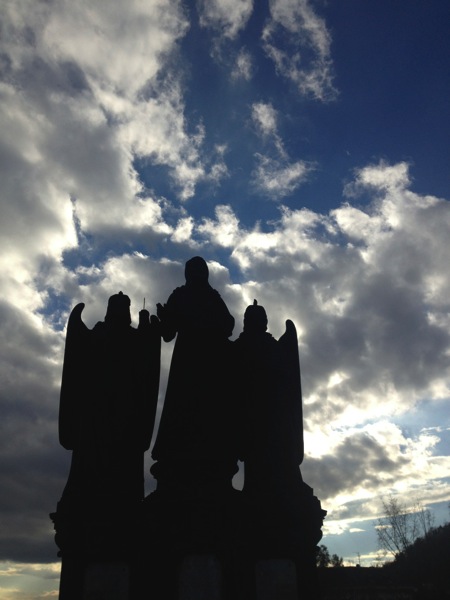 Four days was short for Vienna, but time was ticking. I headed next to Prague, Czech Republic. Prague is definitely a hotspot for tourism nowadays, but it's perfect for a short trip: small and easy to walk around, chock full of beautiful architecture and picturesque cobblestone alleyways, inexpensive for food and especially beer.
After arriving, I wound up in the main square quite randomly and happened to be standing next to an english-speaking tour guide as she talked about the famous astronomical clock that was set to perform in a few minutes. It was built in the 1400's and still runs today, though much of it has been restored. Figurines of despised vices do a dance on the hour, so that's why the square was crowded when I wandered in.
In met up with my next CS host, a really nice Czech guy who had met up with Kerry previously. We shared a few great (and cheap!) beers, watched a football game, and he cooked his speciality, fried rice. Though he had to work the next day, I slept in and then later went out and walked around some more, crossing over the decorated Charles Bridge (statues on the bridge, pictured). I hadn't really taken pictures of anything since Budapest, instead deciding to soak it all in and just enjoy the moment, aside from the occasional iPhone photo. I visited the Kafka Museum as well, but generally I just strolled along and took as long as I needed. It was worth it, for the little time I had.
---