The Olympics, February 2014: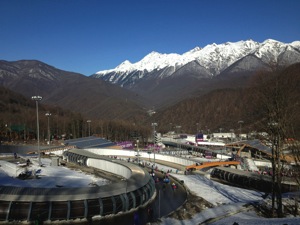 Going to the Winter Olympics has been on my bucket list since I can remember; as a kid, watching all the events on TV every four years was a highlight, and once I realised how possible attending really was, I committed and put my money where my mouth was. I bought tickets a year before the games started, when they were first released. I normally don't follow winter sports, but I think what excites me about the Olympics is that it's a time when the countries of the world can (in theory) set aside their differences in the spirit of friendly competition. Since I love travel, the international aspect was particularly appealing. (pictured is the Bobsleigh/Luge track)
I'd heard from a lot of friends and family about the various issues and controversies surrounding the games before I even got to Russia. I've watched the Olympics for years, and the only issue I remember hearing about was the amount of unsold seats in London, but of course this wasn't anything like that. Regardless of the various truths behind the headlines, though, the point of the Olympics is the athletes, not the politics of the countries, so I'm not going to spend a lot of time discussing politics. One thing mentioned that I will discuss was how unprepared Sochi was. The truth is, it wasn't as bad as the media would have you think. Yes, there were a number of unfinished hotels and other buildings. Lots of places where they hadn't filled in the grass, hadn't put the finishing touches on stuff. But honestly, it didn't matter. No one I talked to had major problems.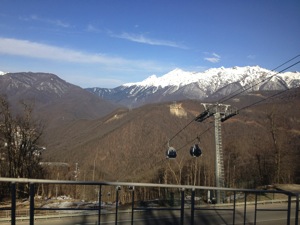 The infrastructure and transportation was stellar, the volunteers were friendly, excited to be there, and helpful, and the general vibe was amazing. Once I got to the games, it was all about the athletes, and that was a breath of fresh air. I had a wonderful time at 12 different events, with politics on the backseat. The setting itself was beautiful in the mountains, and weirdly warm at the coast. Taking various gondolas to get around between venues in the Mountain Cluster was scenic, although a bit nerve-wracking for someone like me who's not a fan of heights.
There were mostly Russians at the games, with something like 70-80% of tickets going to Russians. Many were completely decked out in Sochi2014 tracksuits, jackets, shoes, hats, etc. Foreigners were clustered into certain parts of the stadiums, since we bought our tickets through authorised agents that are different per country. Even so, the Russians loved to cheer for everyone, but especially Russians and ex-Soviet nationals. There was always raucous cheering when a Ukrainian, Kazakh or Belorussian athlete came on, for instance.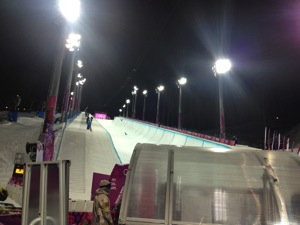 Most of the events I went to were snowboarding, the most exciting being Women's Halfpipe. I stood in the cold snow for more than 9 hours, watching all the qualifying runs, quarter and semi finals, and then the final. It was one of the longest events I went to, but it was worth the time and money!
I wound standing next to a group of Americans who were there supporting two different athletes, and a couple Australians cheering for their star athlete, Torah Bright. They let me stand in front at the barrier for the final (pictured to the left), so I held the Australian flag and cheered Torah while they held up their inflatable kangaroo in the background. The Russian kids standing near us joined our friendly group and actually started the "USA! USA!" cheer, which was pretty hilarious. We all took turns holding each others' places while we ran to the toilet between runs.
In the end, both American families had winners (Kaitlyn Farrington was the surprise winner, and the favourite for gold, Kelly Clark, got bronze). Torah wound up with a silver after a solid run. My whole group were ecstatic, and I got to see the athletes well from my great vantage point! My feet recovered on the train ride back to my hostel. An exhilarating start to my 10 days at the Olympics, and still my favourite event of the entire run.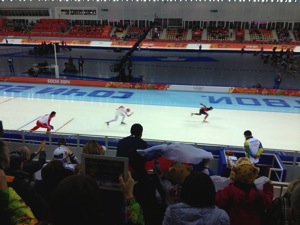 The rest of my 10-odd days were spent running back and forth between the Mountain Cluster, where all of the outdoor events were, and the Coastal Cluster, where the Olympic Park was. Inside the Park were the venues that held indoor events like Speed Skating, Short Track, and Figure Skating (which was of course way too expensive to even think about buying tickets for). Instead, I watched the Figure Skating final on a huge TV that was set up at one of the train stations, which had a huge crowding standing around craning their necks to watch a Russian girl skate her way to a gold medal. Those live TVs were a great addition to the stations and other places, letting us get a glimpse at the events we couldn't afford to see otherwise!
I did wind up getting tickets for a few Speed Skating events (pictured to the left), which the Dutch dominated, and also Short Track, known for its crashes since it's a race of four skaters side by side. I'm not sure I would go to Speed Skating in the future – it's not the most exciting thing to watch live when you can only see the athletes closely when they pass your column. However, watching a Dutch women break the Olympic record was pretty cool, and feeding off the excitement was great. The Dutch are a sea of Orange, very easy to identify and congratulate anywhere you see them.
The other event I loved was Snowboard Cross, which is like Short Track on snowboards. 4-6 snowboarders race down a track until the last group. It winds up with a lot of collisions and falls, and many of the expected winners wiped out early on and didn't even make semi-finals. I remember watching the Olympics one year, on TV, where a snowboarder (Lindsey Jacobellis) who was very far ahead did a trick, wiped out, and watched the gold medal slip away as another girl shot past her. Hilarious.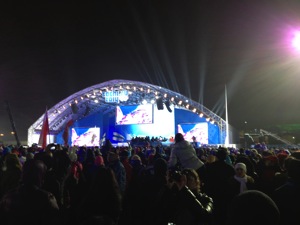 The other big part of being at the Olympics was the partying. The entire Olympic Park was a big party, and most of the countries had houses set up throughout, complete with restaurants and bars. The best of these was the Swiss House, which was open to everyone, unlike the invite-only American and Canadian houses (boo!). I met up with a Couchsurfer and after watching a few medals ceremonies (pictured, left) we wound up having dinner at the Swiss house, then got free passes for the party upstairs, which was ironically full of Canadians who were there watching an Ice Hockey match on the Swiss House's TVs. I don't know if there were even Swiss people at the Swiss House!
Another night, I met up with some more Couchsurfers and went out to a restaurant in town, where we met a group of Ukrainians and shared beer and vodka. One of the guys eventually got up and sang a song after being pressured by his friends – this guy seriously sounded like Ukrainian Pavarotti, with a fantastic tenor voice that silenced the room! It was a highlight of the event, that we had a group of Russians, Ukrainians, an American, a Slovenian, an Italian, and probably another few nationalities. We all got along well, and this was around the start of the Ukrainian/Russian situation. No one cared about that, it was all about being there for the games. In the end, Ukrainian Pavarotti and his friends gave out copies of his motivation book, and some free Mandarins. It was quite a special night.
FIFA World Cup, June/July 2014: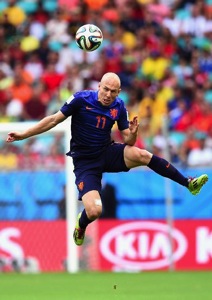 I normally don't watch a lot of sports on TV, but traveling during the World Cup was actually a highlight of my time in Central Asia. There's something particularly enjoyable about cheering on one country or another as opposed to various teams in one country, and I tend to cheer for the countries I've either been to, or ones where I have good friends. Of course, that's almost every country playing in the World Cup.
So the first thing about watching the games while traveling is that, obviously, it's called football, not soccer, and anyone who says otherwise is just wrong. I mean, a sport where you kick a ball around with your feet should naturally be called FOOTball. And a sport where you carry a ball in your arms is… American?
I had just gone through the Pamir Highway ending in Osh when I saw my first game, which was Spain versus the Netherlands. I'd spent the last two weeks with a Spanish traveler, and we met and then met again a Dutch guy who was traveling along the Pamirs as well. In Osh, we decided to find a place to watch the game, and wound up at a place where locals went to watch the game, and more importantly bet on it. So there we were, a Spainiard, a Dutch, and an American, and another random American we'd picked up from the hostel, in a crowd of Kyrgyz watching this game. In the end, I decided to support Holland because I remembered how well their speed skaters did at the Olympics, and because there's a chance I might wind up there for University.
For the next month I watched every game I could, in hostels and hotels, random pubs with locals, and with a variety of travellers from many countries, some playing in the games we watched. I watched the USA vs. Belgium game in Uzbekistan, with a Belgian guy who was on my tour of Turkmenistan. I was supporting Belgium, because the USA doesn't even call the sport by the right name 😛 Staying up to watch the game start at 1am wasn't that bad with company.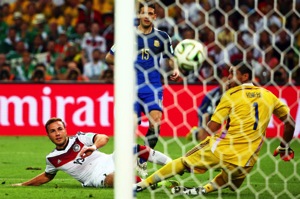 Sports is also a very easy topic of conversation. When you meet someone new in a hostel or on the road, it's a safe bet that they know something about football, so it's the perfect icebreaker. Even being an American wasn't so bad. After all, we had Tim Howard, who put up great resistance against Belgium. You're Dutch? Hey, you guys have been doing great. German? You too! From Spain? Sorry to hear you didn't make it out of the group stage… okay, so maybe it's not the safest topic for ALL nationalities.
In the end, Holland finally lost a game, and so my loyalty switched to Germany, who was my second favourite. They easily won against Brasil — we'll just forget about that painful game. Thankfully there weren't any Brasilian travellers to hang their heads in shame. Germany won the whole thing after a fantastic game against Argentina, with Gotze's goal in the extra half sealing the deal. 
---
---
---
---