---
Note: Underwater pictures are not mine and do not show me. They're borrowed from open sources on the internet.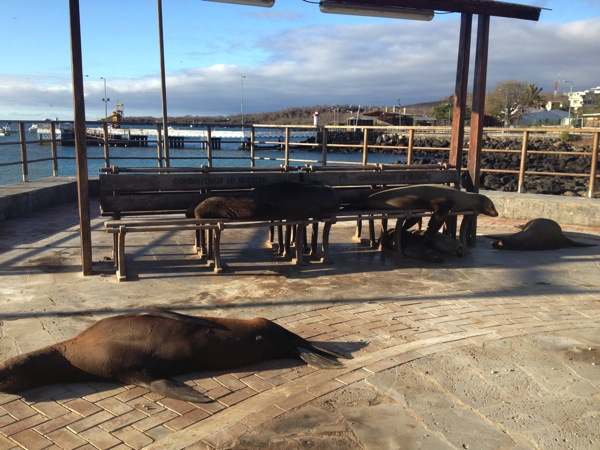 Flying to the Galapagos was basically going from Ecuador to tourist land, with lots of stereotypical gringos wearing bum bags, safari hats and vests. My morning flight got cancelled, so I got moved to one, going to a different island, and then shuttled through the island of Santa Cruz to the harbor, and finally taking a two and half hour ferry ride to San Cristobal, where I would be meeting my dive boat the next day. Glad I flew out the day before, because I arrived at San Cristobal at around 4pm. On this island, the harbor is crowded with lazy sea lions, smelly beasts that take up the park benches and poop all over the boardwalk. Galapagos style!
The next day was spent meeting the boat, getting all my rental gear together, and going for a dip in the harbor to practice getting on and off the panga (dinghy, inflatable boat we entered the water from) and making sure all our gear was good. The water here is supposed to be much colder than anywhere else I've done diving, so I had rented a thicker wetsuit and felt okay. It felt good to be back on a ship, and it was easy to get used to moving all the time, hearing the mealtime bells, and getting into a groove of constant dive prep.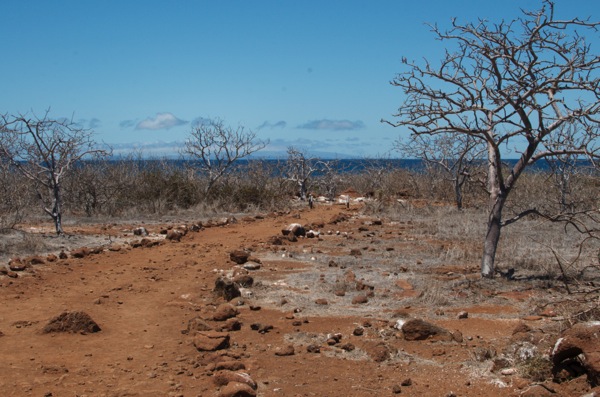 On day two we did one morning dive in a pretty boring spot (admitted by the dive masters), then did a land visit to North Seymour, an odd-looking desolate island where everything is small. There are big populations of Frigates, a kind of bird, and lots of Iguanas. There are also Blue Footed Boobies, a well-known bird with blue feet, prompting lots of tourist shirts that say "I Love Boobies" and have a picture of this bird. There were also sea lions, of course, and it made for a nice land walk on the way out to our main destination, Wolf and Darwin Islands.
Next we set off for Wolf and Darwin, the islands far away that are known for incredible amounts of sea life, which is what we were all there for. The trip took something like 15-17 hours to get to Wolf, and the next day we did three dives there including a relaxing night dive. The next day we amazingly managed to do six dives at Darwin's Arch, the main attraction, and three dives the day after.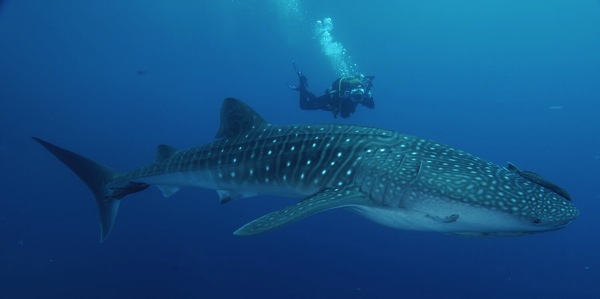 At both Wolf and Darwin we dove with innumerable amounts of Hammerhead sharks, Galapagos and Silky sharks, huge schools of fish, sea lions and Moray eels. At Darwin's Arch we also had six whale shark sightings, which are big, beautiful filter-feeding sharks measuring between 8-11 meters (26-36 feet!). We first saw a juvenile who was on the small side, and then a larger one around 10 meters/33 feet. A few times I swam like crazy and wound up less than a meter / 3 feet away from its side, totally enraptured by the sheer size and power of it, though I was trying to not get hit by the tail. Incredible experience. (note, picture is NOT MINE, and the diver in the picture is NOT ME. Just wanted to add it for context.)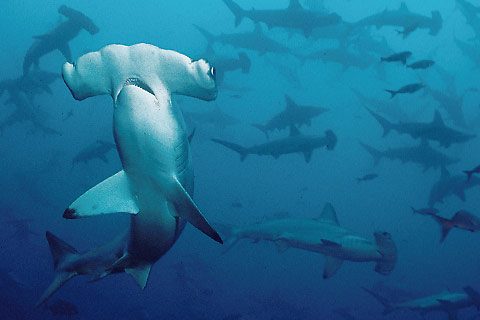 At Darwin's Arch, we swam almost the same way every time, but each dive was different. First we'd get on the panga/dinghy from the boat, and motor over to the drop point. From there, we'd drop straight down as fast as we could equalize, to avoid being swept too far away by the strong currents. We'd head to the "theatre", a ledge around 17-24 meters deep, and hold onto the rocks to stay in one place, basically sitting or laying on the ledge. From that comfortable spot, we'd sway with the currents and watch all the fish go by, then spot the hammerheads and other sharks. Sometimes there was something special, like gigantic yellowfin tuna, sea turtles, and particularly huge schools of fish. Sometimes we'd move to a different point on the ledge, but usually we followed the dive master out into the blue, where we'd be cruising along in the midst of the schools of fish, with hammerheads passing just a few meters below or above us.
I was already on the ship when I heard that it's recommended you have 100+ dives before doing Darwin and Wolf. I started the trip with 23, but no one seemed to think I was a bad enough diver to pull me out, hah. I think my week in Chuuk Lagoon in July, diving inside shipwrecks between 25-40 meters, made me a much better diver than if I'd been in shallow, open water for all those dives. I certainly feel a lot more experienced now, after the currents and rough seas of the Galapagos. Getting back to the surface and into the Panga was always an adventure, with the waves slamming into you while you're next to the Panga trying to hand your weight belt to the driver with both hands.
I remember looking over to see the other half of our dive group completely encircled by a wall of fish, then passing through it until I was in the middle too, and spinning around to get the full 360 view. Really cool feeling. Sometimes the dive master's rattle would go crazy, and we'd all make a frantic dash for the rapidly passing whale shark. Here's where caution most likely dies, where you drop much farther down following that fish, breathing hard through your air to get as close as possible, and risking going into decompression. Luckily, no one ran out of air far down enough to be life threatening, though a few came very close to deco. I came back on the boat with air on every dive and no deco, thanks to constant attention and Nitrox fills.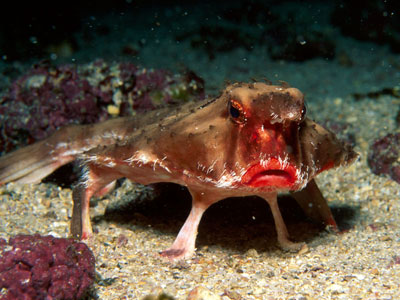 On the way back from Darwin we did three dives at Isabela (Punta Vicente Roca), which was a change of pace. There weren't nearly as many big animals, but there were small things to see, and a really nice bunch of coral. The site had an interesting color scheme of orange and purple, very distinctive. There we saw some rare and strange fish: the red-lipped batfish (pictured left), a weird looking fish that has fins like hands, and doesn't really swim so much as push itself along the sea floor. It reminded me of some ancient form of human that hadn't evolved yet. Seriously, nature comes up with some really weird stuff.
Another strange fish was the sea robin, a speckled fish that had what looked like blue wings. Lastly, in the line of weird, was the tiny bullhead shark, maybe half a meter long. There were tons of other small fish and creatures, and the rocks were also crawling with cleaner shrimp, which clean (eat bits off of) anything that lands on the rocks. I took my gloves off and hovered, letting them pick at my fingers, and they had a field day with my fingernails.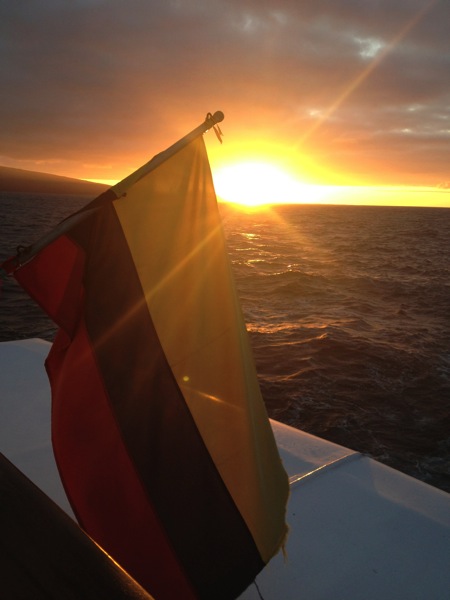 The eight days went so fast. I got used to having great food all the time, my awesome dive buddies, beers after the last dive, watching the birds that perched on the ship for a free ride, sitting out on the deck and watching the sea. Every time I get on a ship I realize that I just want to stay forever, and debate finding some kind of job on the ocean, whether working in diving or just on a ship. It's a hard life, where you just work to be able to dive and not much more, but I'm thinking about it more and more. Eventually I won't be able to afford to take dive cruises… I've already chopped months off my whole trip by spending the money. However, it's been completely worth it, every time.
I've spent a full month in Ecuador, a lot more time than I expected to spend here. I've really enjoyed it, a lot more than I thought I would. It's always the case that wherever I am, I just want more time… so it goes.
I have three more weeks in South America, and picked up a flight from Quito to Cusco, to finally do Machu Picchu and the Sacred Valley, before popping into Bolivia for two weeks. Afterwards, I'm headed to Central America, where I'm thinking of diving in Belize (Blue Hole and other spots) and Mexico (Cozumel). The adventure continues…
---
---
---
---