Japan was the first foreign country I went to, and as of this trip it's also the country I've gone back to the most. I spent a year studying abroad in Tokyo, so there's always been a piece of me left behind in Japan, Tokyo especially. Every time I go back it's familiar but challenging; I speak just enough Japanese to get around, but it's still a struggle.
I didn't intend to go back to Japan on this trip, but working in Micronesia led to some interesting re-routing thanks to frequent flier mile ticket availability. I wanted to fly straight from Guam to South Korea, but there weren't any tickets available on miles. Instead, I flew to Fukuoka, which has a ferry to Busan in South Korea.
The first day in Fukuoka I managed to get out of the airport, catch a bus, and walk to the hostel. On the way, a little old Japanese lady lent me the shade of her umbrella and pointed out to me where the hostel was. We exchanged a few sentences, which I awkwardly dragged out of the recesses of my memory and into my mouth. I had forgotten the pure exhilaration of being able to communicate, even if it's not clearly.  It's like riding a bike – it never quite goes away, just goes dormant. I slowly remembered more and more words, and walking around helped a lot.
In Fukuoka I didn't see very much, but it stirred my memory up a whole lot. Little things fascinated me, like the way people welcome you into a hostel, a store, a restaurant (Irasshaimase!), how to open Onigiri, all the delicious foods and snacks and drinks. The awesome convenience stores (Lawsons, 7-11s) with seating areas and a microwave and hot water to make your food with. The sounds on the subway, each stop with its song, the words I remember because of subway announcements. Ramen shops and the slurps of soup, the way everything just seems to be designed to work well. In Japan they hand out paper fans and packets of tissues with advertisements, so I spent the better part of the week fanning myself with an Armani Exchange fan with some "sexy" clothes models splayed about the front. A little annoying.
After Fukuoka I went down to Nagasaki, where I stayed with two Japanese guys who hosted a bunch of Couchsurfers. These two friendly, amazing dudes opened up their home to us, so while I was there I met six others and had a great time. The first day, I walked around with a guy from Brazil who works with local governments to push for nuclear disarmament. He was in Nagasaki for a conference, and stayed some more time to travel. It was really cool to hear his perspective and experiences, a rare and interesting companion.
Most of the others I met were English teachers who had completed their contract or were on holiday, and were traveling around Japan. Especially in Kyushu, I noticed that most of the people traveling were English teachers, had Japanese relatives or friends, or had other more specific reasons to be in Japan. The tourists are centered around Tokyo, Kyoto, and Osaka, understandably. More, it seems, venture to Hiroshima than Nagasaki if they get that far out.
Nagasaki had two areas of interest. The first is the Peace Park, which is full of beautiful statues dedicated to Nagasaki from a number of countries and sister cities, surrounding an elevated park with the Peace Statue and the Fountain of Peace. Lots of beautiful art expressing friendship. One was from St. Paul, Minnesota. Apparently, Nagasaki and St. Paul are Japan and the US's oldest sister city pair. This sculpture was actually one of my favorites – humans intertwined in a globe. The plaque says "The seven human figures represent the continents. The interdependence of the figures symbolizes global peace and solidarity." Good words, great sculpture.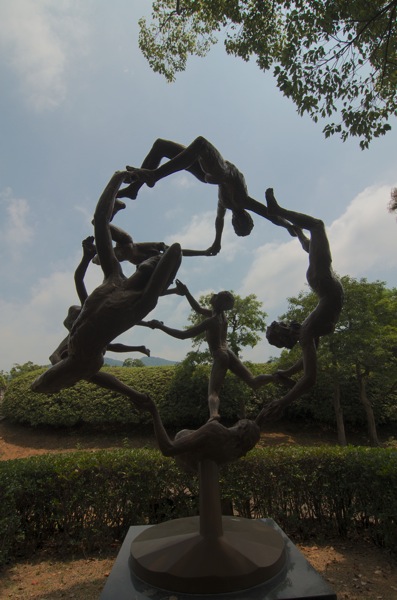 At the top, the Peace Sculpture can be seen. To borrow from the Wikipedia article, "At the park's north end is the 10-meter-tall Peace Statue created by sculptor Seibo Kitamura of Nagasaki Prefecture. The statue's right hand points to the threat of nuclear weapons while the extended left hand symbolizes eternal peace. The mild face symbolizes divine grace and the gently closed eyes offer a prayer for the repose of the bomb victims' souls. The folded right leg and extended left leg signify both meditation and the initiative to stand up and rescue the people of the world. Installed in front of the statue is a black marble vault containing the names of the atomic bomb victims and survivors who died in subsequent years."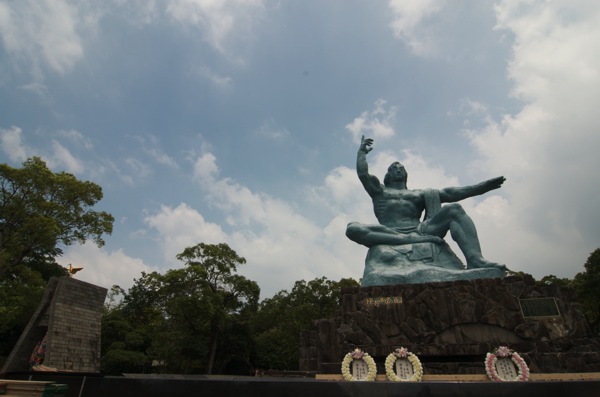 Another quote from Wikipedia on The Fountain of Peace: At the south end of the park is a "Fountain of Peace". This was constructed in August, 1969, as a prayer for the repose of the souls of the many atomic bomb victims who died searching for water, and as a dedication to world peace. Lines from a poem by a girl named Sachiko Yamaguchi, who was nine at the time of the bombing, are carved on a black stone plaque in front of the fountain. It reads: "I was thirsty beyond endurance. There was something oily on the surface of the water, but I wanted water so badly that I drank it just as it was."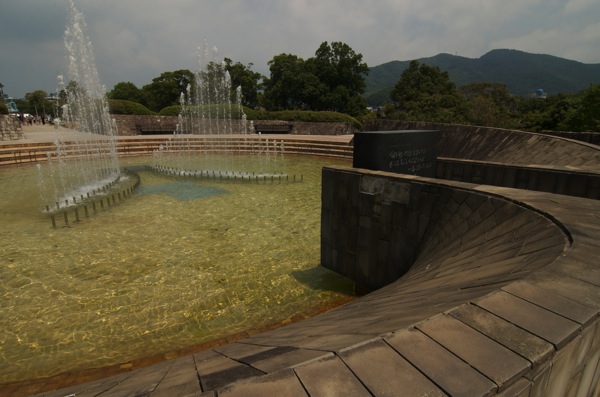 It may seen a bit morbid, but war memorials and monuments are some of my favorite things to see when I travel. They serve as an important reminder to do good, to work for peace, to appreciate and respect other cultures. Walking through the Atomic Bomb Museum and Peace Memorial Hall I wondered how members of the US Government, and the guys who actually pulled the trigger, felt knowing that they destroyed almost 74,000 living souls, and injured countless others in incalculable ways. How desperate does a country need to be to cause that kind of destruction? And this wasn't even the only city bombed! How much did the US really need to show off how powerful it was? Badly enough to slaughter hundreds of thousands of people who weren't even directly involved in the war? And the US still has massive quantities of nuclear weapons.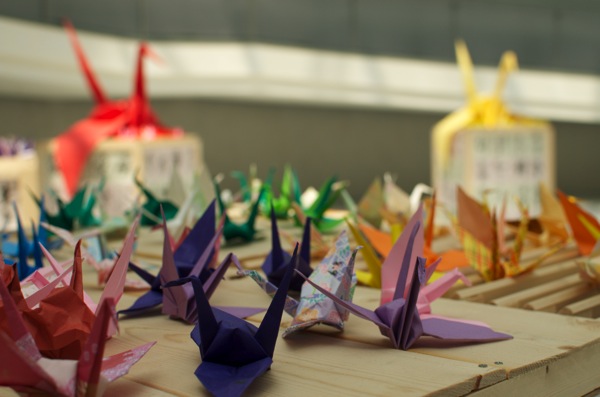 The other half of the city's heritage is one of foreign trade, and it has many historical areas and tourist attractions that highlight this. The Portuguese and later the Dutch traded with Japan through Nagasaki, and the city still has some of the old architecture, including mixed-style houses in Glover Garden. Very interesting history and architecture, showing that some amount of integration and cooperation could happen, including the Scottish merchant Glover's marriage to a Japanese woman, and their children. Nagasaki is also the setting for Madame Butterfly, which I should probably look into.
The last day, two others and I went on a tour to Gunkanjima (Battleship Island), which apparently was inspiration for Skyfall. It's an abandoned coal mining town, with really cool crumbling structures. You can't go inside any of them, at least not on the tour, but they were really interesting to look at. I wish I could've rented a boat and went on alone, but I value my safety.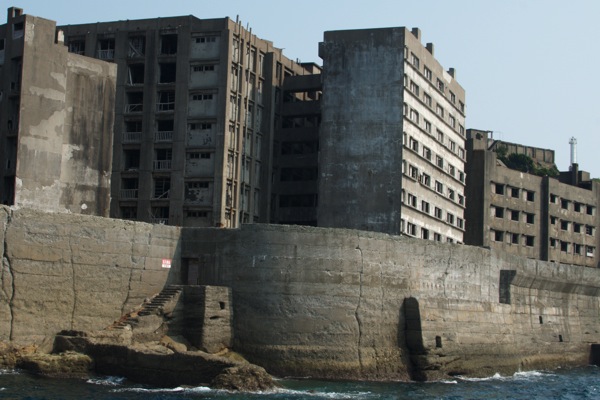 When I wasn't sightseeing or trying to avoid going out in the crazy heat and humidity, I went with the other Couchsurfers to our one host's work, which was a bar and restaurant called Monkey Wrench. That was awesome – great people, great food, awesome conversations to help me improve my Japanese (including a conversation in Japanese about how hard it is to learn Chinese!), and apparently a jam session that happened after I left one night. This is exactly why I love Couchsurfing; it's more difficult to find these crazy wonderful places on your own, without knowing someone local. In any case, that made Nagasaki all the more fun for me. I was very sad to leave, but was really excited to go to Korea, a country I've been wanted to visit for years now. Still, I will always miss Japan, and I'll definitely be going back someday.
---
---
---
---
---
---