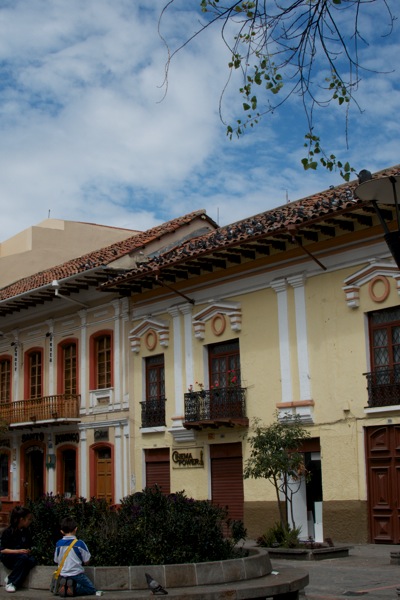 After two long days of crossing the border, the six of us stopped in Vilcabamba, a scenic hippy town in a valley, known for the long lives of its locals, and home to a ton of American and other expats. We rented two cabins at an eco-lodge, a 15-20 minute walk from town through a hiking trail, and spent about a week and a half relaxing, cooking epic meals together, horseback riding, and spending time with a friend of one of the Germans, who owns a local business in town. We'd all grown to feel like a little family on the road, so we didn't grow sick of each other too quickly.
After Vilcabamba, we all headed to Cuenca, one of Ecuador's cities with a beautiful historical center and more great food options. Colonial architecture is one of my favorite things to photograph, and South America has been an amazing place for that. Cuenca was my favorite at this point, with big, beautiful buildings in bright colors. Now I'm actually curious to go to Spain for the architecture!
I could have spent a while longer in Cuenca, it was so nice. We mostly just walked around, and checked out a few of the local markets, one being touristy and the other not so much. I've grown used to the kinds of souvenirs you get in Asia, and now I'm getting used to the ones in South America… patterned ponchos, wicker baskets, embroidered purses, Spanish-style shirts and traditional skirts, textiles of all materials and patterns. I haven't bought anything, though, since I can't stand the idea of carrying anything more in my 35-litre, 15 kilo backpack!
At this point, the Turkish girl and South African guy had only a few days or so to get all the way to Bogota, Colombia to fly out, and the Germans were headed towards Guayaquil, on the coast. So after a nice day and change in Cuenca, we all split ways after two weeks together. I love and hate that about travel – getting to know people, and then saying goodbye… or maybe 'see you later, somewhere'.
From Cuenca, I headed to a small town called Alausi to see about a train ride called Nariz del Diablo, or the Devil's Nose, an old track up a steep mountain. Lots of people do it as a day trip from Riobamba, further north, but Alausi was closer to Cuenca, so I took a quick bus ride up and stayed the night. Not much in town, but I got a nice room and relaxed by myself for the first time in a while.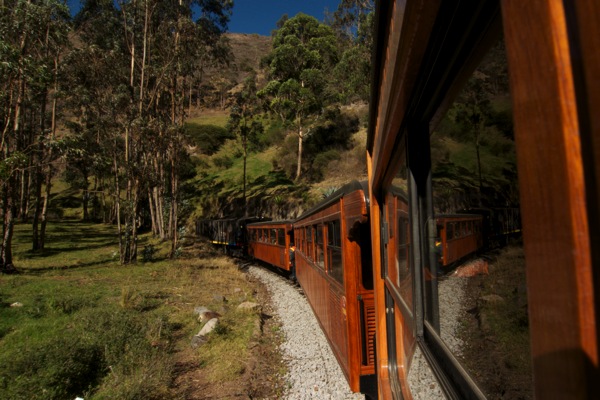 The next morning I dragged myself up at 7am and got an 8am ticket for the train ride, a whopping $25 for the short trip and snack. It was a nice train ride, but not as steep as I was hoping. Nice scenery, and I met an awesome Swiss girl who was going on the same train.
After the first part of the train ride, we got off at a little tourist stop where there were Ecuadorian traditional dances, a Llama you could pay to sit on, and a small snack and coffee. It made for a nice start to the day, though I don't know if I would've wanted to go out of my way for it.
From Alausi, the Swiss girl and I teamed up and took an interesting route she wanted to take to see a volcano (I forget the name, but it was nice), and we stopped at a completely random town (Guaranda) for the night. The next day we detoured to Salinas, a tiny town known for cheese and chocolate (different from the bigger one on the coast) for the morning, got a tour, and then headed over to Banos, one of the popular stops on the tourist/backpacker trail.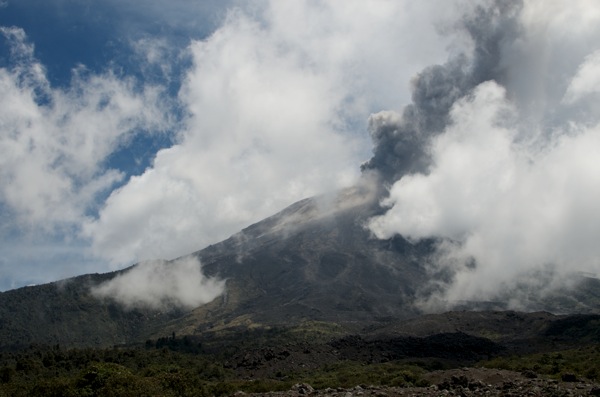 In Vilcabamba, I'd really enjoyed the horse ride we did, and was keen to do another one. Unfortunately, I was the only one in town who was trying to do it, so it wasn't looking promising. The Swiss girl decided at the last moment to join me, meaning we could do it, because it was going to the volcano she wanted to see anyway.
So the next morning we set off with our guide Pablo, and my crazy horse I nicknamed "Poco Loca", since she was a little insane. We walked, trotted and galloped up near the base of the volcano, having a picnic right next to where the lava from the 2006 eruption had carved out a trail, and talked about how fast we could get out if it erupted again. Meanwhile, the volcano rumbled and spewed ash just in time for the clouds to clear so we could get some good pictures. The horses weren't impressed.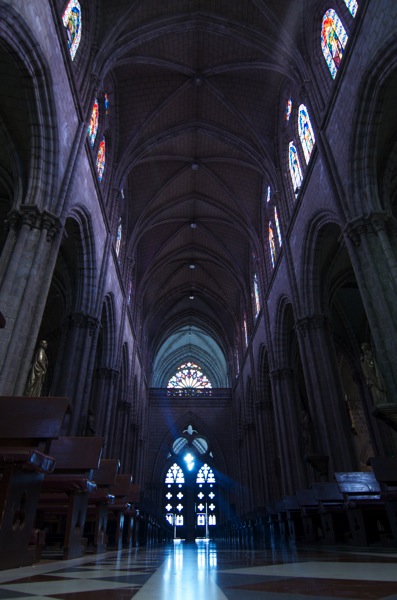 After Banos, we caught the bus to Quito, Ecuador's capital, which has a reputation for being dangerous. I'd met two other travelers who'd both been robbed in Quito, so I didn't have good expectations for it. However, since I wanted to try to get a last minute deal on diving the Galapagos, Quito was on the itinerary. 
I was pleasantly surprised. Quito's new city, Mariscal, was full of good restaurants, and right near the travel agency where I secured a spot on a dive boat. A bit too loud at night, though… I'm not really the partying type at this point.
After arranging the dive trip, we stopped at the Mitad del Mundo (middle of the world), the point on the Equator where the coordinates are all zeros. Actually, they originally built the monument on the wrong spot, so the huge park is wrong, and the real point is on the other side of the park wall in a private museum. We arrived at that spot right as they were closing, but hopped on the last tour. There were some neat demonstrations, the most interesting being that water pours straight out of a sink instead of swirling clockwise or counterclockwise. The guide also said you lose strength and weight when you're standing on the equator, which he demonstrated with us. Really interesting.
Our second night in Quito we moved to the old town, which is full of beautiful buildings and amazing churches (see left, the Basillica). I went completely batshit crazy taking photos, much to the amusement of my Swiss friend. There are times I wonder if I really love photography, or if it's worth it to do, but then I get photos like this, and everything becomes clear again.
There are two arguments I can see about churches, and any other religious building really. The first is that the money should be spent on the people instead of buildings. The second is that churches, etc, are an artistic expression of faith. I can understand both perspectives, but when I walk into a beautiful religious building, I can't help but admire it as a passionate art form. And take lots of pictures of it, of course.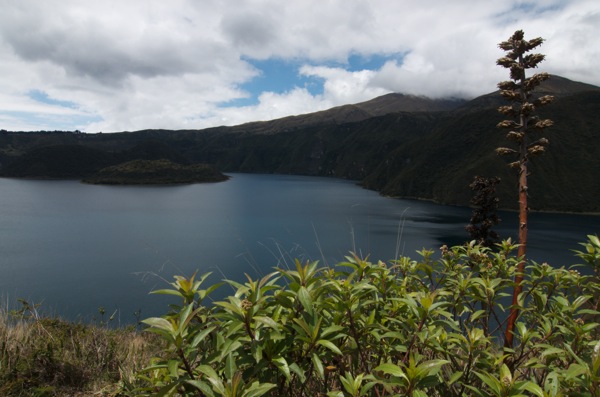 From Quito, my Swiss companion was headed up to Bogota to meet a friend and then travel Colombia, and I had a few days before leaving for the Galapagos, so we went to Otavalo, a small city further north known for its huge Saturday market. We arrived on a Thursday, found an awesome little hotel, and spent two nights, going to a nearby laguna, Cuicocha, and small town, Cotocachi, the next day. That trip was a pleasant combination of busses, the back of a pickup truck, and having lunch with a traveling Argentinian. The laguna was a lovely little walk, and the town had a lovely plaza but few food options.
The market on Saturday was indeed a huge market; nice to walk around, but we didn't buy anything. The nice thing was that there were a lot of Ecuadorians, not just gringo tourists. We also got stopped by a group of English students and helped them practice English for a little while. It was a nice last morning there, and at the bus terminal my Swiss friend and I parted ways after a week together… another sad parting, but we all must travel on! Ironically, I'm picturing riding off into the sunset on Poco Loca, only she would probably just ignore me and turn the wrong way…
---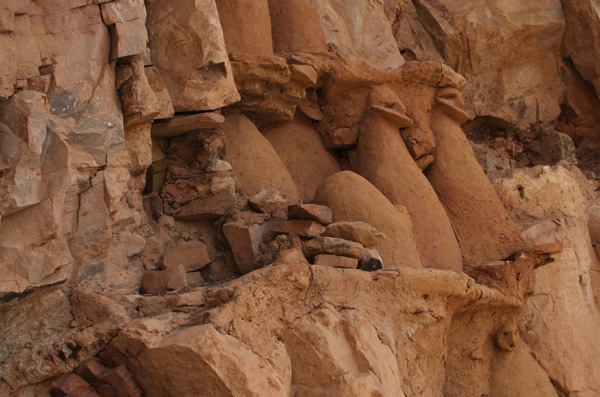 From Trujillo, I took an overnight bus to a small city in the mountains called Chachapoyas. It's full of lovely white colonial buildings, a relaxed vibe, and is not completely overrun with tourists.
My reason for coming here was mainly the Kuelap ruins, but I spent another day on a tour to check out two sites with really interesting sarcophagi, clay burial chambers with sculpted faces dating back to the 15th century. There were also some interesting paintings on the walls from around the same time.
The picture on the left is from  Pueblo de los Muertos (City of the Dead), a collection of sarcophagi built into the side of cliffs. To get close we hiked a ways and then gingerly tiptoed along the edge of a sheer drop, ducking into the remains of circular mausoleums on the way. Many of them are simply inaccessible, but they're really impressive even from a distance. Since they contain bones, there were a lot of bones randomly scattered about the area. The other site is Karajia, which boasts more elaborate and distinctive sarcophagi, with white painted bodies, stronger carved faces, and human skulls (of their enemies, it would seem) resting above them. They are less accessible, however, so harder to see and photograph.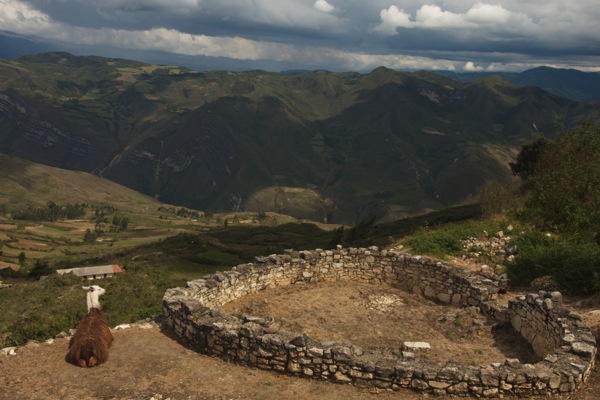 Chachapoyas takes its name from the Chachapoyan people from that area, a reputedly white tribe (e.g. blond haired and blue eyed), lthough there doesn't seem to be much evidence of that. They were conquered by the Inca and apparently didn't survive after the arrival of the Spanish. Another characteristic of the Chachapoyans was their round houses, of which there were hundreds at the other site we visited, Kuelap. In the photo on the left you can see the base of a round house; some of them belonged to shamans, with walls marked with symbols (see below).
Kuelap is called the "Machu Picchu of the North", although it doesn't receive anywhere near the amount of visitors as Machu Picchu due to being a bit remote. That's one of the reasons I wanted to visit it; less tourists means less people in my pictures, and a lot of places that are remote are less degraded or, worse yet, reconstructed. Kuelap is quite an expansive site, and I think it deserves more attention, as does the north of Peru in general.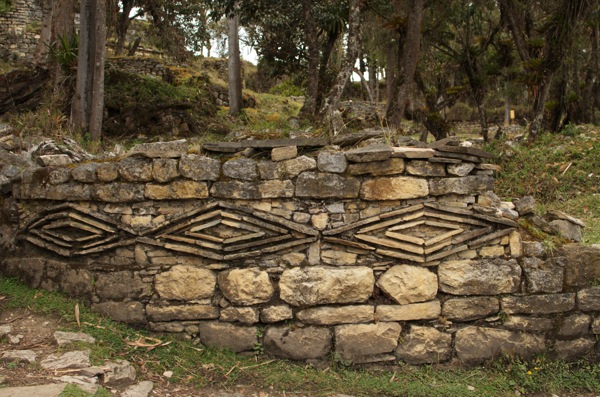 I could have spent a week or more in town, but I was feeling enthusiastic about moving on. In Chachapoyas I went on two days of touring with five other people in a small van, since there weren't that many travelers in the town. We went with Revash, a hostel with its own tour company, and had a really cool, very informative tour guide who spoke excellent English.
By the second day, we'd discovered that we all planned on going up to Ecuador through the La Balsa/Zumba border crossing, a less used crossing, and decided to go together early the next morning.
For the next two days, all six of us stuck together: me, a couple consisting of a South African and a Turkish girl who I nerded out about photography with, and three Germans. We shared quite a few cars with not enough room and got quite comfortable squashed up against each other, feared for our luggage tied to the roof (my bungee cord came in handy for that one), and made it across the Ecuadorian border at La Balsa with no issues, then taking a bus with a chicken and farmers and their sacks of goods to Zumba, where we got a much more comfortable bus to Vilcabamba, a small hippy town nestled in a valley. And then I became a hippy… just kidding.
---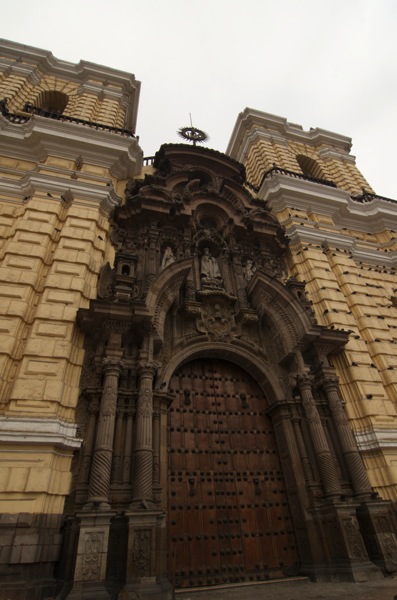 I've traveled mostly in Asian countries before, so it's been a big learning curve to come to Peru and adjust to Latin American culture. I just relaxed in Lima the first few days, in the upscale Miraflores district, which also happens to contain a small ruins site that is still being excavated.
I met with two local girls from the Couchsurfing website, and got to explore more of the city with them, including my first ride on a dilapidated but functional combi, or small bus. The historic center itself has a number of beautiful Spanish-style buildings, but with an array of bright colors, intricate balconies, and a swarm of little stores lining the streets. I really enjoyed visiting the Church of San Francisco (left), complete with catacombs underneath where religious people's bodies were left when they died. The whole place is basically an underground vault of bones, bones and more bones. Amazing.
A long but scenic day bus ride up the coast and inland took me to Huaraz, another dry, dusty city, but this one perched in the mountains at around 3,000 meters above sea level. The first few days here I did almost nothing since I was a bit sick from adjusting to the altitude. However, I was couchsurfing, so spent the time just hanging out with my host and friends, which was a really nice way to get into a groove and pick up some more Spanish.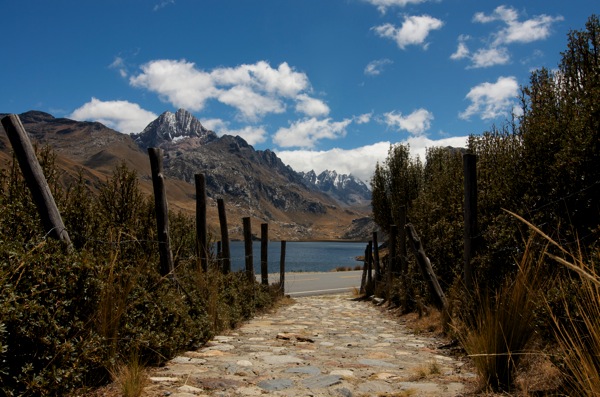 I did two day trips in Huaraz: Pastroruri Glacier and the Chavin ruins site. Pastoruri was my test trek, to see how I fared hiking in altitude. Well, I made it. It was about an hour up, hitting close to 5,000 meters, and I made a lot of little stops to catch my breath and slow my racing heart. My knee was also acting up a bit, so I pretty much ruled out the amazing-sounding multi day treks that most people in the area came for. The ride into the glacier, and hike up, provided some amazing views of Huascaran National Park, so at least I got to see it even if I wasn't going to be trekking it. I'd rather save my knee for Macchu Pichu and the Sacred Valley.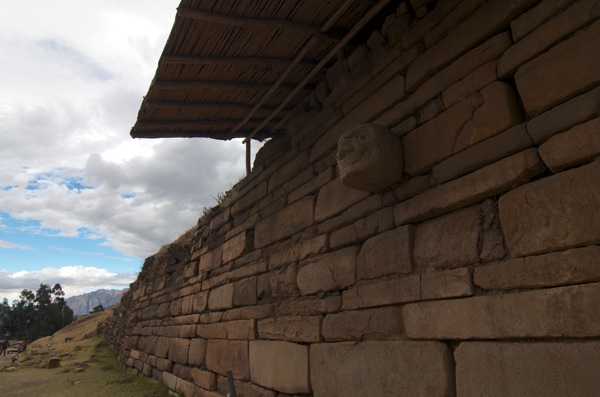 The ride to the Chavin ruins site was even more impressive, with the bus winding up and down the steep mountains. This ride lso proved the most entertaining – I wound up on the Spanish tour, with the rest of the group save one being Peruvians, who were all loud, boisterous, and would randomly burst into song, or chant the name of the town they were visiting from. The other foreigner was a really awesome Italian guy who spoke Spanish and translated a few things for me.
The ruins themselves were interesting, but not particularly impressive. The bus ride there and back more than made up for that, though. What made Chavin interesting was the small things. There were originally a number of carved faces that protruded from the walls of the site, though most of them are now in the museum. They ranged from funny to angry faces, and it's suspected that the inspiration for these were drawn from the imbibing of certain hallucinogenic substances.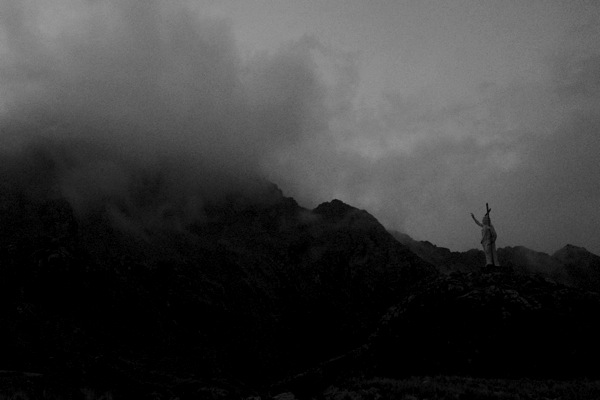 The sun started to set on the way back, and the clouds also came in a deposited a meager amount of rain on the roads; not comforting considering the narrow, twisting ride back to Huaraz. Luckily, the rain didn't last for very long. 
Peru, being a very Christian and Catholic country, had a huge religious statue up in the mountains, which provided this awesome photo on the way back. Very cool.
Huaraz to Trujillo was my first overnight bus ride in Peru, and was of course fairly uncomfortable. I'm amazed I got any sleep at all. I didn't check my bag, so I spent the ride with my 35 litre bag as a footrest, and an old Peruvian guy snoring to my right. Once we got into Trujillo, I shared a taxi to Huanchaco, a small beach town just outside of Trujillo, and napped for a few hours at my hostel.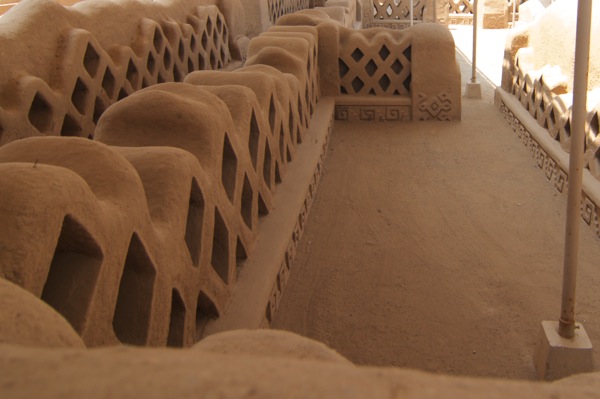 I met up with two girls I'd been talking to through Couchsurfing; why I thought it was a good idea to get up and go right after a night bus I'm not sure, but together we went to visit Chan Chan, a 700+ year old Chimu ruins site right next to Huanchaco.  Chan Chan is a huge Adobe (mud brick) city with simple but beautiful carvings in the walls. I really liked this a lot, despite hearing reviews saying it was "just okay". The whole feel of the place, and the colors and patterns, were really interesting, and it's even more amazing to me that this was just hidden, buried under sand. Across the road you can see mounds and mounds of sand with walls peeking out, just waiting to be uncovered.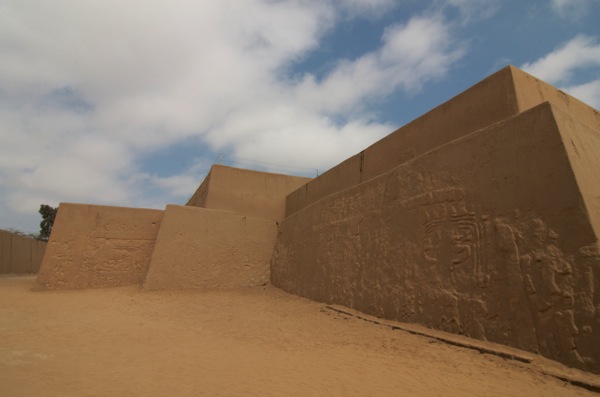 After Chan Chan, we met a German girl who was negotiating with a taxi to visit other nearby Chimu sites, and we joined in. Being four people now, it was a much better deal, about US$3.50 for a taxi to drive us around for an hour or more! Along with the Chan Chan museum, we saw two other, smaller Huacas (temples): Huaca del Esmeralda, and Huaca del Arco-Iris (pictured), or Temple of the Rainbow. The last one was very impressive; just a small structure, but with amazingly intricate designs carved in the walls, many featuring rainbows, hence the name. 
The next day, the three of us met up again and went to Huaca de la Luna y Huaca del Sol, which are two Moche temples just outside of Trujillo. This involved a long, bumpy taxi ride to the outskirts, where suddenly you emerge from the dusty side streets to the view of a hill with a huge excavation site at its base. Huaca de la Luna (Temple of the Moon) is undergoing excavation, while its sister temple, a ways away, is still under a pile of sand. In between the two temples is a buried city, part of which is being uncovered. I would be curious to go back in 40-50 years and see how much work has been done.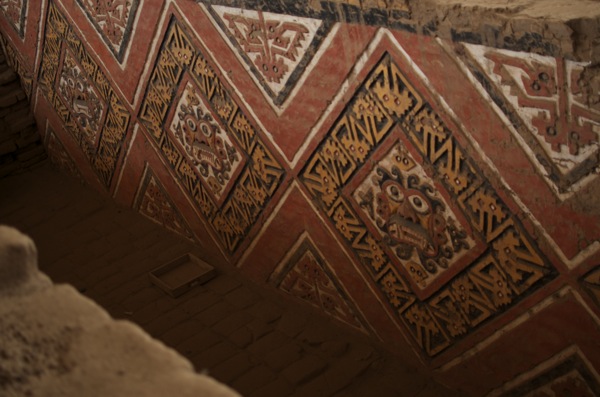 I've heard that most people prefer Huaca de la Luna to Chan Chan, but I like both of these sites for different reasons. Chan Chan felt more complete, more like you could walk in and imagine what it was like to be there a thousand years ago, whereas Huaca de la Luna contains absolutely impressive painting carvings all over. Apparently it was a tradition with each successive ruler to cover the old and paint a new level, so during the excavation many levels of carvings have been uncovered. In the museum near the site, a number of exquisite ceramics are held, many of which are carvings of people who were sacrificed. The level of detail in these is amazing; it's almost unbelievable that this site is around 700 years OLDER than Chan Chan. The last part of the tour led us to the outside of the Huaca, where a multi-layered wall shows the multitude of designs.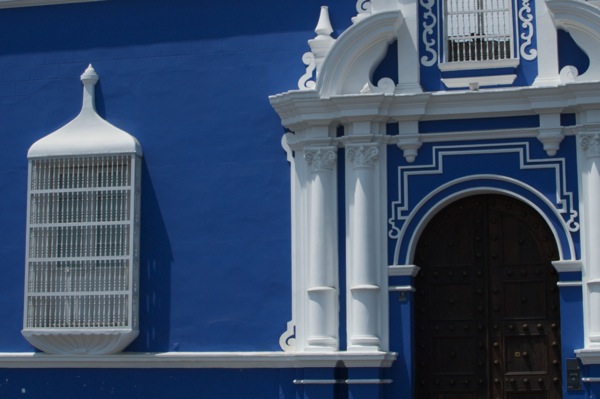 I must admit that the few week or so of Peru has been a bit underwhelming; I've thought a lot about how much I miss Asia and Oceania, and I thought I might not be able to get into a groove here. However, seeing these awesome ruins has reminded me how much I love archeology and ancient civilizations, and meeting people though couchsurfing and hostels has helped me adjust a lot. The few days I spent in Huanchaco (which also is a wonderfully chill beachside town in its own right) really refreshed me and got me excited for travel again.
My last full day in the area was spent with Louise, one of the Couchsurfers, going into downtown Trujillo to watch a parade and kill some time before her night bus. The Plaza de Armas in Trujillo is probably the most beautiful Plaza I've seen yet in Peru, which its colonial buildings and Trujillo-style windows (see above picture). The parade was also really fun to watch, moreso with another person. Afterwards, we chilled at my hostel and watched movies until she had to go. That's the problem with travel – you make new friends just in time to leave them and probably never see them again. So it goes.
---