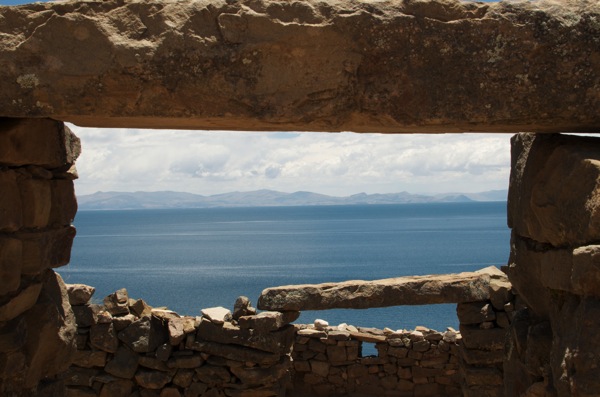 Having only a week and a half for Bolivia, I narrowed down the places I planned to visit: Isla del Sol and the Uyuni Salt Flats (the main reason I wanted to go to Bolivia!). Going from Cuzco to Puno, Peru and then crossing the border to Copacabana was a very frequented backpacker trail, so it was a pretty uneventful border crossing, and I managed to make it to Copacabana in time to take a ferry out to Isla del Sol. I met up with a few British girls and an Israeli guy, and we all stuck together for the day. 
Isla del Sol is a scenic little island surrounded by Lake Titicaca, with a cluster of hotels and restaurants. We all walked up the hill to find a hostel, with our packs and braving the altitude, and finally settled on a very basic little hostel with a lovely view of the lake. The next day, one of the Brits, the Israeli guy, and I hiked from the south part of the island to the north, which was a massive challenge for me, between altitude sickness (average altitude of 4,000 meters), bad knees and not having much stamina. Despite stopping to catch my breath every ten minutes, I managed to made it all the way north and back again, a total of 6-7 hours of hiking. The views and scattered ruins (pictured above) were lovely, completely worth the challenge, and that evening the British girl and I had a candlelit dinner in a restaurant with the nicest staff ever, and the best Quinoa soup I've had yet. All in all, it made for a nice stopover on the way to Uyuni.
After two nights on Isla del Sol, I hopped in a collective to La Paz and stayed a night, organizing my Salt Flats trip with the Tupiza Tours office nearby the next day. Later I got a bus to Tupiza, the town where the tour started from, a 14 hour ride away. That wasn't the best bus trip I've ever taken. I was pretty sure the bus was going to fall apart at the seams; the seats barely reclined, the brakes squeaked, and it stopped pretty much everywhere until around 9pm. I caught a few naps on the ride, which luckily wasn't through any steep mountain roads. I arrived in Tupiza at 6:30am the next day and didn't do much, though frankly I found it pretty dull anyway.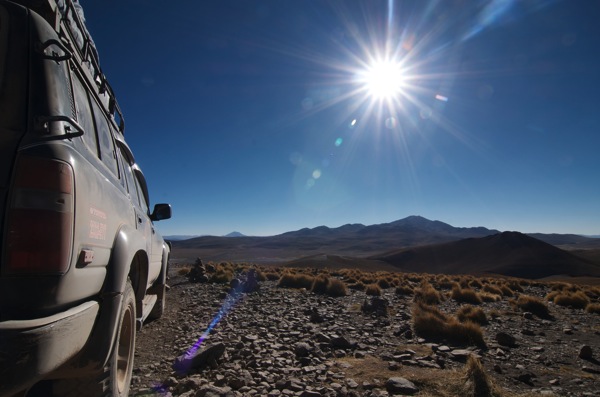 Finally, I met up with the tour group the next morning. I'd lucked out and got moved last minute to a group with an English speaking guide, and while the maximum group size is six, we only had four in our group, making the crammed 4×4 a lot less crammed. Also, it pays to be short sometimes.
Our tour was four days, three nights, starting in Tupiza and working our way around the National Park (Reserva Nacional de Fauna Andina Eduardo Avaroa) and up to Uyuni, where we ended in the salt flat.
I could sit here and write a paragraph about every single thing we saw over the four days, but honestly that's a bit much, so I'll just go through the highlights.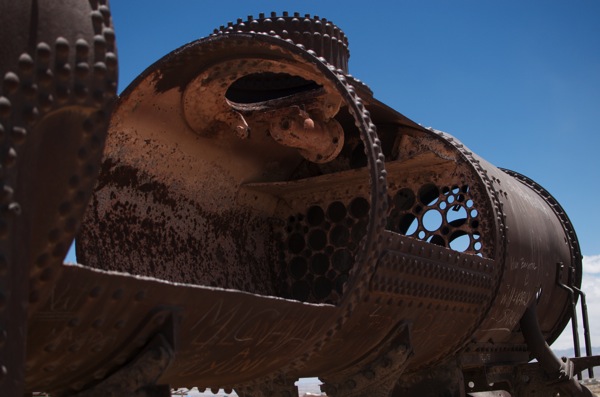 Ruins: Since I love ruins, I loved the two sites we saw. On day one we went through an abandoned mining village, which was completely falling apart, and had a formerly nice church.
On the fourth day we saw the "Cementerio del Trenes", which was an awesome collection of old, rusty trains sitting around, swarmed with tourists. They were 19th century British trains used to transport mined minerals to the coast for export. Really cool place, though I spent a lot of time waiting for tourists to get out of the frame. I could have spent hours just at that site; this kind of photography is even more up my alley than landscapes.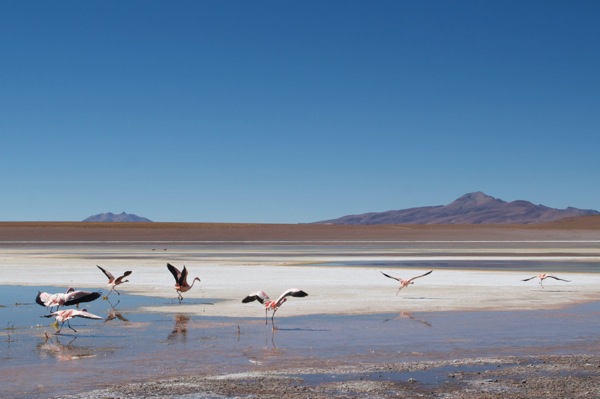 Lagunas: We stopped at an innumerable number of beautiful lakes throughout the four days, ranging in color from pure turquoise to crystal clear, to the amazing shades of white, pink and red at Laguna Colorada. The colors of the lagunas are due to various chemical reactions. Our guide was very knowledgable about what chemicals caused what colors, for instance that the flamingos are shades of pink because of the beta carotene in what they ate at the lagunas, and that the beautiful turquoise Laguna Verde is actually poisonous due to a high content of arsenic. No one ventured a sip, luckily.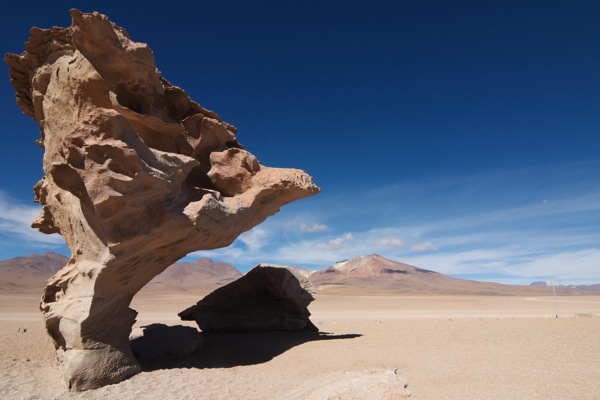 Minerals and Rocks: Pulling into a laguna that produced Sodium Bicarbonate (aka baking soda) was pretty incredible. Standing in this production area, though devoid of workers, we could see piles and piles of this substance in the most unexpected of places. Along the edges of many lagunas was a ring of salt as well, which of course wasn't surprising.
In another life, I could be a geologist; rocks and minerals are fascinating. The effects of volcanic eruptions from hundreds of years ago make for very cool photography, especially in a place like Arbol de Piedro (pictured, left). Another random spot was dotted with fallen rocks from an eruption thousands of years ago, and was nicknamed the Desert of Dali.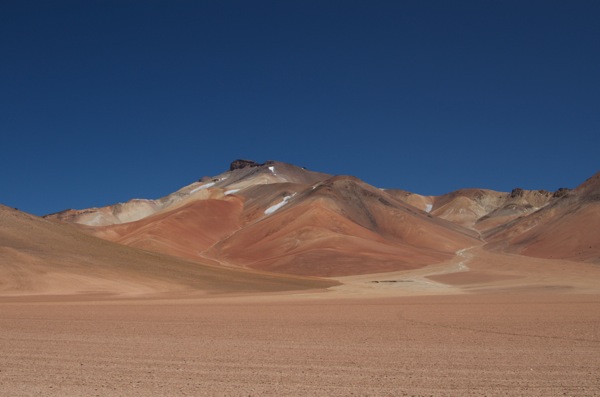 Landscapes: We drove through all kinds of landscapes, vast deserts, and of course the salt flats. The range of colors and shapes was incredible, from round hills dotted with sparse brush, to sand as far as the eye can see, to this beautiful mountain range on the left.
I love seeing places where the landscapes change drastically, and this area of Bolivia reminded me a bit of New Zealand in that respect. Photographically speaking, it was well worth the four days of sitting in a Jeep, and even the two days without a shower!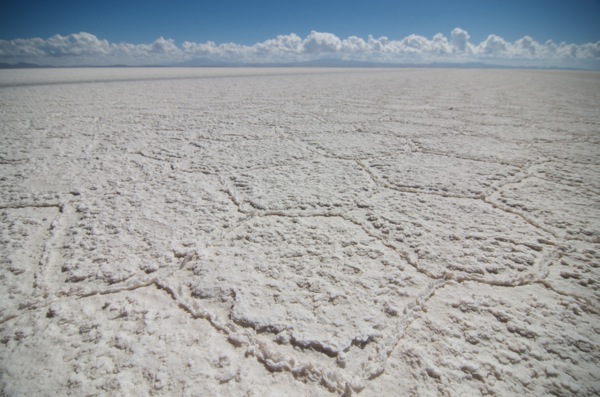 Salt: Of course, the main attraction of the area is Uyuni, the world's largest salt flat. Basically, this is over 10,000 square kilometers (or 4,000 square miles) of nothing but ground covered by salt a few meters deep. 
The area was originally at the bottom of a prehistoric saltwater lake. You can see dead coral structures at Incahuasi Island, a strange oasis of cacti, rocks and coral in the middle of the flat. Over time, tectonic plate movement pushed the ground up to its current altitude (just over 3,600m), and, now devoid of water, the salt remains.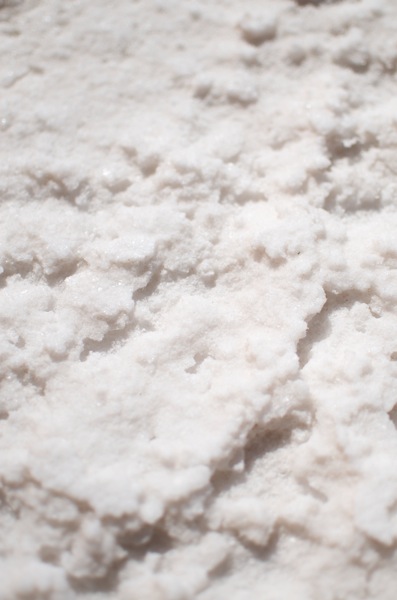 There's one small area in the flat where they cultivate salt for use solely in Bolivia, which I think is great considering how exports have raised prices on goods all over other South American countries. Our guide also told us how the government has been working to bring electricity and clean water to the more rural areas of the country, and raise the standard of living. It's encouraging to hear that from someone on the inside.
The Bolivian government also kicked out foreign companies trying to extract minerals (Salar de Uyuni has large amounts of Lithium), and to this day there's only one foreign company working in the area; many family-owned operations exist to mine other minerals like gold, sodium bicarbonate, and of course the salt.
They also removed a salt hotel in the middle of the flat which had posed pollution and waste problems. Further away there are still various hotels made with bricks of salt, one of which we stayed at. Pretty neat. Lick the walls if you want.
I was hoping to be there when it rained, because of the amazing reflections, but it didn't. It was still very interesting without the water, especially the pattern of the ground all throughout; amazingly consistent, and very photogenic of course. It was hard to go through all my pictures and pick only some to show.
Photographically speaking, I've been incredibly lucky throughout my travels; great weather for most of the time. I've been privileged to see some amazing things both over and under the water. I'm sad to leave South America, because as always I'm coming away with an even longer list of things to see. I didn't expect to like it as much as I have, and honestly it wasn't very high on my priority list to begin with. However, like with everything, just going somewhere is mind-opening.
From La Paz, I fly to Belize, where I'll hopefully do more scuba diving, and then travel to see ruins in Guatemala and Mexico's Yucatan Peninsula. The adventure continues…
---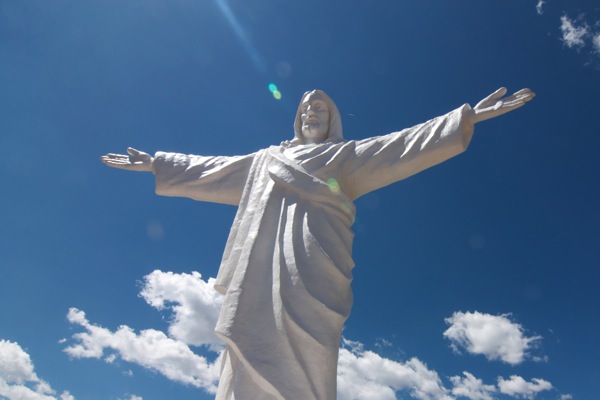 From the Galapagos, I booked a flight all the way down to Cuzco, not even needing to leave the Quito airport. I spent seven hours in the Lima airport, and finally got to Cuzco and just relaxed for the day. Cuzco is at high altitude (3,400m / 11,200ft) and so it's advised to spend a few days there to acclimatize. Unfortunately, I have a hard time adjusting to altitude, even over a few days. The next day, I did a walking tour with a cool English girl I met, and was breathing hard and drinking water the entire time. I don't know if my heart has ever beat so fast. In any case, I survived. The walking tour was free and surprisingly informative, covering a few neighborhoods and some of the major sites in those areas, including the beautiful churches with original, anti-siesmic Inca stone foundations. We also stopped at a store for a demonstration of traditional Peruvian instruments, and a few places for bites of food. Definitely worth the price, plus tip.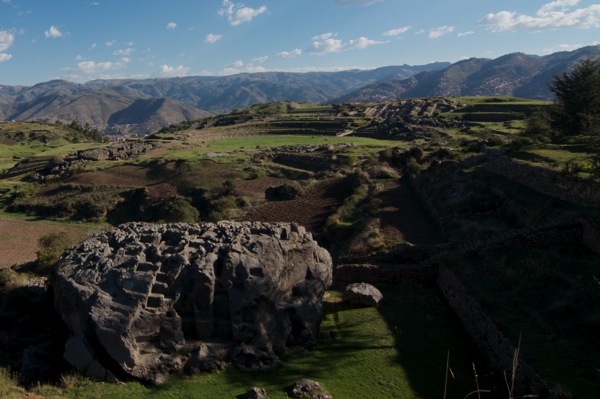 The next day, my companion and I bought sandwich supplies at the local market (avocados, tomatoes, bread) and went to check out the free ruins near Cuzco. It was a long, long day of more walking (and a short horseback ride), but we got to see some neat ruins and the gigantic white Jesus statue (pictured above) that guards over the city.
Towards the end of our walk we found a nice picnic spot overlooking the ruins (pictured), with no one else around, and we ate our sandwiches there before walking back via the giant white Jesus.
After that adventure, we opted for something slightly different, and booked a day tour to go river rafting in the Urubamba River. I've never gone river rafting before, but I've always wanted to, and I love pretty much anything to do with being on or under water. Very fun, and amazing scenery. Afterwards, we got a surprisingly good lunch at "Base Camp", and then almost everyone opted to do the zipline across the river. I'm too afraid of heights to do it, but I was satisfied enough with the rafting.
Finally, I made it out to Machu Picchu, or rather Aguas Caliente, the small town at the base of the mountain. AG was a sad specimen of a town, completely overrun by tourism with hostels and restaurants that were all exactly the same and overpriced. I wound up taking the train in from Ollantaytambo, which was cheaper than going all the way from Cuzco. I arrived in the evening, bought my entry ticket and bus tickets up and down the mountain. Spending the evening in AG was pretty boring, aside from the little girl at the restaurant where I had dinner, who was obsessed with my piercings and shiny computer. I showed her pictures and talked in my very limited Spanish.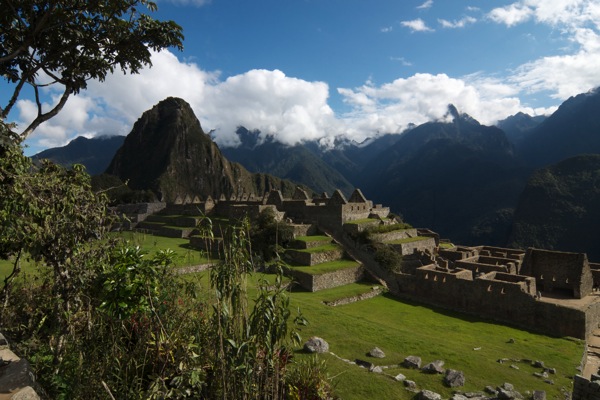 The next morning, I got up at 4:30am and walked to the bus stop at 5, to catch the first bus of the morning, which was at 5:30. There was already a long line. Luckily, they ran out of seats for couples and needed a solo person… so I skipped the line a bit and got the last seat on the first bus! After the half hour long, very winding bus ride up, I got to stand in another line before the gates opened. Once they did, I rushed ahead of the gathering tour groups and got my tourist-free Machu Picchu pictures.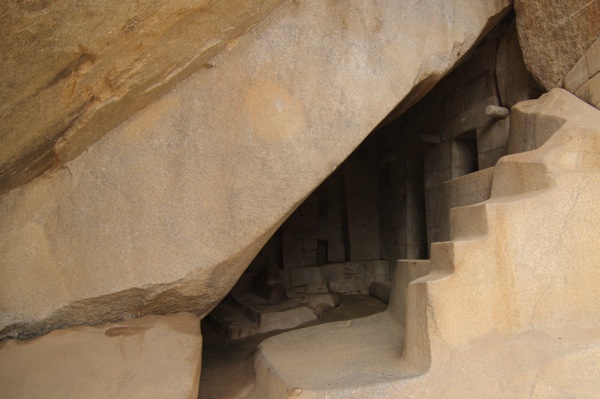 Machu Picchu is, of course, amazing. I think the main attraction of it is the sheer size and the beautiful settings. The narrow, tall mountain peaks in the background are an identifiable characteristic of the site, even though it lacks the intricate carved details of Angkor Wat, and the gorgeous pink and orange limestone of Petra. It does has the Inca attention to detail in terms of its orientation and position in the mountains, and the number of temples throughout the site (such as the Temple of the Sun, left). The stonework is nice and well engineered against earthquakes, but it's not very embellished. Throughout, you can imagine finding the sacred animals hidden in the walls: the serpent, for the underworld, the puma, for the living world, and the condor, for the overworld.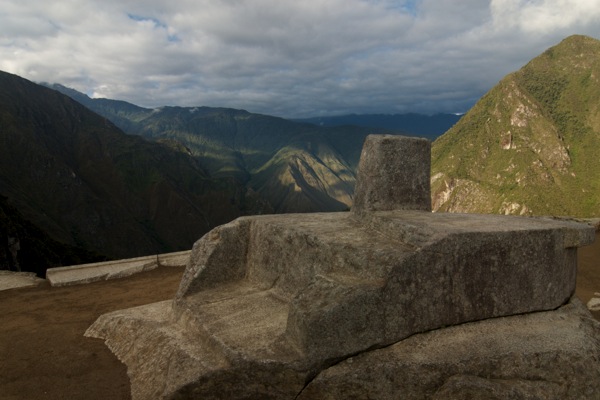 Sometimes, I linger at a specific spot and eavesdrop on the tours that pour through, contributing to my knowledge of what's what, like the energy stone (pictured), and the temple that was either damaged from a 1915 earthquake, or tourists walking on the top, depending on which tour guide was talking.
I spent over four hours total walking around Machu Picchu, from 6am until 10:30, when the hoards of tourists increased a thousandfold. I'd been walking through a number of passageways in the residential area, almost completely alone. This is my favorite way to see the sights; having enough time to take in all the small details as well as the overall, not being rushed through a tour with no time to take good pictures.
I wanted to visit a number of other sites, but unfortunately my bad knees and altitude sickness made trekking a very bad idea. That was one very disappointing part of the week, but considering how hard walking up and down the steps in Cuzco was, I don't think I'd make it through a trek without seriously injuring myself. At least I have scuba diving.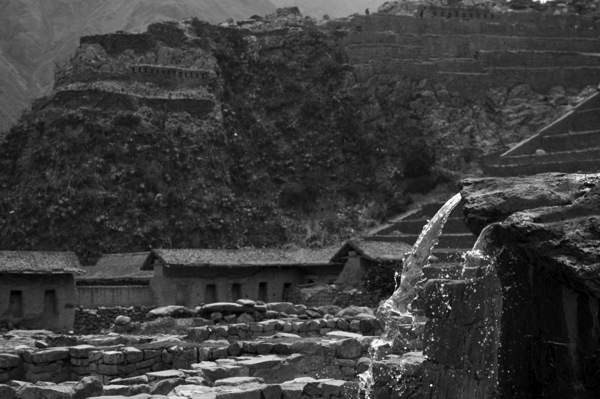 Two other sets of ruins I did get to see were Ollantaytambo and Pisac, both near towns that were easy to get to by public transportation. Naturally, they were a bit underwhelming compared to Machu Picchu, but they were a different enough style to be interesting. The Ollantaytambo ruins were a short walk from the main plaza of this lovely little town (I wished I'd stayed there a night), and consisting of terracing and some structures on the top and the bottom. There were some really neat examples of Inca irrigation systems as well (pictured).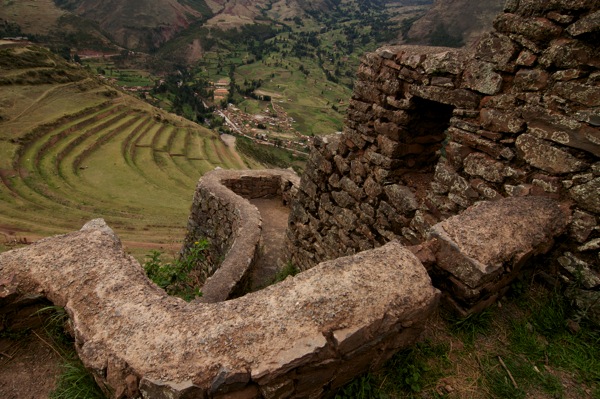 Pisac (pictured) was more difficult to get to; farther away from the town of Pisac, it required an expensive taxi ride to get to, and I had too little time to really enjoy it. Pisac was much bigger and more spread out than Ollantaytambo, with much more impressive terracing and a great view of the valley. Unfortunately it was also undergoing some restoration, so I had to edit out lots of blue tarp. Overall, both were nice to visit, but I wish I'd done them before Machu Picchu, and gotten a much early start before attempting to do both in one day. I regret not having more time for the entirety of the Sacred Valley. There's always more things to add to the list, another place to go back to someday!
Up next, a week and a half in Bolivia, and then on to Central America!
---
Note: Underwater pictures are not mine and do not show me. They're borrowed from open sources on the internet.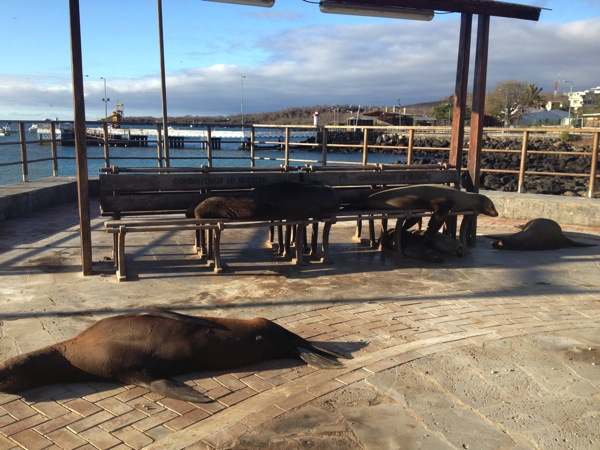 Flying to the Galapagos was basically going from Ecuador to tourist land, with lots of stereotypical gringos wearing bum bags, safari hats and vests. My morning flight got cancelled, so I got moved to one, going to a different island, and then shuttled through the island of Santa Cruz to the harbor, and finally taking a two and half hour ferry ride to San Cristobal, where I would be meeting my dive boat the next day. Glad I flew out the day before, because I arrived at San Cristobal at around 4pm. On this island, the harbor is crowded with lazy sea lions, smelly beasts that take up the park benches and poop all over the boardwalk. Galapagos style!
The next day was spent meeting the boat, getting all my rental gear together, and going for a dip in the harbor to practice getting on and off the panga (dinghy, inflatable boat we entered the water from) and making sure all our gear was good. The water here is supposed to be much colder than anywhere else I've done diving, so I had rented a thicker wetsuit and felt okay. It felt good to be back on a ship, and it was easy to get used to moving all the time, hearing the mealtime bells, and getting into a groove of constant dive prep.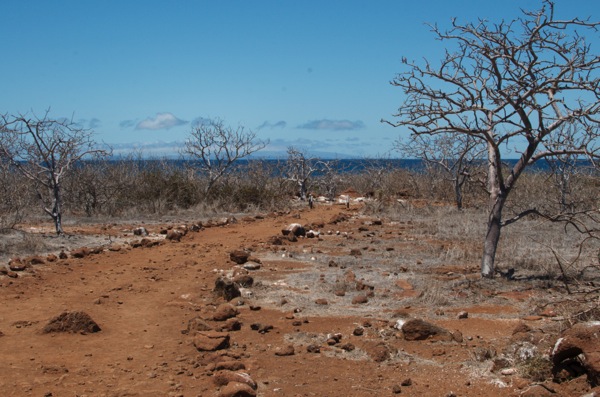 On day two we did one morning dive in a pretty boring spot (admitted by the dive masters), then did a land visit to North Seymour, an odd-looking desolate island where everything is small. There are big populations of Frigates, a kind of bird, and lots of Iguanas. There are also Blue Footed Boobies, a well-known bird with blue feet, prompting lots of tourist shirts that say "I Love Boobies" and have a picture of this bird. There were also sea lions, of course, and it made for a nice land walk on the way out to our main destination, Wolf and Darwin Islands.
Next we set off for Wolf and Darwin, the islands far away that are known for incredible amounts of sea life, which is what we were all there for. The trip took something like 15-17 hours to get to Wolf, and the next day we did three dives there including a relaxing night dive. The next day we amazingly managed to do six dives at Darwin's Arch, the main attraction, and three dives the day after.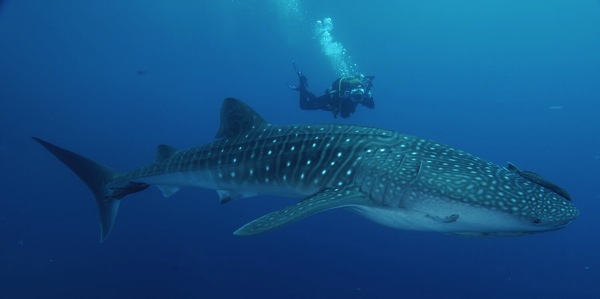 At both Wolf and Darwin we dove with innumerable amounts of Hammerhead sharks, Galapagos and Silky sharks, huge schools of fish, sea lions and Moray eels. At Darwin's Arch we also had six whale shark sightings, which are big, beautiful filter-feeding sharks measuring between 8-11 meters (26-36 feet!). We first saw a juvenile who was on the small side, and then a larger one around 10 meters/33 feet. A few times I swam like crazy and wound up less than a meter / 3 feet away from its side, totally enraptured by the sheer size and power of it, though I was trying to not get hit by the tail. Incredible experience. (note, picture is NOT MINE, and the diver in the picture is NOT ME. Just wanted to add it for context.)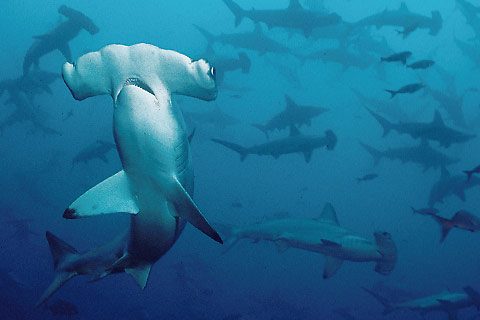 At Darwin's Arch, we swam almost the same way every time, but each dive was different. First we'd get on the panga/dinghy from the boat, and motor over to the drop point. From there, we'd drop straight down as fast as we could equalize, to avoid being swept too far away by the strong currents. We'd head to the "theatre", a ledge around 17-24 meters deep, and hold onto the rocks to stay in one place, basically sitting or laying on the ledge. From that comfortable spot, we'd sway with the currents and watch all the fish go by, then spot the hammerheads and other sharks. Sometimes there was something special, like gigantic yellowfin tuna, sea turtles, and particularly huge schools of fish. Sometimes we'd move to a different point on the ledge, but usually we followed the dive master out into the blue, where we'd be cruising along in the midst of the schools of fish, with hammerheads passing just a few meters below or above us.
I was already on the ship when I heard that it's recommended you have 100+ dives before doing Darwin and Wolf. I started the trip with 23, but no one seemed to think I was a bad enough diver to pull me out, hah. I think my week in Chuuk Lagoon in July, diving inside shipwrecks between 25-40 meters, made me a much better diver than if I'd been in shallow, open water for all those dives. I certainly feel a lot more experienced now, after the currents and rough seas of the Galapagos. Getting back to the surface and into the Panga was always an adventure, with the waves slamming into you while you're next to the Panga trying to hand your weight belt to the driver with both hands.
I remember looking over to see the other half of our dive group completely encircled by a wall of fish, then passing through it until I was in the middle too, and spinning around to get the full 360 view. Really cool feeling. Sometimes the dive master's rattle would go crazy, and we'd all make a frantic dash for the rapidly passing whale shark. Here's where caution most likely dies, where you drop much farther down following that fish, breathing hard through your air to get as close as possible, and risking going into decompression. Luckily, no one ran out of air far down enough to be life threatening, though a few came very close to deco. I came back on the boat with air on every dive and no deco, thanks to constant attention and Nitrox fills.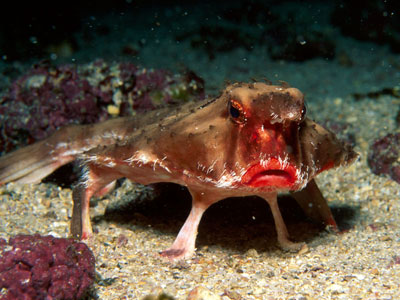 On the way back from Darwin we did three dives at Isabela (Punta Vicente Roca), which was a change of pace. There weren't nearly as many big animals, but there were small things to see, and a really nice bunch of coral. The site had an interesting color scheme of orange and purple, very distinctive. There we saw some rare and strange fish: the red-lipped batfish (pictured left), a weird looking fish that has fins like hands, and doesn't really swim so much as push itself along the sea floor. It reminded me of some ancient form of human that hadn't evolved yet. Seriously, nature comes up with some really weird stuff.
Another strange fish was the sea robin, a speckled fish that had what looked like blue wings. Lastly, in the line of weird, was the tiny bullhead shark, maybe half a meter long. There were tons of other small fish and creatures, and the rocks were also crawling with cleaner shrimp, which clean (eat bits off of) anything that lands on the rocks. I took my gloves off and hovered, letting them pick at my fingers, and they had a field day with my fingernails.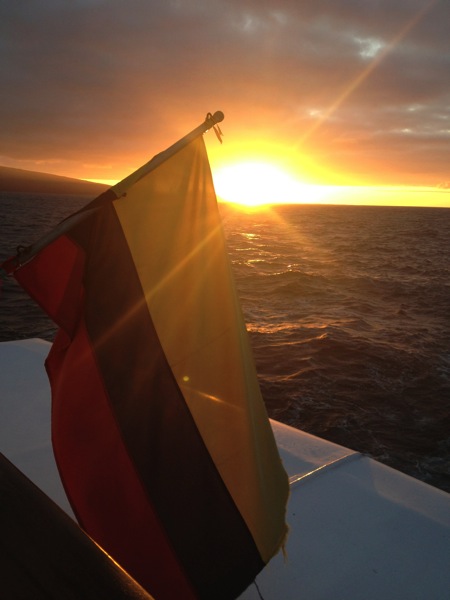 The eight days went so fast. I got used to having great food all the time, my awesome dive buddies, beers after the last dive, watching the birds that perched on the ship for a free ride, sitting out on the deck and watching the sea. Every time I get on a ship I realize that I just want to stay forever, and debate finding some kind of job on the ocean, whether working in diving or just on a ship. It's a hard life, where you just work to be able to dive and not much more, but I'm thinking about it more and more. Eventually I won't be able to afford to take dive cruises… I've already chopped months off my whole trip by spending the money. However, it's been completely worth it, every time.
I've spent a full month in Ecuador, a lot more time than I expected to spend here. I've really enjoyed it, a lot more than I thought I would. It's always the case that wherever I am, I just want more time… so it goes.
I have three more weeks in South America, and picked up a flight from Quito to Cusco, to finally do Machu Picchu and the Sacred Valley, before popping into Bolivia for two weeks. Afterwards, I'm headed to Central America, where I'm thinking of diving in Belize (Blue Hole and other spots) and Mexico (Cozumel). The adventure continues…
---