Because I spent longer in South America than I originally intended, my trip through Central America was a whirlwind of movement, sites, and of course more diving.
I started out by flying into Belize, where I went straight to Caye Caulker, an island close to Belize City. It's just about the perfect tropical vacation destination: a very creole island with good food, plenty of bars, a range of accommodation choices, and no cars on the sand roads. There were beaches and plenty of places to dive, including the iconic Great Blue Hole. I, of course, dove the Blue Hole and surroundings, and had a great time, though it wasn't as impressive as I was hoping for. The rest of the time, I chilled out on the island, went snorkeling, and then traveled onward to San Ignacio, a Belizean city near the Guatemalan border (literally 15 minutes away).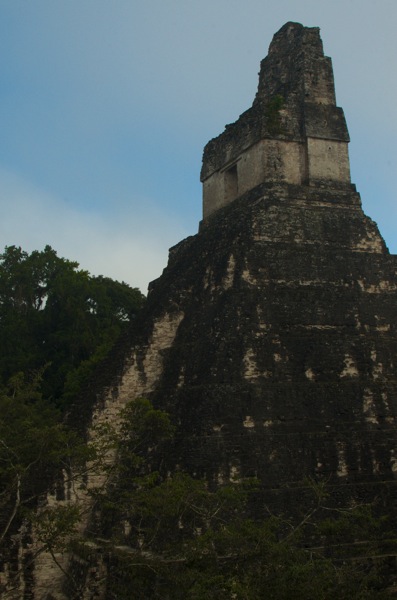 From San Ignacio I did the ATM (Actun Tunichil Muknal) cave tour, where you basically swim through a cave, which the Mayans believed was an entrance to the underworld, and then get to climb up and see ruined pottery, ritual items and a few skeletons to boot. Very cool.
From there I popped into Guatemala to see Tikal, one of the most famous Mayan sites in the area. It's know for its incredibly tall pyramids, which are definitely impressive. Incidently it was also my birthday, which I ironically spent by going to bed early the night before in order to wake up at 2:45 to leave for the sunrise tour at 3am. Yeah, that's correct… 3AM. I guess that means I'm an adult.
In any case, I was expecting to just go there for the ride and split off from the tour, but the guide was one of the best tour guides I've ever had. He was very excited to share all the information about the temple, and about all of the animal life in the jungle surrounding it. We were treated to a symphony of angry sounding howler monkeys, along with various birds, as the sun rose.
Unfortunately, it was very misty and we couldn't see much from the top of the pyramid we were sitting on, but the sounds alone made it a very special experience. From here, we walked around the quiet grounds before all the tourists rolled in. It's amazing to see how much of the site is still overgrown and what kind of condition it's in. I wonder what it'll look like in twenty-five or fifty years.
The rest of the day was relaxing, and I just spent in hanging around the town of Flores and at the hostel, which was very nice. Definitely not the worst way to spend a birthday. And then I went to bed early, again, having to get up at 4am to catch my bus to Palenque, Mexico.
I'd originally toyed with the idea of dropped Tikal and Palenque from my itinerary because of the distance they are from the rest of my planned stops, but I'm really glad I didn't.
I spent two nights in Palenque and visited three amazing Mayan ruins sites. As much as I liked Tikal, the ruins near Palenque were much more impressive to me.
F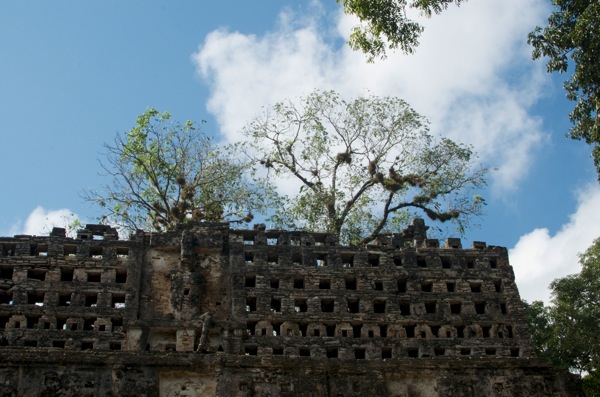 rom Palenque, I did a day tour starting at 6am to two sites: Yaxchilan and Bonampak. They were actually on the Guatemalan border, which I went through on my way from Tikal to Palenque, but the day tour was fine to go through, though it was dark when I left and dark again by the time I got back!
Yaxchilan, accessible by boat down the river that separates Mexico and Guatemala, was actually a pretty sizable site with a number of buildings and a greater amount of detail than I expected. Lots of doorways were carved, and then there was the sun temple (see photo of the facade), adorning the top of a hill overlooking the whole site. It was a long climb up, but it was worth it to see, appreciate, and photograph.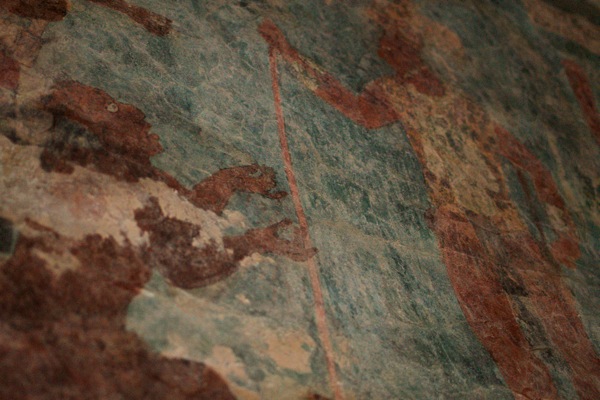 Bonampak, while smaller, hosted some of the best preserved and most impressive frescos I've ever seen in the Mayan temples, or maybe any temples.
Originally, the Mayans applied stucco and then painted their buildings red or blue, which you can only see slight remnants of now. Seeing the paintings inside the temple in Bonampak makes me really curious about how the buildings looked when they were actually in use.
I've learned a lot about what I like and don't like while traveling. While I like big, impressive sites, I'm more interested in the smaller details. That's why sites like Angkor Wat and Borobudur, which have both, are my favorites. I like Machu Picchu, but it lacked in detail what it did have in size and setting. Yaxchilan and Bonampak deliver on the details front.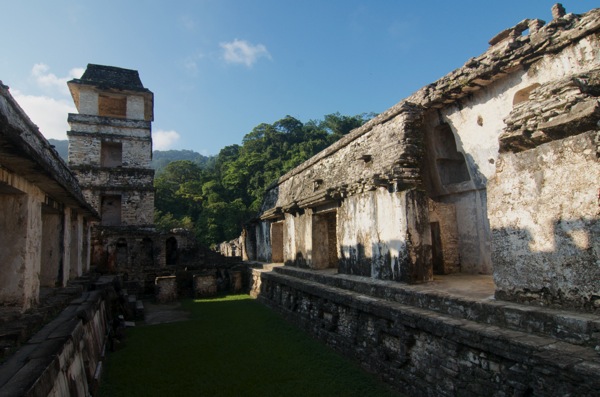 Palenque, the ruins that the town took its name front, has a great mixture of both, and that makes it one of my favorites. I got there via collectivo at 8am, right when it opened, and ran around like crazy taking pictures, before I decided to just sit down and enjoy for a few minutes.
I wound up in conversation with a woman from the states who fell in love with the area, and was telling me what it was like fifteen and even three years ago. She said she feels like the local culture is degrading, unfortunately, and that she sees less and less people in traditional clothing. That's one of those unsolvable puzzles; oftentimes, happiness is rooted in traditional, but the current of development overtakes and destroys. To me, Mexico seems incredibly developed, at least compared to many of the places I've been in South America.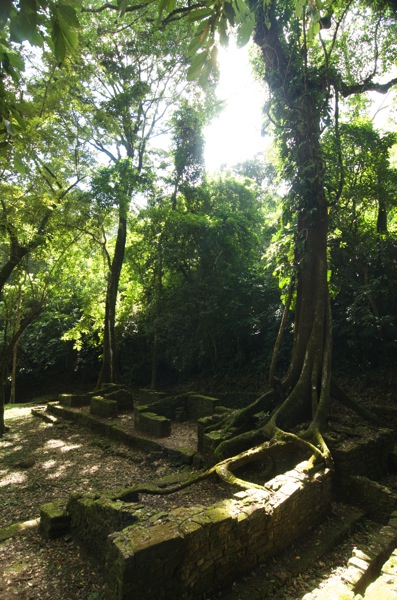 I walked on, still ahead of the tour groups. Palenque really seems like a city; you can just feel it when you wander around. It's not just a collection of buildings that happen to be near in each other. While I walked I could visualize people living, working and traveling along its streets, through the halls of the palace, and all throughout. Though the stairs are crazy steep, so I still can't figure that part out…
There was another entire section that I had a hard time finding thanks to unclear signs, but when I finally did I was almost alone in the jungle with some overgrown ruins, which reminded me a lot of Ta Prohm in Angkor. A tour group blew past, but I just got to stay there, exploring a pile of stones overgrown with moss. Very, very cool.
I've suspected lately that I'm "ruined out", that I've just seen too many ruins in my travels, but places like these remind me why I love to travel. In all of the places I can see the differences; every place has a different vibe to it. Now I can see the different styles of Mayan architecture from Palenque to the Ruta Puuc. It's part of the life education that is travel. There's no better way to learn and truly understand history than to see what it has left behind, to really engage it and enjoy it.
From Palenque I traveled onwards to Tulum, a 10 hour bus ride that seemed short to me, compared with most of my bus rides in Peru and Bolivia. I'd originally intended to go to Merida first, but wound up picking Tulum because the bus was earlier and I didn't see the need to stick around Palenque much longer. 
---
I got a flight from La Paz, Bolivia, to Belize City, Belize only a few weeks in advance using frequent flier miles, which meant it was a bit indirect. Additionally, it meant I had a 15-hour layover in Cali, Colombia. Instead of sitting around the airport, I decided to go into the city for a while.
Cali is a big city near the Ecuadorian border, with not a whole lot to see, but it was a nice place to stop for a while. I managed to get a hostel (for a 'nap' before my 6am flight out), get a shower, and walk around a bit. I even found a vegetarian restaurant for dinner. The area I stayed in was nice, and very developed compared to everywhere I'd been in Bolivia. I had to find an ATM and deal with bank issues, and found that every single Colombian I asked for help finding this or that, was sincerely helpful and kind. Seriously, I didn't find one mean person in all of Colombia. Based on my 15-hour taste, I'm very sad I didn't get more time to visit the country!
I took a taxi back to the airport at 4am and caught my flight off the South American continent, and I must say I was sad to go. Even sitting in the San Salvador airport, things just felt different. Latin America may be a word to describe all of these countries, but each is very different, and now being in Central America, I can really feel it.
Another thing I've been feeling recently is how much I've changed as a traveler since my last few backpacking trips. Maybe it's because I'm older, but I have much less tolerance for partying, and especially 'party hostels'. My standards have changed; I'm much more willing to pay more for a better place to stay, better food, better ambiance, and better busses. I'm more inclined to take day tours if it means less work and more comfort, and I feel a bit less adventurous sometimes. I also don't like to move very fast; I love having 2-3 or more nights in one place, and if I find a hostel with a good vibe I'm inclined to stay longer. I'm not the kind to get off of a night bus and immediately go sightseeing. I'd rather take a nap and relax, put the hard stuff off until tomorrow.
With that being said, and having added diving to the mix, my budget hasn't lasted me nearly as long as I expected it to, by a long shot. I'll be happy to make it to a year of travel, maybe longer if I stick to cheaper places. We'll see what happens. I really wish I'd had longer for South America, and now for Central America, and I'm really excited to get to the part where I don't have any future flights to catch. February that'll happen – after the Olympics. In the meantime, I'm traveling a bit faster than I'd like to be at the moment in Central America.
---