---
---
---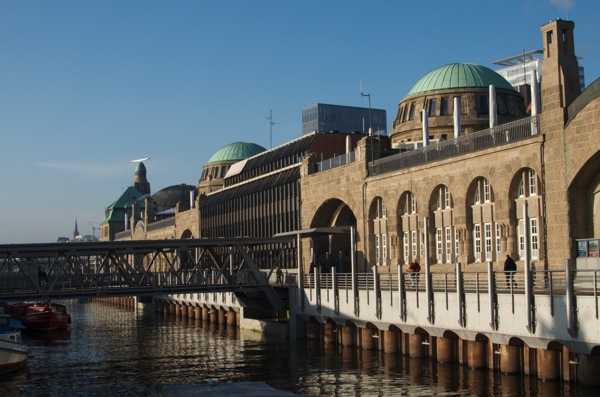 My next stop, in Hamburg, Germany, was like a holiday from my travels. My stepmother's cousin and her partner live there, and they invited me to stay with them for a few days. Well, I was well-fed and shown ALL the sights of Hamburg in that few days! Between Ingrid's wonderful cooking and Rolf's love of west coast USA, we had wonderful food and conversations every day, even with the language barrier!
Hamburg is one of Germany's biggest cities, and claims to have the highest number of bridges in the world. Actually, I tried to do some research on this and found a lot of forums with people arguing over this question! Hamburg has around 2300 (more than Venica and Amsterdam), while tons of arguments for Pittsburgh only mentioned 446! I'm convinced that the answer is Hamburg, naturally.
Besides that, it's a lovely city with lovely bridges, cool architecture and a nice vibe to it. Ingrid and Rolf took me on a boat tour through many of the city's canals, and drove me to lots of other great spots, including the beautiful St. Michael's Church, and a small little alley that's home to some of the oldest buildings that survived the bombing in World War II. I never could have found that without them. I think I've seen the city inside and out! I think very fondly of my time with them, and will definitely visit again, given the chance!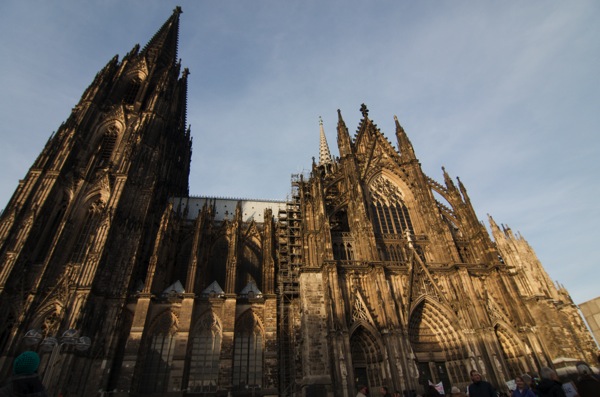 After Hamburg I went down to Cologne for a few days to visit some friends I'd made in Peru & Ecuador, which was really nice. These were two of the five I'd stayed with in Vilcabamba for around two weeks, so visiting them was like taking another holiday. Another home away from home. Cologne's a beautiful city in itself, with the famous Cologne Cathedral a highlight of Gothic architecture (see picture). It's one of the tallest cathedrals in Europe, most of which you can climb through a narrow spiral tower. I tried not to let fear of heights get to me, and made it up to the top for a few minutes with my friends before I was ready to go back down.
Cologne also has its own kind of beer, like any respectable German city would, so my friends took me to the best place in town, where we had a few drinks and some snacks. They're also vegetarian, and understand the difficulties of eating vegetarian in many parts of the world! The rest of the time we just strolled around, visiting various spots and popping into a bookstore for a bit.
After years of people telling me how much I would love it, I FINALLY made it to Berlin. For me, Berlin holds a lot of interests, including World War II history, alternative culture, and the Berlin Wall and the city's divided history. First off, Berlin is basically a city of neighbourhoods, all different from one another. I could probably write a whole entry on each one I visited, but I won't make anyone sit through that.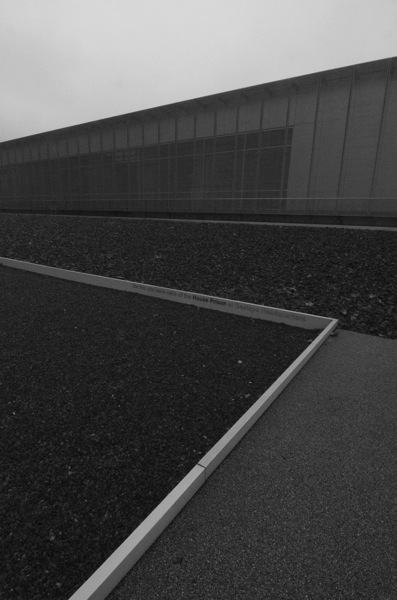 The first few days I stayed at a hostel, and explored the middle district, with its concentrated collection of WWII history sites. I have a complicated interest in this war. As a Jew and someone interested in military history, I have two minds when visiting museums and monuments, and oftentimes I have to switch one side off to really appreciate the other.
What struck me about the various museums and sites I visited was their simplicity. Their design and surroundings weren't overwrought; instead, they let history speak for itself, and created an environment that provoked a reflective mood.
The museum on the site of many SS and Gestapo buildings, called the Topography of Terror (pictured), was one of those sites. It's in a unique spot: a museum and memorial set next to a large preserved portion of the Berlin Wall, with unearthed sections of the gestapo prison right next to it. The museum isn't an apologist for what happened; rather it is stark and factual, omitting nothing, forgiving nothing. It is overwhelmingly dark, just like the grey gravel and concrete paths that wind through the expansive area it takes up.
This is what I found interesting, and what is true for the other sites: Germany does not defend its actions in WWII, nor does it downplay them or distract from them. I have been to memorials and museums in countries that do. They do not honour their former SS; they still prosecute them. Every German I know probably knows more about this part of history than anyone else, and knows which side of the war they were on. The national attitude about history is much different here than it is in, say, Japan.
There were also some small but inspiring places, namely the Museum of the Resistance, which highlighted those of the population who tried to topple the National Socialists, even before the Holocaust, and the people that saved Jews and others. A special section highlighted the members of the army and civilian population involved in the July 20th plot to assassinate Hitler, which unfortunately left him unharmed. The museum is in a building overlooking the courtyard where the main plotters were quickly executed the night the attempt failed, and a simple monument, a male holding a sword, stands guard in the snow.
Another major site is the Memorial to the Jews, a holocaust memorial consisting of rectangular pillars of varying size, forming a large field. When you wander through, you quickly find yourself in over your head, on rough terrain. Very symbolic. Below this field of pillars is a museum, which is an amazing concise and powerful account of the holocaust, with striking portraits of the people who died during it. In one room you can sit and listen to short biographies, spoken first in German and then in English. Most are missing information, but at least their memory is kept alive. Very powerful exhibit.
Nearby to the holocaust memorial, almost an afterthought but quite a pleasant surprise, is a small memorial to the LGBT people killed during the holocaust. Further up, a small pool with a flower in the middle, dedicated to the Roma killed. And I'm sure there are many, many others I didn't have the time to see. There is also the parking lot over the bunker where Hitler committed suicide during the last days of the war. This site is marked only by a sign; I think it's very appropriate to mark this spot with something so unceremonious; his is not a legacy that should be honoured. It was a little strange to watch the walking tours go by, though.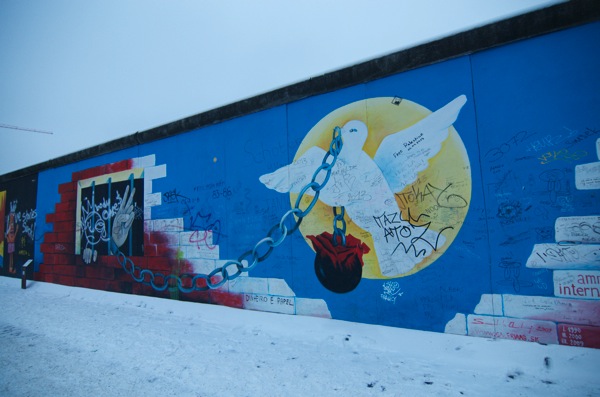 I'll end on a positive note, I promise! But before I do, I'll talk about my visit to the East Side Gallery. This "gallery" is actually the longest remaining fragment of the Berlin Wall, covered in beautiful street art, and now an unfortunately amount of pointless graffiti. The iconic "Mortal Kiss" is desecrated; a real shame.
The wall is also in danger, considering that part of it was torn down already for retail space. It's an important part of history and I hope to see it better preserved. Walking along it, you can see a wonderful harmony of different styles, all with similar expressions of a desire for peace and reconciliation. I wish my understanding of this part of history was better, but at the very least I have an overall understanding now, coupled with a sense of what it looked and felt like.
Another walk in this area was along Karl-Marx-Allee, formerly Stalinallee, in former East Berlin. The architectural style is markedly different. The wide streets and simple, somewhat dreary off-white buildings are something I've gotten used to now that I'm in Russia, but you can feel, even without being told, that you're not in west Berlin any more!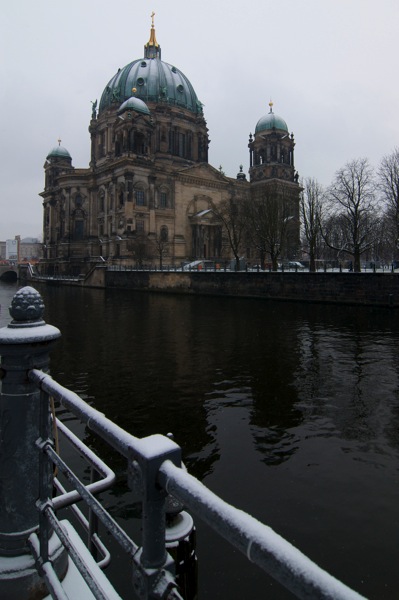 The side of Berlin that I want to go back and explore the most is the alternative side. I was lucky enough to Couchsurf with a German girl who also happened to be a metalhead! Right off the bat, we had music in common. She also loves Scandinavia and the Nordics, so we talked about wanting to go (or go back) to various countries in the north. And, best of all, she took me to a bar where they play only metal, with a viking theme. I could practically live there. I'd love to go back to Berlin and just spend a few weeks or months getting to know every neighbourhood in depth, make some friends, and generally get a feel for the while city. It has a lot to offer.Aside from the more depressing parts of Berlin's history, there's a lot of beauty in the city. The opulent old buildings, which I assume are restored and not original, decorate the streets and squares.
The impressive Museum Island is home to, well, museums, and also a beautiful church. Speaking of museums, one of the best I went to was the main history museum, a massive building with a massive array of exhibits set inside a beautiful interior. I chose to explore the sections on history before the war: even I'd had enough of WWII history. It was great to see Germany's rich history and heritage, learn a little more about how its borders have changed over hundreds of years. There were samples of household items and other objects, as well as paintings, and one of my favourites was a small section of modern home furnishings at the beginning of the 1900's… which looked very similar to something made in the 60's and 70's. Hmmm.
While I only had a few days, I filled them up with a fraction of what there is to see and do in Berlin. I was sad to leave, but happy to go to Norway!
---