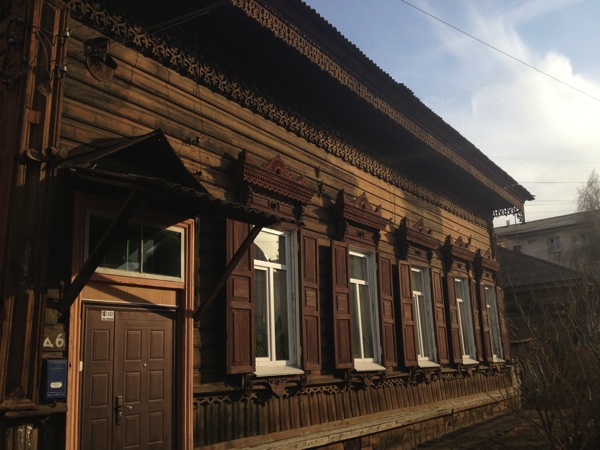 Once you're inside its borders, Russia becomes like a whole other world, made up of different ethnicities and cultures comprising their own semi-autonomous Republics.
The Buryat Republic, my next destination in late March, is one of these, and is the centre of Russian buddhism. It borders Mongolia (whose capital of Ulan Baator is a 7-8 hour train ride away) and shares many cultural similarities. I spent a few days in Ulan Ude, the biggest city, and ventured out to the east side of Lake Baikal from there.
Ulan Ude is a big city with a balance of Buryats and Russians, and is known for having a giant statue of Lenin's head, and the nearby buddhist monastery, Ivolginskiy Datsan. It also doesn't take long to find some beautiful examples of Siberia's famous wooden architecture (pictured), spread throughout a number of places in the city, still very much in use.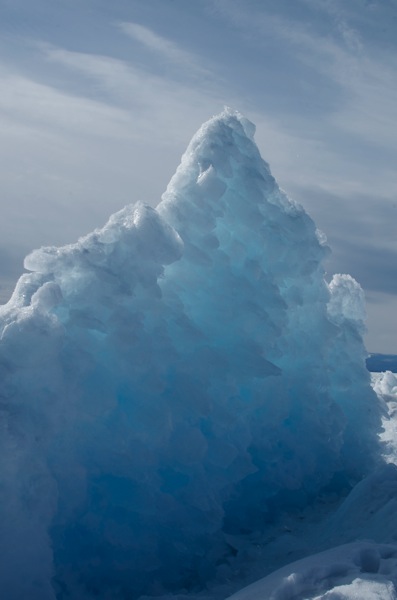 I spent a day and a night in a town called Ust Barguzin, on the east side of the lake halfway up. The drive out there was long and not entirely paved, but the area had a nice, remote feel to it. The guy who ran the homestay was really nice and accommodating to me and his other guests, a group of Poles who had been going from one part of Baikal to the other.
At that time of year (mid-late March) the lake was completely frozen over, letting cars and even trucks drive from one side to the other. However, it wasn't cold at all, so I spent a warm day driving around to see various parts of the lake with the Poles, a view of the Holy Nose peninsula in the background. The Poles had been out ice fishing, so for dinner we had fresh fish and lots of vodka.
Our host also treated us to the quintessential Russian Banya, or sauna. Sitting around in extreme heat and then getting whacked with a bunch of leaves (white birch, oak or eucalyptus usually) isn't really my forte, but hey, when in Rome. How the hell Russians drink vodka in the Banya, I don't want to know. Apparently I can't even handle 65 celcius / 150 fahrenheit for more than 15 minutes, much less while drinking vodka. Apparently it can get as hot as around 90 c  / 195 f, which just sounds like instant death to me.
I had also wanted to see the Barguzin valley, which looks close by on a map but really isn't. It would've cost too much money though, at least for one person, so I'll just have to save it for when I'm back in the area and can find a group to take the tour with to this very remote area.
I spent a day as well at Ivolginskiy Datsan, which was a beautiful Buddhist monastery set at the edge of a quiet village not too far from Ulan Ude. I walked around and contemplated, listened to the sound of birds and wind, paid my respects to the Buddha, and succeeded in getting around with my basic Russian.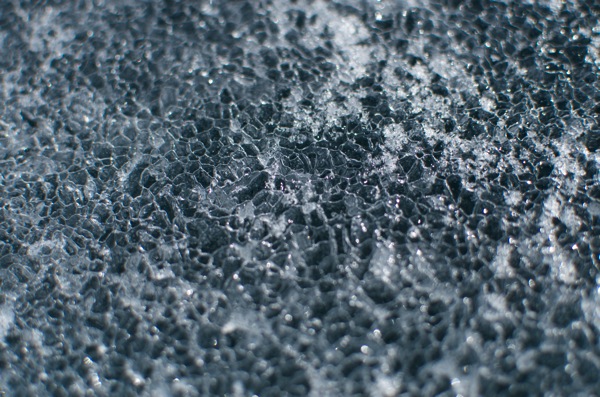 I met another American girl in the hostel in Ulan Ude, along with an Italian girl, and together we went out to a different, closer, village on the edge of the lake, called Gremyachinsk. This wound up being a great adventure, from getting out there, to tromping through the slushy areas en route to the icey lake, and then playing around a giant pile of ice and snow out on the ice (wall of blue ice pictured). A couple young Russian kids took pictures with us and used their few English sentences before giggling and running off. We wandered back to the edge of town and marvelled at the beauty of the slabs of ice, its frighteningly long cracks, and the various textures of the surface (see picture).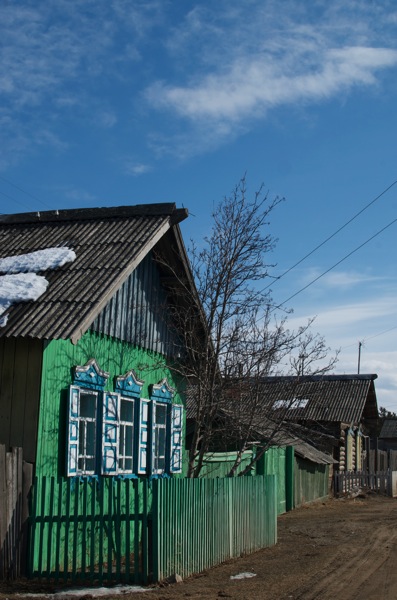 We stopped for snacks on the beach, and got inviting to join a BBQ with a group of older Russian ladies. Despite our lack of Russian (I had the most knowledge of Russian, which is pretty laughable), we made friends and were force-fed, poured way too much vodka, and had a great time. The ladies were convinced I was going to freeze to death despite my insistence that I was fine, so in the end one of the ladies gave me her knit cap and wouldn't let me refuse it. Absolutely adorable.
Finally, we figured out where to pick up the bus back to Ulan Ude, managed to get tickets despite a number of language errors on my part, and walked around the village looking for coffee in the hour or so we had to kill before the bus.
The next day, the other American girl and I went onwards to Irkutsk, a bigger city on the other side of the lake that's a more common base to see Lake Baikal from. Lindsey and I bonded at the hostel because we're both nerds, and it's been a long time since I met someone with as many common interests as we had. That was really nice, so we had plenty of fodder for conversation while watching the landscape. 
The main reason I wanted to stop at Irkutsk before continuing on was to make sure I could catch a daytime train from Ulan Ude to Irkutsk – this was rumoured to be the most scenic part of the trans-siberian. It didn't disappoint.
After a fun day and change in Irkutsk, I got on the Rossiya 1, which is the classic "transsiberian" train that goes all the way from Moscow to Vladivostok and vice versa. This journey was slightly longer than the last one: 69 hours from Irkutsk to Nizhny Novgorod, a big Russian city only a few (7-8) hours from Moscow.
I got a 2nd class seat again, opting for the nicer ride, and wound up cabin-mates with two 20-something guys who were also going to Nizhny.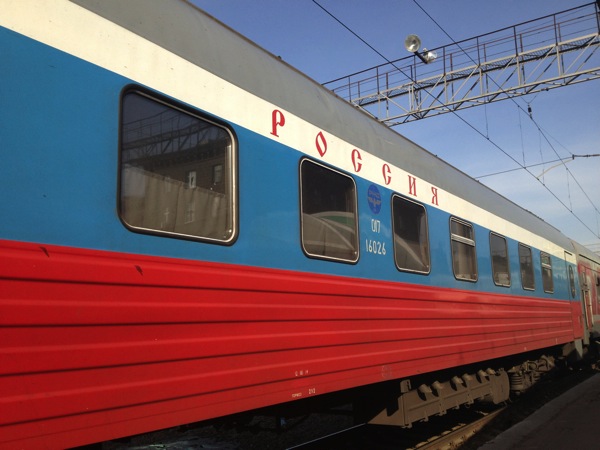 It was refreshing to have the same cabin mates the whole time, and between my Russian and their bit of English, we got to know each other a fair amount.
This cabin was more comfortable than the last one, so I parked myself in a seat next to a window, drank a ton of tea, and read the first few Song of Ice and Fire (Game of Thrones) books, having polished off Harry Potter in Ulan Ude. The time went quickly this time, helped along with shared beers and attempts at political conversation while lacking substantial vocabulary.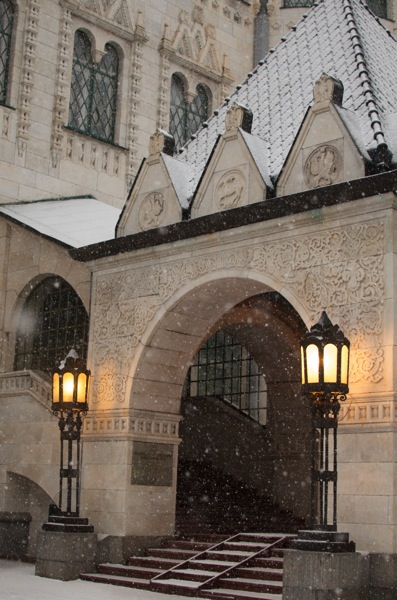 I spent only a couple days in Nizhny Novgorod before I was due back in Moscow to fly to the States, but it was a nice town to have a stop in. The first half of the day, it was sunny and bright, so I walked all around the Kremlin and checked out the various churches and buildings, but later on, while I was back at the hostel, it started snowing.
I took my camera out and took some shots in the blizzard, which was exactly what I was in the mood for. I'd missed the epic cold and snow of Siberian winter, so this was a happy occasion. Inside the Kremlin I strolled through the tanks and guns on display, the snow sticking to the naked trees.
I walked to the embankment and looked down, but where the promenade met the Volga river, the fog was so dense you couldn't see anything beyond the edge. It was like being on the edge of the world, and it was absolutely beautiful.
---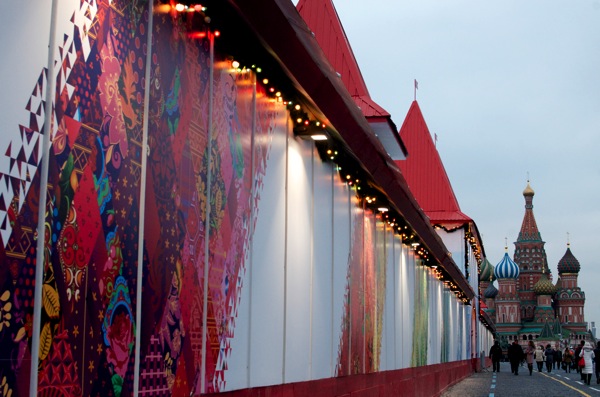 There's a place on earth where you can stand in one place, turn 360 degrees, and every single thing you see is epic. This place is Red Square, Moscow (and Russia's) penultimate tourist spot, where every single building in sight is a masterpiece. Even in the beginning of March it was crowded with tourists both foreign and Russian, and because of the Olympics there was a makeshift skating rink and stores with walls sporting the Sochi theme of Russian textiles. Red Square is a patch of pavement next to the walls of the Kremlin, an elevated, walled area containing cathedrals and museums. On another side of Red Square is the world famous St. Basil's Cathedral (shown, with the Sochi rink), an insanely decorative Russian orthodox church whose onion domes and bright colour scheme conjure thoughts of cake toppers. In any case, Red Square's hype lives up to itself.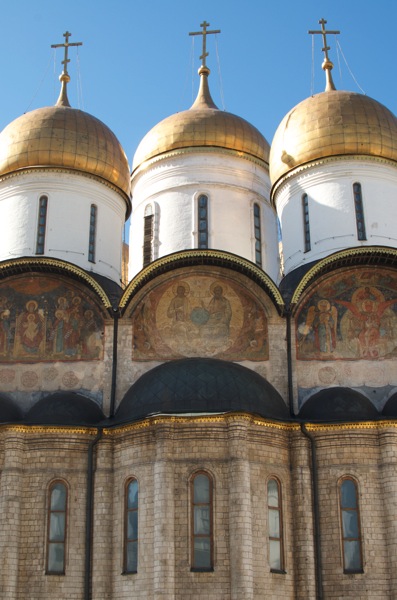 I wound up spending almost two weeks in Moscow, taking the time to slow down and just chill out while I figured out what to do next. I'd walked all over the city and made a map in my head, helped along by my iPhone, before I realised my hostel had a free map. With everything focused on Red Square, I could pick different areas to walk around each day, even getting away from the centre here and there.I'd come from St. Petersburg and other parts of Russia with the expectation that Moscow would be a big, drab city with a few nice areas, but I was pleasantly surprised.
There are a lot of nice areas, filled with beautiful old buildings, with lots and lots of monuments, museums, churches (like Dormition Cathedral inside the Kremlin, shown in 2nd picture) and various small parks. Outside the city centre it is more Soviet and grey, but that's most of Russia anyway.
I met up again with two Russian girls I'd met in Sochi during the Olympics, and got to spend some time with them. That was really awesome and made my time in Moscow even better. We went to Lermontov's estate outside of Moscow with some of their friends, something I probably wouldn't have been able to do with my limited Russian before then!
Women's Day rolled around while I was in town as well. I went out for dinner with a girl I met from Couchsurfing, at a nice, obscure restaurant a bit outside the touristy area. I walked back to my hostel through Red Square, and somewhere in the middle got caught by two guys who were going up to random women… to give them flowers. So they gave me flowers, wished me a happy Women's Day, and then walked away. How nice!
I always brace myself for guys asking for my phone number, or trying to catch me in conversation, but these guys were simply handing out flowers. Lovely, lovely Moscow.
I did a lot in Moscow, and will write some more specific stuff in an entry dedicated to literary stuff, but due to scheduling a flight home to visit my mom for the holiday, I actually flew out to Vladivostok in order to take the trans-siberian from the east back to Moscow in the west.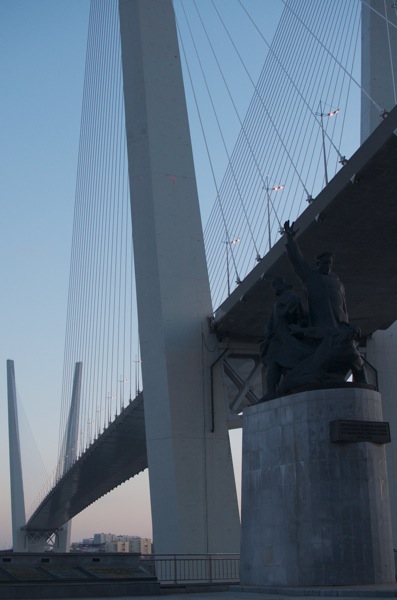 Vladivostok is a pretty small port city, where you can catch ferries to Japan, China and South Korea. It was refreshing to feel like I was back in Asia: I went nuts when I found a Japanese vending machine, and stocked up on Japanese and Korean instant noodles for the upcoming 3 day train ride out.
There wasn't really that much to see in Vladivostok, aside from the occasional Soviet monument (pictured, under the city's famous attraction, a bridge), a scattering of war memorials and paraphernalia around the edges of the water, and the touristy but cute promenade on the sea. I lost a day to being sick with a cold, but a full day in the city was perfect.
Next, I spend almost 3 days on a train, a total of 61 hours. It wound up being two nights in 2nd class, most of it I was actually alone for. When I did have company, it was a mother and small daughter, both of whom were sick and also didn't speak any English. Go figure!
My mission for this segment of the trip was to read Harry Potter. And I did, 5.5 books out of 7. It's the most relaxing thing to just lay around, sleep and eat, and have no other obligations than the ones you make to yourself, and mine were just reading. I spend my time doing just that, drinking at least 15 cups of tea a day, enjoying my Asian noodles, and occasionally sitting in the dining car with more tea (or overpriced food) for a change of scenery while following the adventures of the boy wizard and his motley crew of companions and nemeses.
---