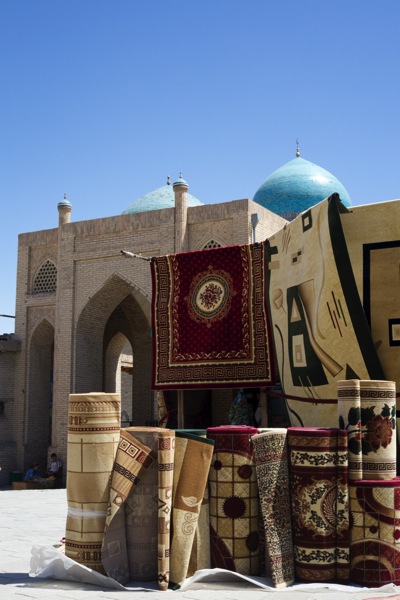 Out of the three main Silk Road towns in Uzbekistan, it's hard to choose a favourite. The three are all impressive, but in different ways. Khiva, described in the last post, is a tightly packed site with a lot to offer. Bukhara is similar in that it has a distinctive old town, but Samarkand's sites are bigger but more spread out through the modern city.
Bukhara's attractions are centred around Lyabi Hauz, a small pool of water surrounded by medrassahs. The whole town is easily walkable, although its attractions are more spread out than those of Khiva.
The city has long been an important focal point, both on the Silk Road and as the centre of Islamic studies. This part of Uzbekistan was history part of the Persian empire, and to this day there is a strong Tajik population, whose language is related to Farsi. 
The other interesting thing about Bukhara is its Jewish history. Although it's unclear what brought the Jewish population to Central Asia, their presence can be traced back in some writings from the 4th century CE.
Some theories point to movement through Babylon, Persia, and even into what is now northern Afghanistan. They spoke a dialect of Tajik/Persian with Hebrew influence. The population flourished for many years, but declined under the pressure of Islam around the 18th century, at least officially. Some Jews converted to Islam for show, and covertly kept their Jewish traditions. They were 
Very little remains now, but I stopped in a small synagogue tucked away with a few ancient items, including a torah scroll, which I was able to see. I was given a very enthusiastic tour by an old man, though it was in Russian so I couldn't understand everything. Still, to see a trace of Jewish history in the area was quite something. A little connection to my upbringing, if you will.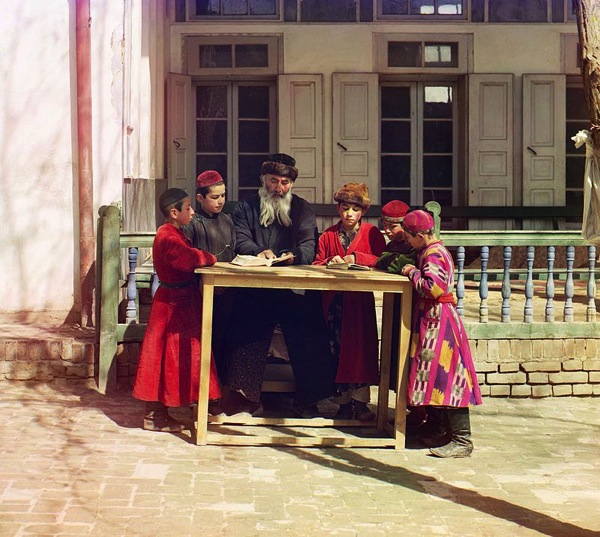 The above picture is from 1910 and is of Jewish children with a teacher in Samarkand. Side note: the pattern of the kid's coat on the far right is actually a trademark Uzbek pattern. Bukhara is not the only Central Asian region historically home to Jews; evidence of Jewish populations has been found in Merv, Turkmenistan, for example, although they were mostly clustered around the Bukhara region. Additionally, most of Central Asia saw an influx of Jews during Soviet times, including during World War II when many Jews fled from Europe. After the fall of the Soviet Union, the majority of the Jewish population in Central Asia emigrated to Israel and the US, New York City in particular.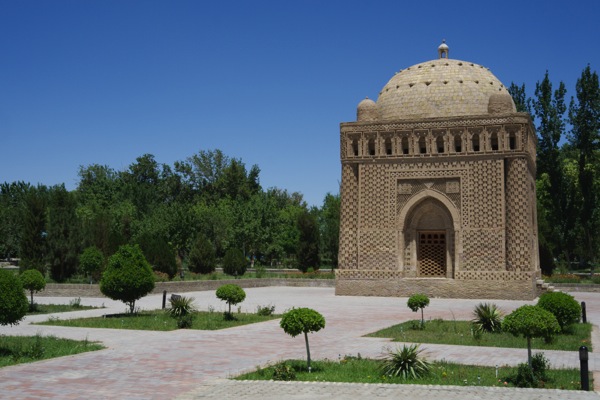 Another highlight of Bukhara for me was the small but intricately detailed Ismail Samani Mausoleum, pictured above, which is the resting place of the Samanid emir who held Bukhara in the 9th century and supported the rise of Islam. Uzbek, Tajik and Kyrgyz currency are named after Samani. This tiny jewel was worth the walk in the heat, hidden in the middle of a big park. The brickwork is impossibly put together and perfect; it's just astounding.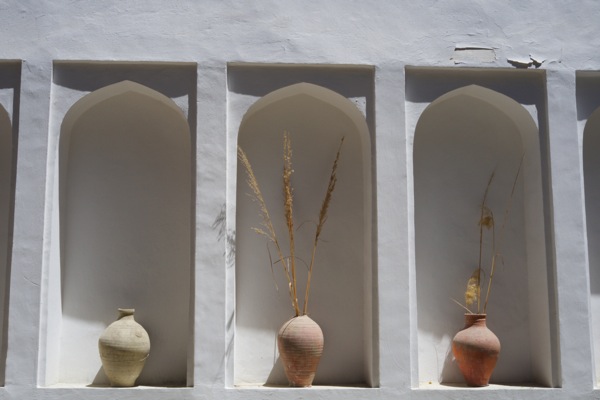 On the flip side, Bukhara's Ark fortress is huge and hard to miss. Impressive and interesting from the outside, it has just a few museums inside its walls, with some lovely little spaces to sit down and enjoy the surroundings. In the evening, Bukhara came alive around Lyabi Hauz, with a bunch of Bukhara locals and Uzbek tourists crowding into the restaurants at the edge of the pond. Little kids running around with sparklers and toys, and some backpackers winding through the square observing. Overall it was a great stop, absolutely worth the time.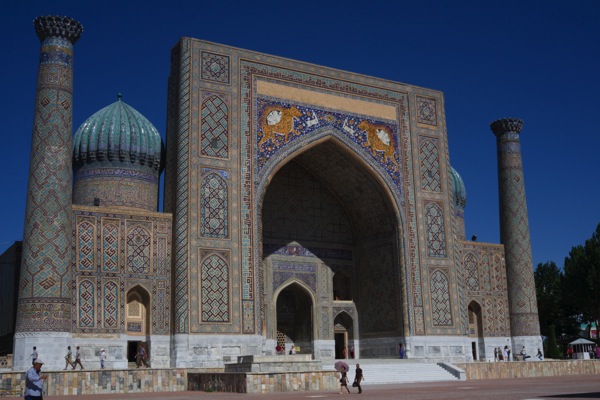 Finally, we get to Samarkand. The Registon, pictured above, is probably the most famous site in all of Central Asia, and sees busloads of tourists during peak and off-peak season alike. The Registon is actually a square consisting of three large medrassahs, including Sher Doh Medrassah, the one in the picture above. Interestingly, according to Islam you're not supposed to depict living beings on religious buildings, so the pictures of tigers are highly unusual.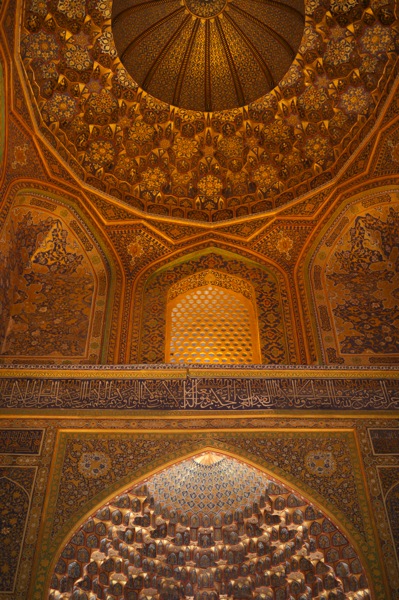 The medrassahs of the Registon are highly restored, including the insanely gold interior of Tilya-Kori medrassah, shown here. Each has an elaborate facade at its entrance, which leads back into a courtyard flanked by dormitories for the students. Being touristy as it is, these niches are completely filled with vendors selling anything and everything you could possible imagine.
While in Samarkand, I met up with someone I knew from back in Philadelphia: Sam, as I've know him for years, was one of the cleaning staff at the store I worked at. I remember being very curious to find out he was from Uzbekistan, which I already had on my list to visit. At the time he didn't speak much English, but learned more over the years. His wife and cousin also worked at the store, and we considered them a part of the team.
As it turns out, Sam and his wife were back visiting their family in Samarkand around the same time I was coming in to visit Uzbekistan. We actually managed to meet up, over a year since we'd last seen each other in Philadelphia. They happily took me on a whirlwind tour of some of Samarkand's main sites during my first day there, and we reminisced about people from work, and their two sons, who I remember when they were a bit smaller!
It was really lovely to see them again, especially since the best way to get to know a culture is by the people whose it is. Sam and his wife spoke more English than they did the last time, and it was really special to have two Uzbeks show and explain the sights to me with such enthusiasm and pride. We started at the Registon, which is a big site to have as an intro, and sets the bar very high for big and glamorous.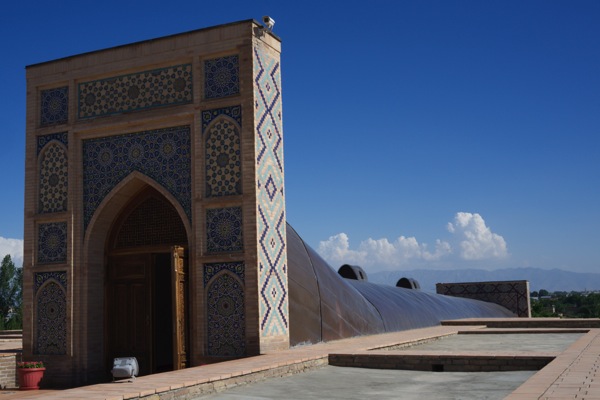 One of the highlights of Samarkand for me was the Ulug Bek Observatory. Built in the 15th century by Timurid ruler Ulug Bek, the grandson of conqueror Timur, it is a testament to the scientific pursuits in the region; Islam has a reputation for math and science that stretches all over the world. Only rediscovered about 100 years ago, there is only a small part left: a trench used to study the sun, the moon and the stars. It's now decorated with a traditional facade, above.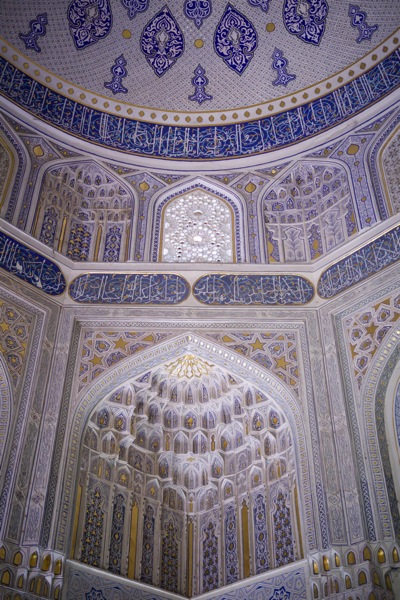 Ulug Bek himself was actually a mathematician and astronomer, and pushed for Samarkand to become a city of intellectual and scientific pursuit. His astronomical and mathematical discoveries are almost completely accurate even according to modern science.
The other sites of Samarkand are numerous, museums plentiful, and the whole city is worthy of more than just a few days. It's a big, modern city, second in size only to Tashkent, Uzbekistan's capital. I spent a lot of time there, although I was sick for some of it and missed out on a few things. It was also the place where I had to make effort to take money out: ATMs are not common in Uzbekistan, so getting money is a long process at the bank, full of annoyances and long waits.
The hostel I stayed at was packed with other travellers. It didn't have the best facilities, but I got my own room for very cheap and it had a nice bathroom. I spent most evenings watching World Cup games with all different nationalities, including the painful Germany – Brasil game.
I caught up again with Jan and Roger, who I'd been traveling with on and off in and since Turkmenistan, and since this was the strongest trail yet, met up with a number of people I'd seen before.
The last of Samarkand I saw was a full day's walk from the Registon up north to Shah-i-Zinda, a collection of absolutely jaw-droopingly detailed mausoleums next to an Islamic cemetery. The photo is of one of those mausoleums, which are mostly built for female relatives of famous ruler Timur (Tamerlane).
Walking up a narrow pathway, the small mausoleums are side by side, each more impressive than the next. The last bit, basically a dead end, has the most detailed work: glazed, carved tiles that beg to be photographed. See below!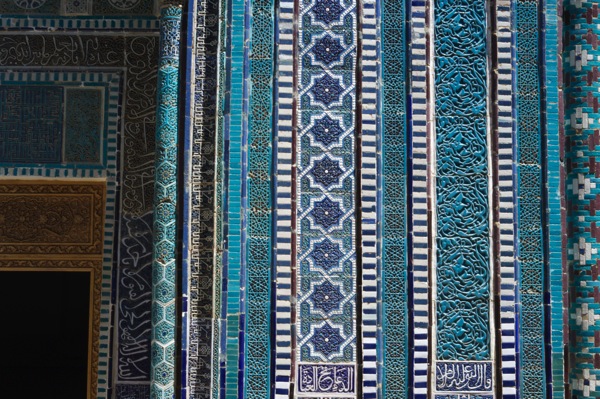 This was a  great place to stop and sit for a while, just reflecting on the sheer craftsmanship of the place. Definitely a highlight of Samarkand, and all of Uzbekistan. This was essentially the reason I'd been attracted to Central Asia: Islamic architecture at its best!
Another side trip from Samarkand was over the mountains to a place called Shakrisabz. Although this place doesn't have much in the way of impressive ruins, it was the hometown of Turko-Mongul ruler Timur (Tamerlane), who founded the Timurid dynasty. Fun fact: the name Tamerlane is said to come from the fact that he was lame in one leg, which you can try to spot in the many Timur statues all over Uzbekistan. The trip was very enjoyable, mainly for the great companions, the scenery, and general relaxed vibe of the whole day. Our taxi driver was a cheerful guy who spoke a little English, and took us to a nice, cheap local place for lunch instead of a big tourist spot.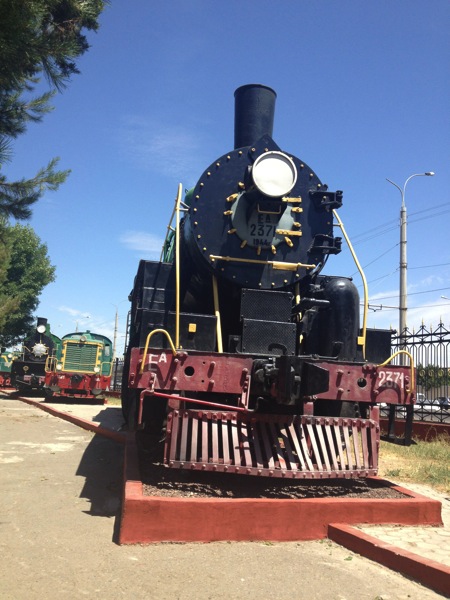 After what seemed like a lifetime in Samarkand, I finally made it back to Tashkent, which I'd come through before en route from Kyrgyzstan to Turkmenistan. Tashkent is a big city, and home to Central Asia's biggest metro system (one of maybe two, that is). It's a big and mostly modern capital, with big, glitzy buildings similar to those in Turkmenistan or Kazakhstan, although not as… pointless.
I visited the National Museum, which was surprisingly nice compared to other museums I'd seen in the area. It had a number of signs in English, and was organised, although toward the modern era it kind of fell apart.
Another cool spot was the Railway Museum, essentially a collection of old Soviet-era trains lined up, one after another, on tracks just across the street from the modern train station. Though they looked recently repainted, it was interesting to see the big train cars of the era.
In one central part of town I found a coffeeshop which served a very delicious cappuccino, so I frequently stopped in to bask in the air conditioning and get my espresso fix, which I hadn't had for a while. It was also a nice place to hang out and read, and occasionally be approached by local university students trying to practice their English before exams.
After almost four weeks in the country, I said goodbye to Uzebkistan and crossed the border to Kazakhstan, which had recently dropped its visa requirement for US citizens. This meant that I could check out parts of the country for 15 days before heading back into Kyrgyzstan to start planning the next stage.
---
---
---
---
---