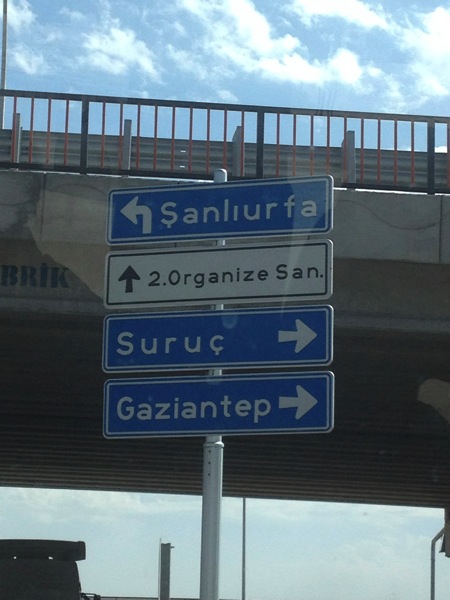 The time I spent in Urfa was half visiting archeological sites, and half spending time with people I'd met in the hostel, along with others I'd met through Couchsurfing, including an NGO worker who I wish I'd had more time to get to know!
With two other travellers, I also went to donate goods to the refugee camps in a nearby town called Suruc, which was a jarring learning experience. I'd found a contact who told me where the goods distribution centre is, as opposed to simply showing up and handing out supplies indiscriminately.
We were able to see how things worked in the facility thanks to an English-speaking volunteer, and got a glimpse of the monumental amount of NGOs, charities, and volunteers. I chose not to go inside the camps themselves, because I felt I had nothing to contribute, couldn't communicate or listen, and generally didn't want to be a 'poverty tourist', if you will.
I wrote a piece about one of my experiences there, and added an addendum at the end for context, which I'll post here, edited for clarity and anonymity. The picture was drawn by a young refugee that V. met at the pond, who is amazingly artistic.
*
It started with the stories. Refugees, NGO workers, journalists, photographers, all telling their stories. The city of Urfa is diverse. It's a Turkish town with a Kurdish and Arab population, with an influx of Syrian Kurdish refugees, making for a tragic scene of beggars and unpaid labourers, and a much less tragic increase in places to find good falafel.
Everyone you talk to has a story. These are stories with different angles, different good guys and bad guys, different rage and indifference, different causes and solutions. There was a young man that V. (another traveler) met at the pond, that she's been trying to help find a job ever since. He sat at the guesthouse and told his story in accented English, of how he lost his father and other family members, painting a picture with all the details he left out. Another story was that of a teacher I met at my favourite Syrian-run falafel place, educated and fluent in English, trying to help the refugee children keep learning in a time of total chaos and insecurity.
One that really inspired me was the NGO worker who was from Kobane, this city under siege with its plumes of smoke curling upwards. She speaks Kurdish, Arabic, English, even Turkish, and stayed on this side of the border to help support the masses of refugees that cross to escape Kobane. H. has an amazing smile in all the pictures of her I see. When I see her name I think of her kind, beautiful eyes and light smile, short stature and loud laugh, with a strength inside that I can't even imagine having.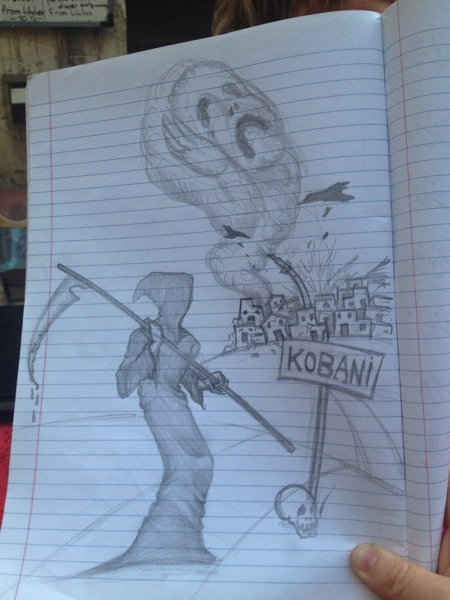 H. told me she waited so long to leave Syria because she didn't want the label of refugee, and I can understand why. When we talk about refugees, we think of old women clutching children, stumbling through the dust and dirt toward the kindness of another land. We think of people that don't have choices or opportunities, that are helpless and in need of our open hands, hearts, and of course wallets.
The refugees at the camp in Suruc are these: they are the desperate ones, the poor ones. The ones on posters and in fundraising ads. They aren't the ones that were lucky to have extended family on the Turkish side of the border, family who could take them in and help them get jobs.
We don't think of the protesters, political dissidents and freedom fighters who cross borders simply because they can't fight from the other side anymore. H. isn't really a refugee the way we see it — she's a displaced Syrian who's still fighting in her own way, just from a different place. And it's people like her who will be the future leaders of Syria, if it's ever really safe to go back and start again.
On the second night of protests in the city of Urfa [by the Kurds, against the Turkish government's lack of support for them], we were out for beer, because life just goes on no matter where you are. Instead of going to the protest, we devoured beers and surreal conversations that you could only have sixty kilometres away from a city at war, with the photographers, journalists, Syrians, NGO workers, and travellers all mixed together. H. was with two friends who were also Syrian, from a part that wasn't Kurdish. They said, though, that it didn't matter; they were united.
They all went to the protests in Syria early on, they all knew that it wasn't certain they'd come back at all, and that was simply the risk they took. They were lucky they did come back; just lucky and not blessed, because they don't believe in god. As H. talked about going to the protests in Syria, we sat at the table and breathed through our headscarves when the tear gas crept through the open air at the bar. It was something like normal to us now, the tear gas. And yet these protests were nothing to people like H. and her friends, because what was a little tear gas compared to bombs and chemical weapons and a government who wants nothing more than to destroy any ounce of resistance? And what was a little tear gas compared to having ISIS come up from nowhere and take over your hometown, slaughter your family? How little I knew about life and fear compared to them. Gradually the tear gas dissipated, floating onwards to find new people to terrorise.
---
After beautiful Cappadocia, I headed southeast to a city called Urfa (short for Sanliurfa), in the Kurdish region in Turkey. Close to the border with Syria, Urfa hosts a mixed population of Turks, Kurds, and Syrians. It was the first time in a while that I'd found great falafel — I wound up at the same restaurant four nights in a row! My main reasons for going to Urfa were archeology and culture. There are several monumental sites nearby, and I wanted to also learn something of Kurdish culture, since Urfa is on the western edge of the Kurdish region. I wound up with more than I bargained for, but I'll get into that later.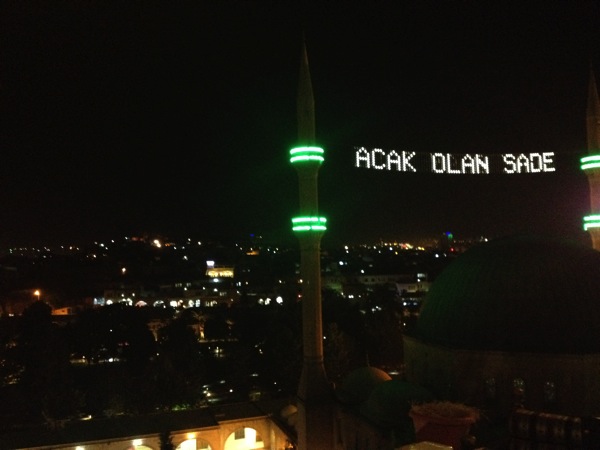 Urfa itself is a sizeable city with a historical area. It's home to several important sites, including cave thought of as the birthplace of Abraham, Urfa castle, and Balikligol, a pool of sacred fish. The legend goes that Nimrod sentenced Abraham to death for his ideas, but when Abraham was thrown into the flames, the fire turned to water and the logs into fish. It's now surrounded by a beautiful park, which makes for a nice walk and an opportunity to feed and commune with the fishes. Nearby, a steep walk up leads you to a variety of cafes on the cliff, overlooking the old city and the Mosque (pictured). I met up with a few people in the city, and spend a few evenings drinking coffee with that view in sight.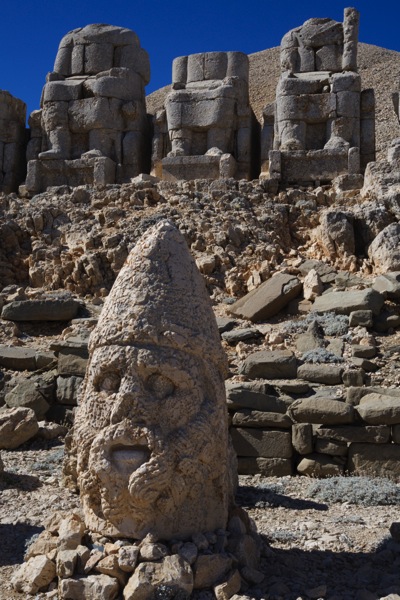 The first of the sightseeing was a day trip out to Mount Nemrut, a sanctuary of sorts created by Commagene King Antichus at the top of a mountain. The site, perhaps intended as a tomb (although no actual tomb has been found), contains sculptures of a variety of gods: Persian, Armenian and Greek. It's said he was creating a cult, and intended to be worshipped after death.
Nowadays, there's a steady trickle of tourists that come through the site to admire the huge statues; some of the heads are taller than me. There are two main sets of sculptures, placed on the east and west side the artificial conical mountain top. They have all been beheaded and defaced, likely a punishment against idolatry. The heads rest at the bases of their sitting Gods.
I went with three other people from the hostel I was staying at, which was an amazingly strange and interesting group of people. There was a dearth of tourists at the moment, which was nice. The main groups come for sunrise and sunset, but we arrived around noon, which was perfectly fine anyway. It was nice to have the site almost to ourselves. I shared some philosophical conversation with one woman while sitting in front the first batch of statues, a lovely Muslima from Malaysia.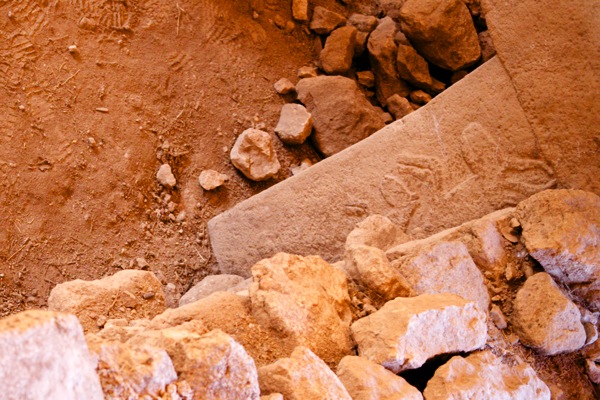 The next site of importance was Gobekli Tepe. This ancient site (almost 12,000 years old) was recently discovered, and provides compelling evidence of the earliest known city. Compared to Stonehenge, "Göbekli Tepe was built much earlier and is made not from roughly hewn blocks but from cleanly carved limestone pillars splashed with bas-reliefs of animals—a cavalcade of gazelles, snakes, foxes, scorpions, and ferocious wild boars. The assemblage was built some 11,600 years ago, seven millennia before the Great Pyramid of Giza. It contains the oldest known temple. Indeed, Göbekli Tepe is the oldest known example of monumental architecture—the first structure human beings put together that was bigger and more complicated than a hut. When these pillars were erected, so far as we know, nothing of comparable scale existed in the world." (Article at National Geographic)
I first learned of this site while watching a documentary about agriculture and wheat harvesting at the dairy farm I volunteered at, and added it to the list of places to visit. While I mostly like visiting sites that are photogenic, large and impressive, I can still appreciate seeing places that, while small and still being unearthed, represent important insights into ancient history. This is what that was: seeing a simply carved animal on a stone, and knowing how significant it was for the time.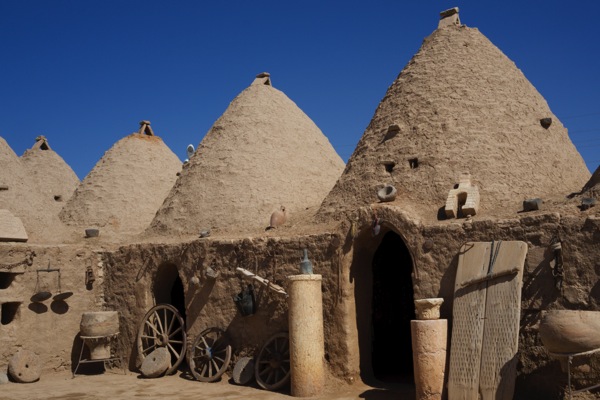 Another small stop I made near Urfa was the ruins of Harran, an ancient city in Upper Mesopotamia that was a commercial and cultural hotspot around the 3rd century BCE. While the ruins themselves were not very interesting comparatively, the beehive huts nearby are a major draw. These adorable mud brick buildings are actually very cool inside despite the heat.
The southeast of Turkey is an archeological gold mine. Unfortunately, it also comes with political conflicts, having history of major clashes between the Turkish government and the Kurdish independence movement. In addition to this, it's close to the Syrian border and the region has received hundreds of thousands of Syrian refugees, many of them Syrian Kurds. At the time I was there, the city of Kobane, only 60km/37mi away from Urfa itself, was under siege by ISIS. Although at the time I'm writing this ISIS has mostly been pushed out of the city by the Kurdish forces, at the time it seemed that the fall of the city to ISIS was imminent, and the tension of that had a major affect on the mood of the hostel I was staying at. The hostel was, at one point, half tourists and half journalists and photographers. In my next entry, I'll talk more about that situation.
---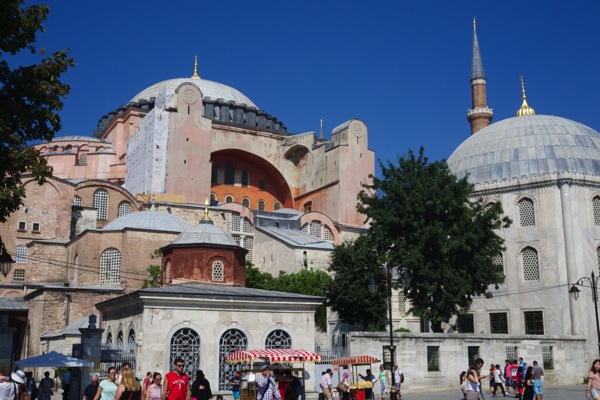 I landed in Istanbul in early August, which was hot but not completely unbearable. I'd been excited for years about the idea of visiting Turkey, a country full of history and ruins to see. Istanbul itself, Turkey's cultural capital although not its official capital, is chock full of sites to see, and can entertain tourists for weeks if not months. I started with just a few days there, visiting first Aya Sofia (also known as Hagia Sofia), a Greek orthodox church later converted to a mosque after the rise of the Ottoman Empire. You can see elements of both religions throughout the building, which is impressive in size and beauty. Intricate Arabic lettering decorates doorways and ledges and rings of domes, although the style is more simplistic compared to the architecture I'd last seen in Central Asia. Nearby, the Blue Mosque is an active mosque with its own impressive architecture, and a long line of tourists awkwardly trying to figure out how to put on headscarves.
After the relative dearth of tourists in Central Asia, Istanbul seemed completely packed. Wandering down the shopping street of Istiklal or the small alleys south of Taksim Square inevitably involved weaving through swarms of gaping tourists and their cameras. It didn't help that it was summer. My first night in Istanbul, I met up with a girl from Couchsurfing and spent an evening wandering around Istiklal, sharing beers in nearby metal bars, and radical opinions on politics among other topics. A few weeks later, I met up with her again, covering even more of the city.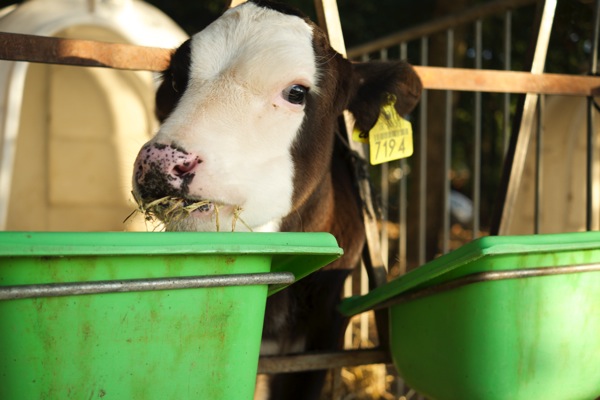 After Istanbul in those first two days, I went to a small dairy farm as a volunteer, which was a treat, a complete change of pace. After a relatively fast-paced romp around Central Asia, to be in one place for five weeks was amazing. The farm itself was pretty small, with tight-knit staff and a rotating but enjoyable group of volunteers living in the guesthouse. The numbers fluctuated between four at one point, to about fifteen at another. By choice, I wound up working a lot of mornings, getting up to help with the milking before the sun rose. Even cows don't want to get up in the morning, and pretty much glare at you and refuse to move when you want them to. Most of the work was shovelling cow poop, with a side of bottle feeding and cuddling baby cows. We stopped for tea at 16:30 every day and learned a few Turkish words to communicate with the non-English speaking staff. Overall, it was a rewarding and insightful experience. I had originally been waiting for a friend to come and travel with me, that didn't wind up happening, so instead I wound up deciding to travel with another girl, Leo, a German who was also volunteering at the farm.
We started back in Istanbul, just for a short stopover, staying with a friend of another Turkish volunteer from the farm. This girl was super smart and spectacularly good at languages, and practiced some German with Leo. It was sadly only a short stop, though, and the next day we took an early bus down to a city near Pamukkale, which took around 12 hours. Luckily, Turkish busses are extremely comfortable, and give you free snacks and drinks. We got there by evening and met up with our Couchsurfing host, another smart and multi-lingual Turkish girl with a generous heart and big personality. We had such a great time together we wound up staying longer with her.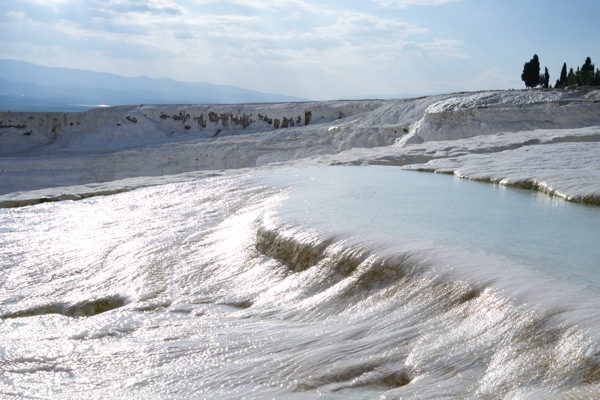 Pamukkale, famous for its white minerals and hot springs below a Roman ruins site, is a huge tourist attraction in Turkey, and sadly is mostly reconstructed at this point, after the government banned hotels that had been built on top. People have bathed in the natural pools for thousands of years, but at this point the pools are mostly artificial. Still, it was lovely to see, and Leo and I got a large pool all to ourselves for a bit, overlooking the travertine terraces.
From there, we went beachward, taking a few busses to get to Olympos, a small cluster of huts down a valley near the beach, with a walkway of ruins en route. This was a few days of utter relaxation, which I used to catch up on blog entries and generally laze around in the open-air lounge of the hostel. One night was spent swimming in the ocean with phosphorescence, little lights sparkling when you move through the water.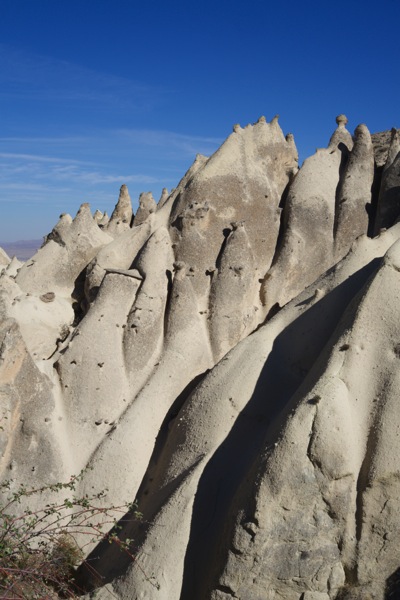 After Olympos we made a brief stop in Konya, where we visited the Mevlana Museum. This is the mausoleum of Persian poet and mystic Rumi, and the centre of Turkey's famous whirling dervishes. Finally, another bus ride later, we ended up in Cappadocia, famous for its "fairy chimneys" (pictured) and scenic hot air balloon rides. Cappadocia was 1000% worth the extra days we'd allotted for it. We found a cheap dorm room and bought groceries, making simple meals on the balcony and bringing snacks for the daily hikes we took. Since we were low-budget travellers, Cappadocia was perfect after we'd quickly (and independently) ruled out the obligatory balloon ride.
Cappadocia is a loosely defined, vast expanse of land consisting of many valleys of unique geological structures. My favourite hike out of these was Rose/Red Valley, which was incredibly painful to hike with bad knees, but well worth the views (see picture).
Another fascinating part of this place was the rock-hewn churches and houses. Some were simply spaces cut from the rock, such as the one you can see in the middle-right of the picture, but others were intricately carved churches with still-intact frescoes created by early Christians from the 4th century onward. Although I'm not usually a particular fan of frescoes, the age, simplicity and unique location makes them more interesting. 
There are also a few underground cities, including the one I visited that was complex and multilevelled, going down 60 metres / 200 feet underground! This was a fully functional city with an air ventilation system connected to the outside, but fortified to provide refuge to a population of 20,000 under persecution by the Ottoman Empire. It also included amenities like wine and oil presses, stables, cellars, and even a cruciform chapel at the bottom. A bit claustrophobic, but incredibly fascinating.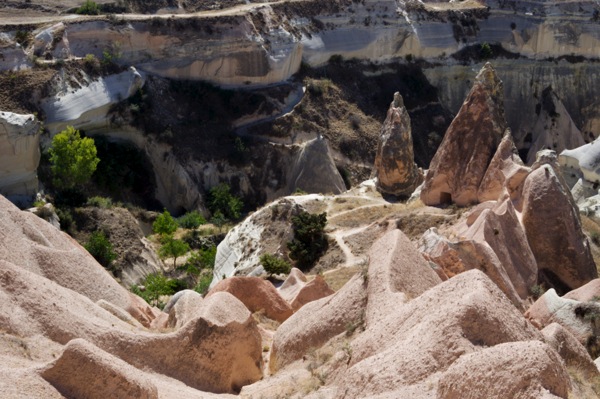 Overall Leo and I went on at least four hikes of varying lengths together, and although she was much faster than I was, she still waited around for me! On one day, a small dog started following us, or rather guiding us along one of the hikes, and followed us back into town. We named her Samwise for her faithfulness, and I threw her bits of flatbread once we got back to town for lunch. Stray, or at least loose, cats and dogs are all over Turkey, and are wonderfully friendly and not rabid. Turks are incredibly friendly and warm people, so it doesn't surprise me that the street animals are the same.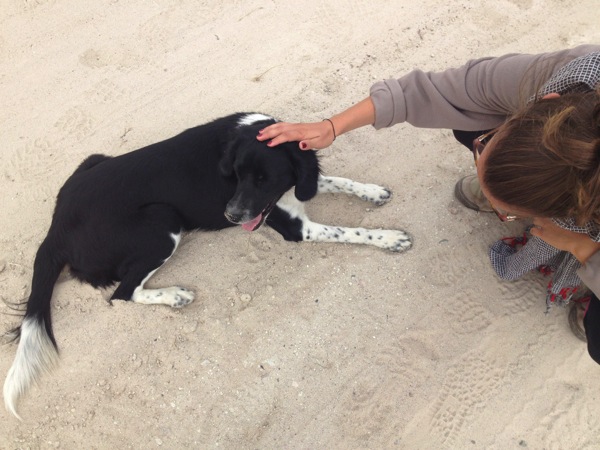 Leo was running out of time, so I saw her off on a bus back to Istanbul, and went back to a completely empty dorm room. In the end, I was so happy to be there that I wound up staying in Cappadocia another few days, taking more slow hikes and waking up to sunrises with a sky full of hot air balloons, and stopping for the occasional latte with a spectacular view.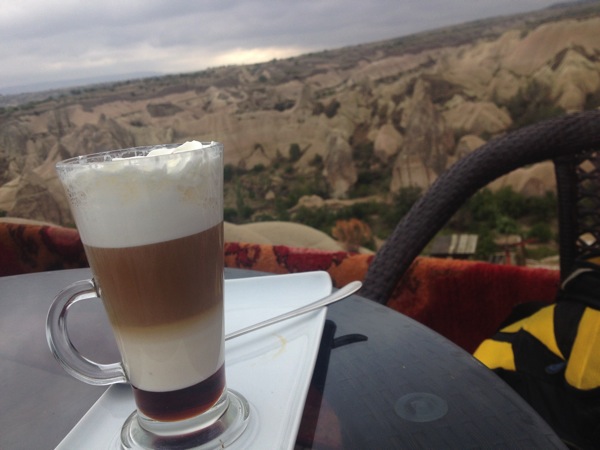 ---