South Korea Part Two: Seoul, Ganghwa, Gapyeong, Donghae
There is a lot to see in Seoul, and a lot of variety too. There are four palaces, two of which I visited, and a score of tombs, museums, neighborhoods, temples, massive shopping centers, and other close destinations for day trips. It was in Seoul that I met up with my friend Hanul, who I met in Guam, and some other friends of hers, so I'll always remember Seoul as a bustling city with plenty of friends around. 
I visited Gyeongdokgung (a palace) first, which was a huge complex that was nice but very restored. Overall, it was a good example of what palaces probably looked like back when they were in use, but this time around I focused on photographing details instead of the structures themselves.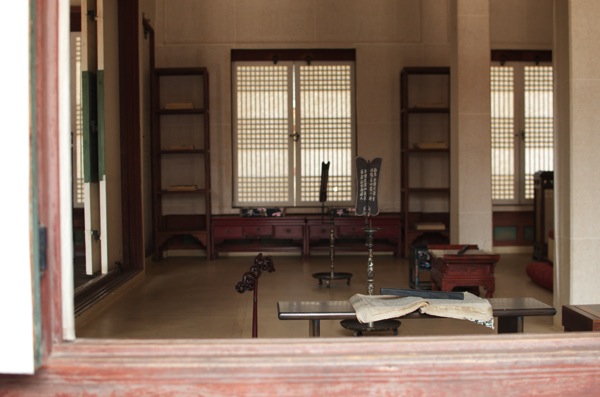 The next place I went was Jongmyo Shrine, which was Korea's first UNESCO World Heritage Site, a confucian shrine. The downside of this site was that you have to follow a guided tour, but I actually learned a lot, and was very amused because the tour guide looked and talked like a Korean version of Meryl Streep. Seriously, I wish I had a picture of her.
When Hanul and I met up, she took me to Bongeunsa, which is another favorite temple of mine. It's not the oldest temple around, but I really liked the atmosphere. It's another oasis of quiet in the busy city, and walking through it I could hear traffic only very faintly, and the tinkling of chimes in the foreground, with a calm breeze flooding through. Being there with a friend was really nice, especially since she'd spent a lot of time there when she lived in Seoul.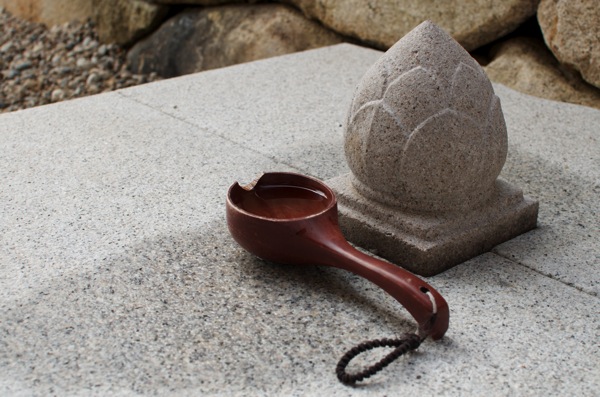 Other sites I enjoyed in Seoul were another park of tombs (Seonjeongneung Royal Tombs), the Banpo Bridge Rainbow Fountain, and parts of Changdeokgung, another one of the palaces.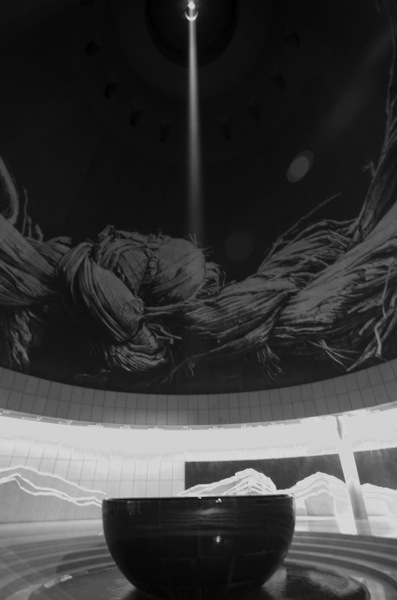 One thing that really stuck out to me was the War Memorial, which is a large museum and a number of very beautifully designed memorials. At the entrance there were a few statues: two rows of soldiers and citizens rushing forward as if on the battlefield, and a tall, split tower in the middle representing the north and south.
War memorials and museums, and the art and architecture surrounding them, remain one of my favorite things to photograph and visit in foreign countries (and my own, even). I've always been interesting in military history, but the combination of learning with the respect for human life that memorials are designed to capture makes every visit a worthwhile one. This museum had such an array of sculptures, presentations and multimedia memorials that it stands out from many others that I've visited over the years (some other great ones were Yad Vashem, the Holocaust Museum in Tel Aviv, Kanchanaburi War Cemetery & Museums, the ANZAC Memorial in Sydney, and the Atomic Bomb Museum and Memorial Hall in Nagasaki).
For someone who doesn't know more than the basics about the Korean war, this museum presented the information well, and I came away with a much better understanding of the timeline, parties involved, and general actions of the war. 
My favorite room was a large, circular one which had a round bowl of water in the middle. The ceiling, which was painted black except for a circle of twisted rope around the middle, opened up at the top to let a small amount of light in, which lit up the center of the bowl of water in the middle of the room. Off to the side of the room was a clear tile that revealed a pile of sand below, and had a lid resting against the wall. My Korean companion and I spent some time trying to figure out what it meant, and even though I don't think I'm a very philosophical person, it's one of those memorials that you can read as much into it as you want to. Amazing space.
Outside was a huge grassy area absolutely filled with planes, tanks, guns, and even a ship that you could climb into and walk around. There were some large aircraft, partially opened so you could see inside. Really engaging, interesting museum. Another part of the museum that was outside was an open dome, with colorful mosaics and other imagery inside, and the top a sculpture of two Korean soldiers embracing on the battlefield; two brothers – one from the North, the other from the South. 
After some days in Seoul, I took a short side trip to Ganghwa, a large island only about an hour away. This island contains a number of Dolmens from around 700-300 BCE.
From Wikipedia: "The Gochang, Hwasun and Ganghwa Dolmen Sites are the location of hundreds of stone dolmen which were used as grave markers and for ritual purposes during the first millennium BCE when the Megalithic Culture was prominent on the Korean Peninsula. The sites were designated as a World Heritage Site by UNESCO in 2000. Korea is said to contain more than 40% of the worlds dolmen, which are mostly concentrated in these three sites. … The megalithic stones are invaluable because they mark the graves of the ruling elite. Pottery, comma-shaped jewels, bronzes, and other funerary artifacts have been excavated from these dolmen. The culture of the people during this time can be gleaned from the evidence left by the dolmen. Additionally, the stones show how stone was quarried, transported, and used to build dolmen."
I didn't have a lot of time on Ganghwa, so I didn't see as many as I would've liked to, but it was a fascinating departure from what I'm used to photographing. I guess I'll just have to go back to Korea and finish what I started!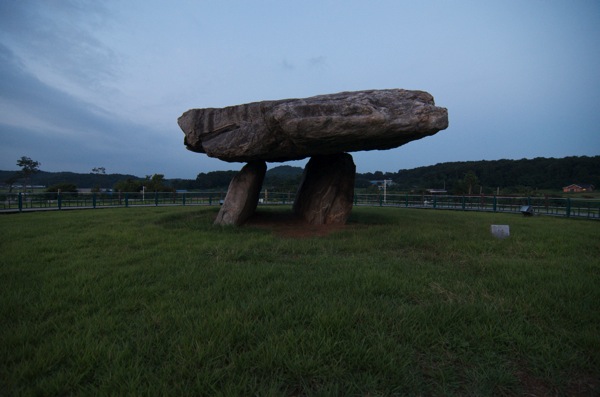 I met up with Hanul again in Gapyeong, a completely random countryside town outside of Seoul, where we and a bunch of her friends went to a place by the lake and learned how to wakeboard. Or rather, tried to learn. Wakeboarding is basically water skiing with a board instead of skis. Just like snowboarding, I wiped out and fell on my ass a lot, but it was incredibly fun. We also got rides on a few kinds of towable rafts (Great Big Mable and Flyfish), which is just like going on an amusement park ride on the surface of the water. So while we were being spun around and crashing into each other, I was happy to know that it didn't matter that Hanul's friends didn't speak much English – the only speaking going on was screaming or laughing.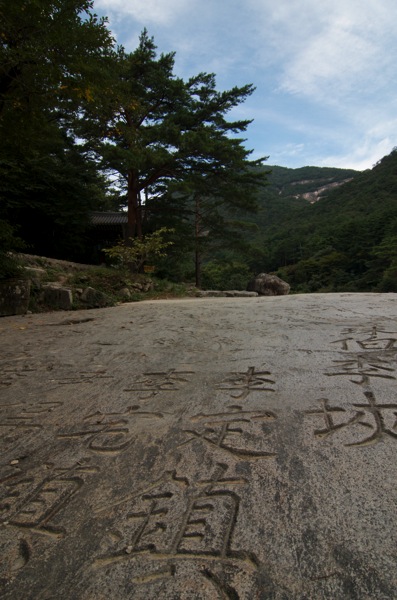 Despite being incredibly sore the next day, Hanul and I dragged ourselves from her Aunt's place, where we had spent the night, onto a train bound for Donghae, another small town where Hanul grew up. Donghae is also where the ferries from Vladivostok, Russia come in, and I was reminded of this by the Russian signs in the spa where we spent the night (in Korea, there are 24-hour spas you can sleep in for around $8 a night!).
Hanul, her friend Dayoung and I spent the evening eating, wandering around, and went up to the lighthouse to admire the small but pretty view, and took some long-exposure pictures where Hanul wrote words and drew pictures. Lots of fun!
The next day, along with Dayoung, we visited another temple important to Hanul: Samhwasa. Samhwasa is a very small temple, but it has amazing inscriptions carved on the huge rocks leading up to the temple. I have no idea how old they are, but they're amazing. I wonder how long it took to carve them all out. We must have spent almost 45 minutes just walking around the rocks, with Hanul and Dayoung goofing off and taking lots of pictures of themselves.
This continues my string of unique temples. It was refreshing to visit something small and personal, not a place teeming with tourists, though there were a number of Koreans there to sightseeing and of course hike (Koreans and hiking… it's like another religion).