South Korea Part Three: Andong, Yeongju, DMZ & JSA
Andong, a small city a bit south of where I was before, is the closest to yet another UNESCO World Heritage Site I wanted to see – Hahoe Folk Village. This village is an extremely well preserved traditional community, known for producing traditional masks, surrounded by a river and containing homes dating back hundreds of years, from different periods. Interestingly, it is still lived in, so as you the tourist walk around, most house gates are closed, and the occasional car is parked in the lot, disturbing the sense of an aged, dead community.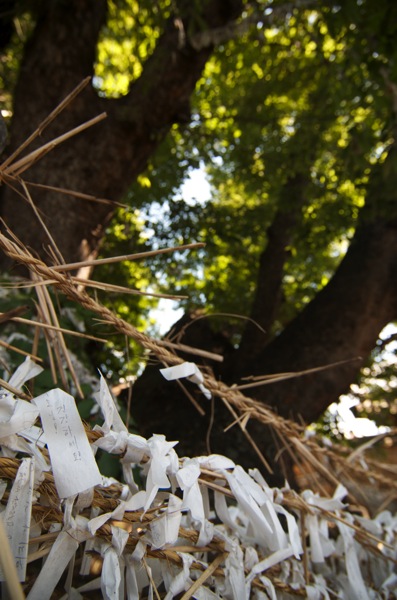 The whole place could be walked through in a few hours or a day, depending on what you wanted to see. For that day I had an Irish companion, and we spent most of the day there. Another highlight was the goddess tree, a large, old tree surrounded by strings holding wishes written on slips of paper, with a traditional masked figure in front of it.
Nearby, we took a short ferry ride to the other shore and took an easy hike up to the cliff overlooking the village. Two Korean guys with nice gear where photographing up there, and tried to get us to pose. I gave one guy a few pointers, and gave him my card. When he saw I was a photographer, he nervously laughed and apologized for being an amateur. It was quite amusing.
After unsuccessfully looking for another structure on the map, we went back to the main village and walked around some more, stopping for ice cream in the heat, and smelling the roses. I caught a grasshopper and after a few minutes it wouldn't even jump from my hand. I'm reminded how much I love nature – especially insects and reptiles.
We took the bus back to town and looked for a place to have dinner. Of course when you're looking there's not much, so we wound up at an italian restaurant. Korean Italian food is… interesting. If you like your garlic bread more sweet than garlic, and your pasta sauce more like ketchup with tabasco sauce, you'll be right at home. However, I was hungry, so it was perfectly fine. Since then, though, I've been craving italian food. Of course italian food in the states is probably just another bastardization anyway.
At this point I had less than a week left Korea, and had to be back in Seoul in just a few days for the DMZ tour I'd booked, so after Andong I could only fit in maybe one more thing. I decided to stay another night in Andong, leave the next day, and possibly stop over somewhere. I picked Yeongju, which is the closest town to a temple called Buseoksa.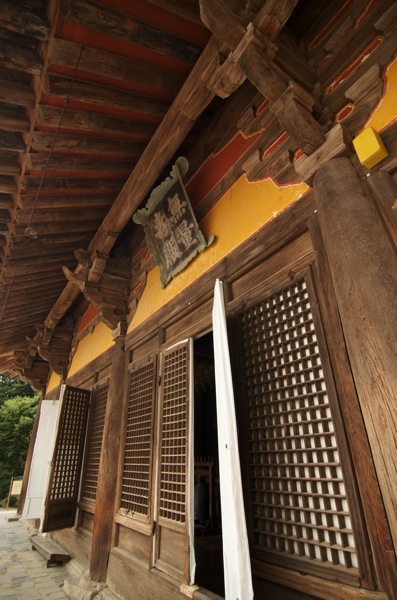 Buseoksa is a large temple complex nestled high in the mountains, known for having some of the oldest wooden structures in Korea. Since I was so impressed with Haeinsa mostly due to its age and significance, I went looking for something that was old and authentic. Buseoksa seemed like a good bet, so I took the short train ride to Yeongju, cab to the bus terminal, and the bus all the way to the temple, dragging my entire backpack along with me.
At the base of Buseoksa is a long pathway leading up. I actually surprised myself by getting pretty far before I was huffing and puffing. And then I hit the stairs. In Buddhism, the number 108 is sacred for various reasons, so before actually getting into the main gate you have to climb 108 steps. They're said to be designed to remind you of the pain and agony of redemption, and I hauled ass up those 108 steps with my 13-15 kilos (28-30 pounds) of stuff on my back. Well, that climb was completely worth it.
First off, the view is absolutely amazing, since the temple grounds are on the mountain with few things blocking the view, and most of the bus ride in went through pure countryside. The grounds are probably the most well kept I've seen in Korea, with lots of flowers and trees all around, and the buildings complement and are complemented by them. I'll include a picture of it further down, but it was just gorgeous.
There weren't too many tourists when I arrived, so it was a very relaxing atmosphere. On the left is the wooden main hall, dating back hundreds of years. I went inside and for just a moment had the whole hall to myself, just me and the Buddha. Looking around, I could see how faded the paint was, and the cracks in the walls. The ambiance of the hall was exactly what you would imagine a Buddhist temple to be. A perfect stop before getting back to busy Seoul.
There were many buildings in the complex I didn't even make it to, but one that I did was another old hall dedicated to a monk, which was a short hike up from the main hall. I was the only person there for quite some time, which was nice. Even the usual staples, the fish and drum, the bell, etc, seemed more beautiful here. Ironically, Buseoksa is described as a "masculine" temple, mostly due to its size. I think the sheer beauty of it makes it seem more feminine.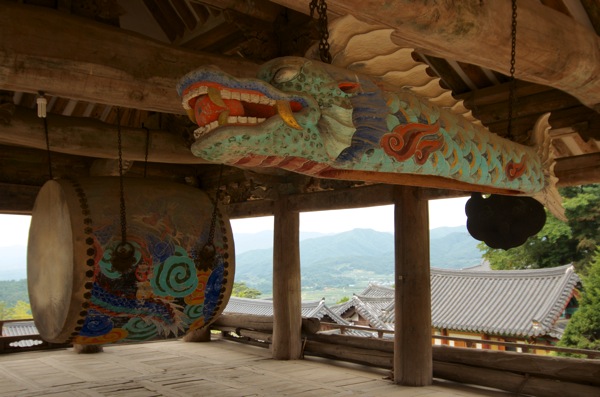 Surprisingly, I managed to get back to Yeongju, get from the bus station back to the train station, and get onto a train towards Seoul with ease, and wound up back in Seoul at my hostel before midnight. I took the next day "off" and just wandered around a few places, souvenir shopped, and got ready for the DMZ tour the next day.
For anyone not familiar, the DMZ is the demilitarized zone, or the buffer of land on either side of the line marking the border between North Korea and South Korea. Interestingly, one of the most popular things to do when visiting Korea is to take a tour of the border areas. There are two main sections of the tour. The first is "the DMZ", which consists of various areas of interest near the border, such as Dorasan Station, Dorasan Observatory, 3rd Infiltration Tunnel, and others depending on your tour. The other section is the JSA, or Joint Security Area. This is the area right on the border, occupied by both North Korean and South Korean forces (along with U.S. Army troops), that South Korean citizens are not allowed to visit on tour. I did both parts, so that meant my Korean friends were all jealous of me, hah.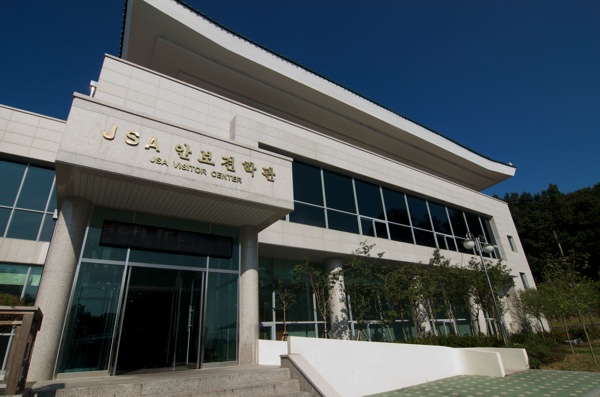 There are a bunch of different tour companies, but the main one, Koridoor, is the official tour agency of the USO. They're cheaper than the others, don't take side trips to souvenir shops, and have a good reputation, so I went with them.
Koridoor was booked two weeks out when I first looked into it (which was a week and half before my flight), but I was able to call in and get a last minute spot due to a cancellation. The tour cost 96,000 won, or about $87 at the time, where the others were 135,000w or $122. So I showed up bright and early at the USO and got shuffled onto a full bus with around 45 other foreigners.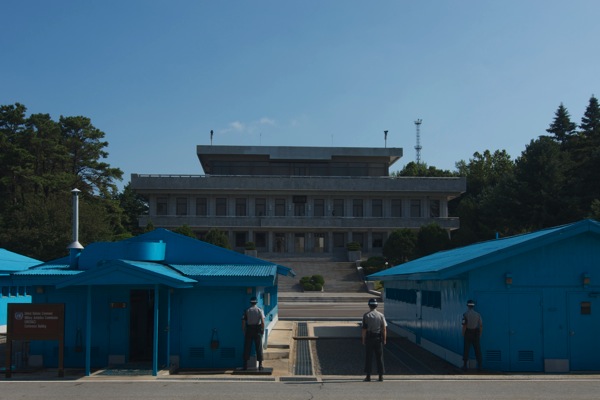 The first part of the tour was the JSA, at which time we were handed off to the US Army for a presentation. To be honest, the presentation reeked of smugness and righteousness. No one can deny how crazy, tyrannical, and paranoid North Korean can appear, but that didn't justify the attitude towards them that was shown. It should have been strictly business.
We were then bussed to the border, passing through some interesting sites on the way. For this part, there were lots of rules. Two single file lines, dress code (which was mentioned about a hundred times before I even booked the tour), no pictures unless explicitly allowed, etc. We filed through the various buildings until we stood facing a North Korean building dead ahead, with various anecdotes from our US Army guides about how they built their buildings to be taller, etc. In the above photo, the building shown is the North Korean one, with the blue buildings being shared by both sides. The one on the left is the conference room we went into, which straddles the border. If you look closely, just past the South Korean soldiers facing the building, there is a cement divider that crosses the grate. That divider marks the border, also shown in the border below.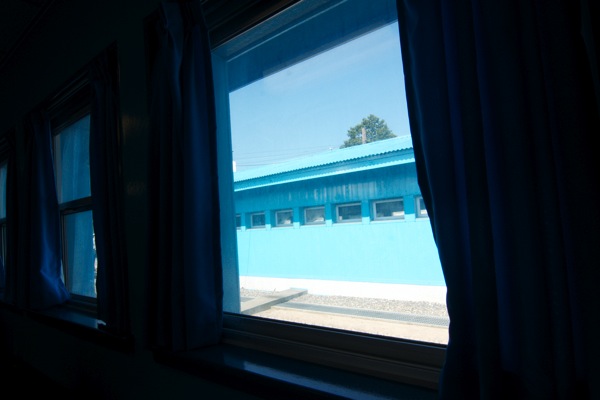 The conference room is actually a pretty boring building inside, but being that one side is North Korean, and that you can walk around to the other side, it's way more interesting than it should be. You can easily forget you're in a hostile area. Technically, the North and South never signed a Peace Treaty. Inside the conference room were two South Korean guards in Taekwando stance, ready to toss you if you did something wrong (cross in front of them, get too close, etc). 
The other part of the tour covered a few different areas. Dorasan Station is a train station, the last stop in South Korea before crossing into the North. The line was only open for one year, unfortunately, but maybe it will open again someday. The station is now swarming with tourists, partially since this is one area that South Korean tourists can come. The station itself looked like any other South Korean station, but the signs pointing to a station in North Korea had an eery feel to it, not to mention a twinge of sadness about the now-closed border.
Another spot was the 3rd Infiltration Tunnel, a tunnel that the North Koreans allegedly dug to invade the south. It's, well, a tunnel. A steep walk down, very short (which wasn't a problem for me, luckily!), and great cardio on the way back up.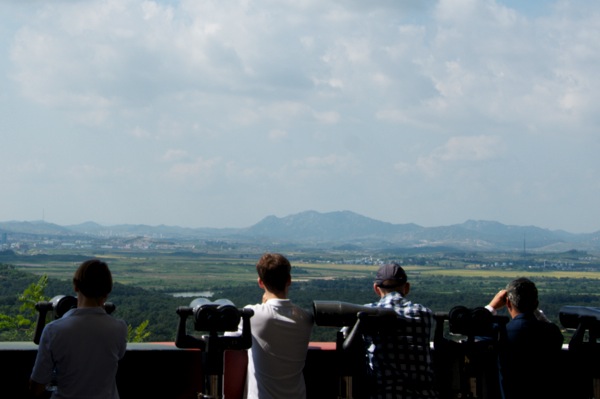 After that was the more interesting part of the DMZ, Dorason Observatory. This is basically where people come to hire binoculars and peer into North Korean. From here you can see the Kaesong factory (which is mostly shut down at the moment, to my knowledge), and Kaesong city. There is a propaganda village, which is said to be nothing but a bunch of abandoned buildings with painted on doors, and the largest flagpole in the world. You can kind of see it to the right of the photo. It was a really strange sensation to be staring into North Korea, like a kid outside a fishbowl, staring in. Part of me can't help but wonder what it's really like over there, and I'm curious to do the state-run tour someday. On the other hand, I don't want to hand money to a government like that. There is a definitely a sadness to the situation, that there really isn't a conclusion to the Korean War, 60 years later.
Overall, I absolutely loved my time in Korea. I've made so many amazing new friends, eaten a ton of great food, and seen some amazing places. I would definitely go back at some point, and I'm really, really glad I got to go enjoy this awesome country.