Peru Part One: Lima, Huaraz, Trujillo/Huanchaco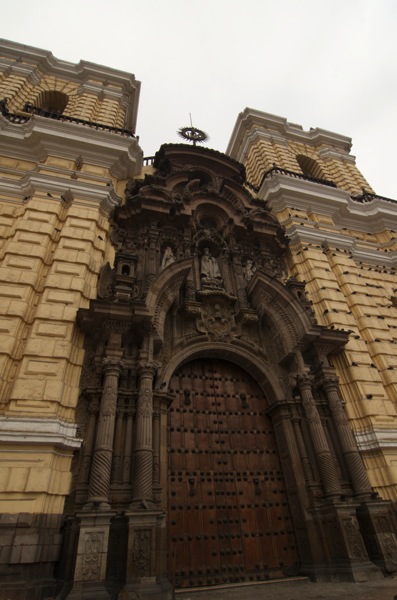 I've traveled mostly in Asian countries before, so it's been a big learning curve to come to Peru and adjust to Latin American culture. I just relaxed in Lima the first few days, in the upscale Miraflores district, which also happens to contain a small ruins site that is still being excavated.
I met with two local girls from the Couchsurfing website, and got to explore more of the city with them, including my first ride on a dilapidated but functional combi, or small bus. The historic center itself has a number of beautiful Spanish-style buildings, but with an array of bright colors, intricate balconies, and a swarm of little stores lining the streets. I really enjoyed visiting the Church of San Francisco (left), complete with catacombs underneath where religious people's bodies were left when they died. The whole place is basically an underground vault of bones, bones and more bones. Amazing.
A long but scenic day bus ride up the coast and inland took me to Huaraz, another dry, dusty city, but this one perched in the mountains at around 3,000 meters above sea level. The first few days here I did almost nothing since I was a bit sick from adjusting to the altitude. However, I was couchsurfing, so spent the time just hanging out with my host and friends, which was a really nice way to get into a groove and pick up some more Spanish.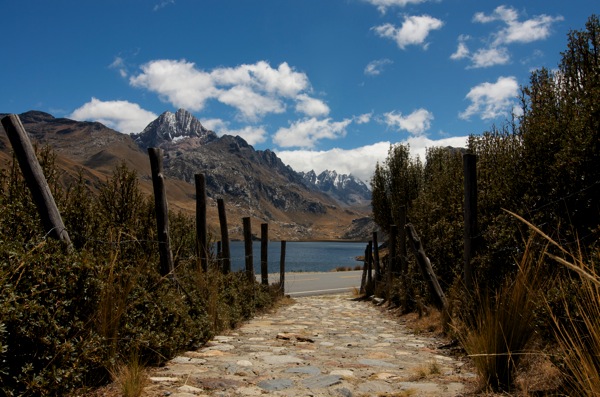 I did two day trips in Huaraz: Pastroruri Glacier and the Chavin ruins site. Pastoruri was my test trek, to see how I fared hiking in altitude. Well, I made it. It was about an hour up, hitting close to 5,000 meters, and I made a lot of little stops to catch my breath and slow my racing heart. My knee was also acting up a bit, so I pretty much ruled out the amazing-sounding multi day treks that most people in the area came for. The ride into the glacier, and hike up, provided some amazing views of Huascaran National Park, so at least I got to see it even if I wasn't going to be trekking it. I'd rather save my knee for Macchu Pichu and the Sacred Valley.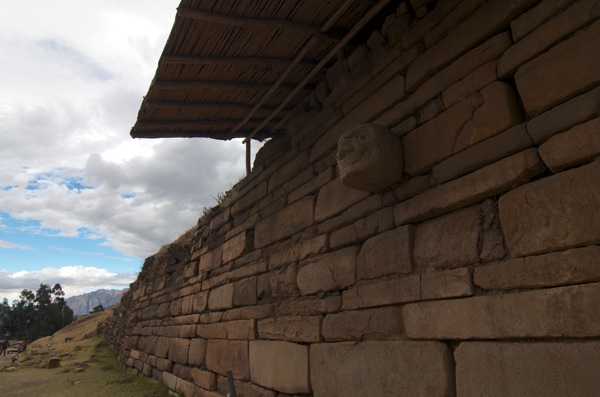 The ride to the Chavin ruins site was even more impressive, with the bus winding up and down the steep mountains. This ride lso proved the most entertaining – I wound up on the Spanish tour, with the rest of the group save one being Peruvians, who were all loud, boisterous, and would randomly burst into song, or chant the name of the town they were visiting from. The other foreigner was a really awesome Italian guy who spoke Spanish and translated a few things for me.
The ruins themselves were interesting, but not particularly impressive. The bus ride there and back more than made up for that, though. What made Chavin interesting was the small things. There were originally a number of carved faces that protruded from the walls of the site, though most of them are now in the museum. They ranged from funny to angry faces, and it's suspected that the inspiration for these were drawn from the imbibing of certain hallucinogenic substances.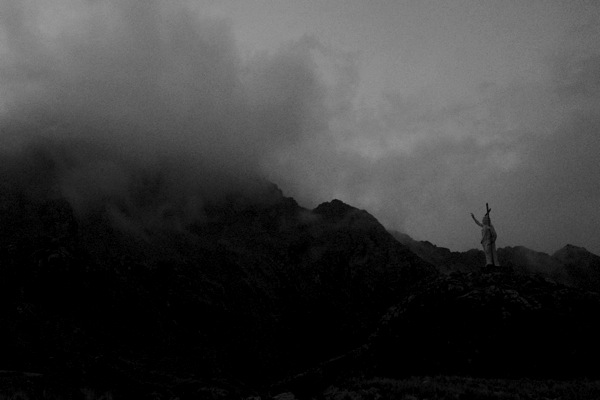 The sun started to set on the way back, and the clouds also came in a deposited a meager amount of rain on the roads; not comforting considering the narrow, twisting ride back to Huaraz. Luckily, the rain didn't last for very long. 
Peru, being a very Christian and Catholic country, had a huge religious statue up in the mountains, which provided this awesome photo on the way back. Very cool.
Huaraz to Trujillo was my first overnight bus ride in Peru, and was of course fairly uncomfortable. I'm amazed I got any sleep at all. I didn't check my bag, so I spent the ride with my 35 litre bag as a footrest, and an old Peruvian guy snoring to my right. Once we got into Trujillo, I shared a taxi to Huanchaco, a small beach town just outside of Trujillo, and napped for a few hours at my hostel.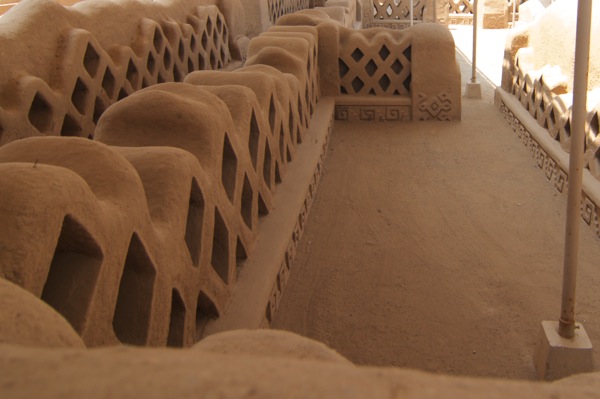 I met up with two girls I'd been talking to through Couchsurfing; why I thought it was a good idea to get up and go right after a night bus I'm not sure, but together we went to visit Chan Chan, a 700+ year old Chimu ruins site right next to Huanchaco.  Chan Chan is a huge Adobe (mud brick) city with simple but beautiful carvings in the walls. I really liked this a lot, despite hearing reviews saying it was "just okay". The whole feel of the place, and the colors and patterns, were really interesting, and it's even more amazing to me that this was just hidden, buried under sand. Across the road you can see mounds and mounds of sand with walls peeking out, just waiting to be uncovered.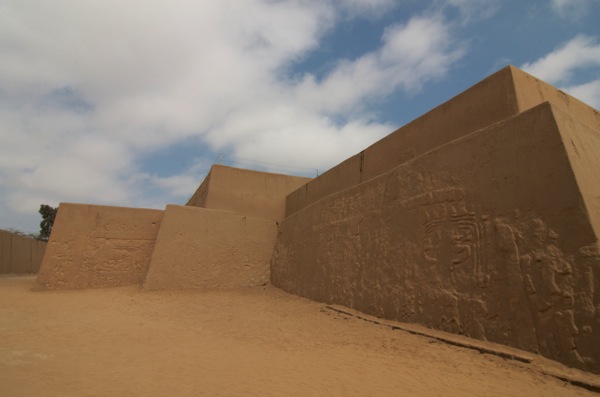 After Chan Chan, we met a German girl who was negotiating with a taxi to visit other nearby Chimu sites, and we joined in. Being four people now, it was a much better deal, about US$3.50 for a taxi to drive us around for an hour or more! Along with the Chan Chan museum, we saw two other, smaller Huacas (temples): Huaca del Esmeralda, and Huaca del Arco-Iris (pictured), or Temple of the Rainbow. The last one was very impressive; just a small structure, but with amazingly intricate designs carved in the walls, many featuring rainbows, hence the name. 
The next day, the three of us met up again and went to Huaca de la Luna y Huaca del Sol, which are two Moche temples just outside of Trujillo. This involved a long, bumpy taxi ride to the outskirts, where suddenly you emerge from the dusty side streets to the view of a hill with a huge excavation site at its base. Huaca de la Luna (Temple of the Moon) is undergoing excavation, while its sister temple, a ways away, is still under a pile of sand. In between the two temples is a buried city, part of which is being uncovered. I would be curious to go back in 40-50 years and see how much work has been done.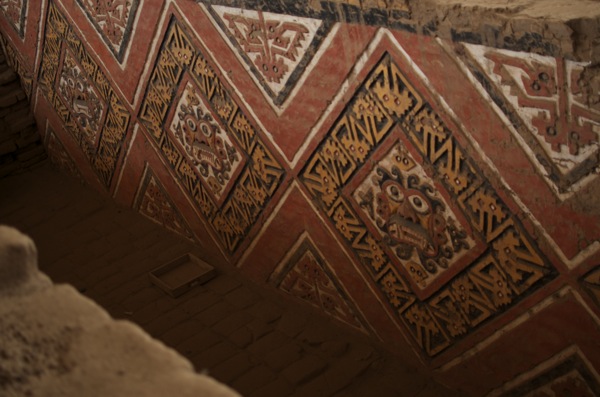 I've heard that most people prefer Huaca de la Luna to Chan Chan, but I like both of these sites for different reasons. Chan Chan felt more complete, more like you could walk in and imagine what it was like to be there a thousand years ago, whereas Huaca de la Luna contains absolutely impressive painting carvings all over. Apparently it was a tradition with each successive ruler to cover the old and paint a new level, so during the excavation many levels of carvings have been uncovered. In the museum near the site, a number of exquisite ceramics are held, many of which are carvings of people who were sacrificed. The level of detail in these is amazing; it's almost unbelievable that this site is around 700 years OLDER than Chan Chan. The last part of the tour led us to the outside of the Huaca, where a multi-layered wall shows the multitude of designs.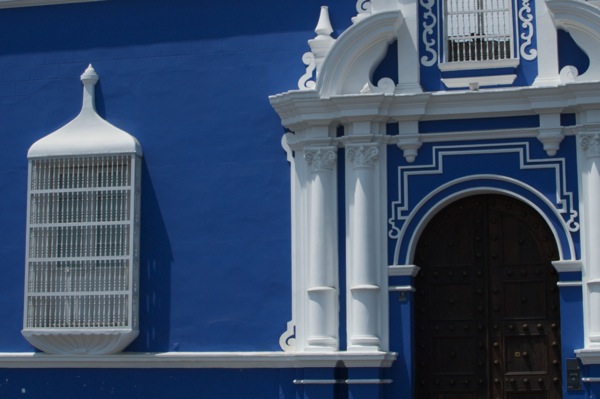 I must admit that the few week or so of Peru has been a bit underwhelming; I've thought a lot about how much I miss Asia and Oceania, and I thought I might not be able to get into a groove here. However, seeing these awesome ruins has reminded me how much I love archeology and ancient civilizations, and meeting people though couchsurfing and hostels has helped me adjust a lot. The few days I spent in Huanchaco (which also is a wonderfully chill beachside town in its own right) really refreshed me and got me excited for travel again.
My last full day in the area was spent with Louise, one of the Couchsurfers, going into downtown Trujillo to watch a parade and kill some time before her night bus. The Plaza de Armas in Trujillo is probably the most beautiful Plaza I've seen yet in Peru, which its colonial buildings and Trujillo-style windows (see above picture). The parade was also really fun to watch, moreso with another person. Afterwards, we chilled at my hostel and watched movies until she had to go. That's the problem with travel – you make new friends just in time to leave them and probably never see them again. So it goes.