Peru Part Two: Chachapoyas and the Great Adventure to the Ecuadorian Border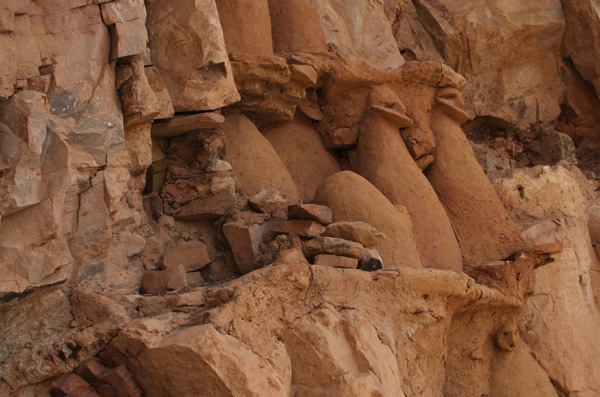 From Trujillo, I took an overnight bus to a small city in the mountains called Chachapoyas. It's full of lovely white colonial buildings, a relaxed vibe, and is not completely overrun with tourists.
My reason for coming here was mainly the Kuelap ruins, but I spent another day on a tour to check out two sites with really interesting sarcophagi, clay burial chambers with sculpted faces dating back to the 15th century. There were also some interesting paintings on the walls from around the same time.
The picture on the left is from  Pueblo de los Muertos (City of the Dead), a collection of sarcophagi built into the side of cliffs. To get close we hiked a ways and then gingerly tiptoed along the edge of a sheer drop, ducking into the remains of circular mausoleums on the way. Many of them are simply inaccessible, but they're really impressive even from a distance. Since they contain bones, there were a lot of bones randomly scattered about the area. The other site is Karajia, which boasts more elaborate and distinctive sarcophagi, with white painted bodies, stronger carved faces, and human skulls (of their enemies, it would seem) resting above them. They are less accessible, however, so harder to see and photograph.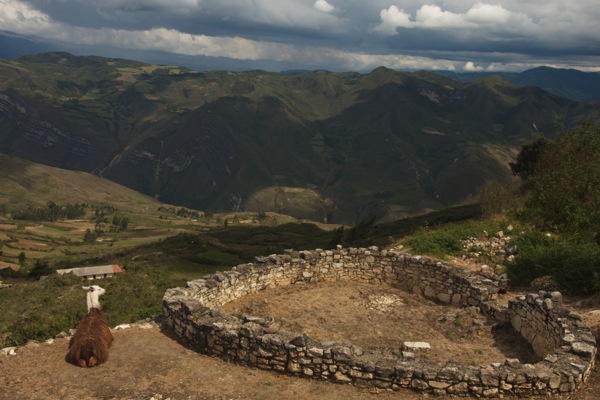 Chachapoyas takes its name from the Chachapoyan people from that area, a reputedly white tribe (e.g. blond haired and blue eyed), lthough there doesn't seem to be much evidence of that. They were conquered by the Inca and apparently didn't survive after the arrival of the Spanish. Another characteristic of the Chachapoyans was their round houses, of which there were hundreds at the other site we visited, Kuelap. In the photo on the left you can see the base of a round house; some of them belonged to shamans, with walls marked with symbols (see below).
Kuelap is called the "Machu Picchu of the North", although it doesn't receive anywhere near the amount of visitors as Machu Picchu due to being a bit remote. That's one of the reasons I wanted to visit it; less tourists means less people in my pictures, and a lot of places that are remote are less degraded or, worse yet, reconstructed. Kuelap is quite an expansive site, and I think it deserves more attention, as does the north of Peru in general.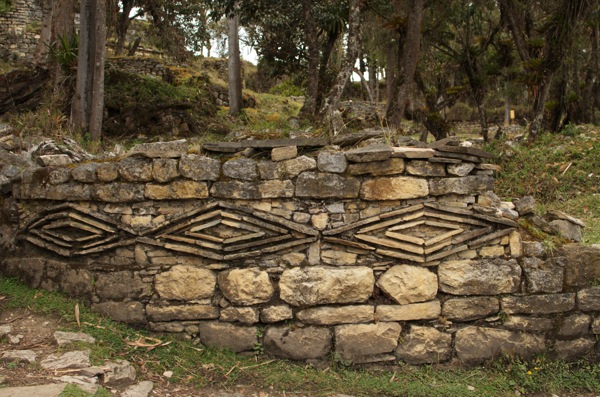 I could have spent a week or more in town, but I was feeling enthusiastic about moving on. In Chachapoyas I went on two days of touring with five other people in a small van, since there weren't that many travelers in the town. We went with Revash, a hostel with its own tour company, and had a really cool, very informative tour guide who spoke excellent English.
By the second day, we'd discovered that we all planned on going up to Ecuador through the La Balsa/Zumba border crossing, a less used crossing, and decided to go together early the next morning.
For the next two days, all six of us stuck together: me, a couple consisting of a South African and a Turkish girl who I nerded out about photography with, and three Germans. We shared quite a few cars with not enough room and got quite comfortable squashed up against each other, feared for our luggage tied to the roof (my bungee cord came in handy for that one), and made it across the Ecuadorian border at La Balsa with no issues, then taking a bus with a chicken and farmers and their sacks of goods to Zumba, where we got a much more comfortable bus to Vilcabamba, a small hippy town nestled in a valley. And then I became a hippy… just kidding.