Ecuador Part One: Vilcabamba, Cuenca, Nariz del Diablo, Banos, Quito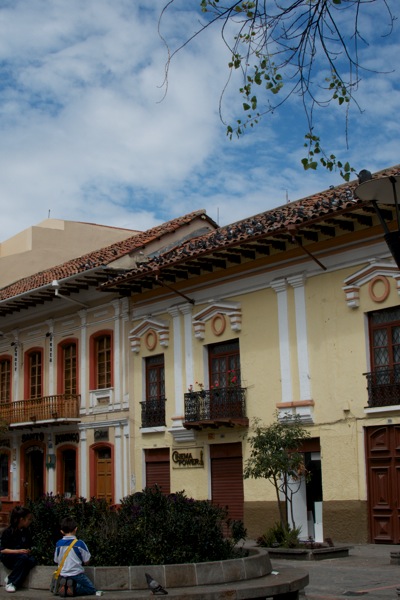 After two long days of crossing the border, the six of us stopped in Vilcabamba, a scenic hippy town in a valley, known for the long lives of its locals, and home to a ton of American and other expats. We rented two cabins at an eco-lodge, a 15-20 minute walk from town through a hiking trail, and spent about a week and a half relaxing, cooking epic meals together, horseback riding, and spending time with a friend of one of the Germans, who owns a local business in town. We'd all grown to feel like a little family on the road, so we didn't grow sick of each other too quickly.
After Vilcabamba, we all headed to Cuenca, one of Ecuador's cities with a beautiful historical center and more great food options. Colonial architecture is one of my favorite things to photograph, and South America has been an amazing place for that. Cuenca was my favorite at this point, with big, beautiful buildings in bright colors. Now I'm actually curious to go to Spain for the architecture!
I could have spent a while longer in Cuenca, it was so nice. We mostly just walked around, and checked out a few of the local markets, one being touristy and the other not so much. I've grown used to the kinds of souvenirs you get in Asia, and now I'm getting used to the ones in South America… patterned ponchos, wicker baskets, embroidered purses, Spanish-style shirts and traditional skirts, textiles of all materials and patterns. I haven't bought anything, though, since I can't stand the idea of carrying anything more in my 35-litre, 15 kilo backpack!
At this point, the Turkish girl and South African guy had only a few days or so to get all the way to Bogota, Colombia to fly out, and the Germans were headed towards Guayaquil, on the coast. So after a nice day and change in Cuenca, we all split ways after two weeks together. I love and hate that about travel – getting to know people, and then saying goodbye… or maybe 'see you later, somewhere'.
From Cuenca, I headed to a small town called Alausi to see about a train ride called Nariz del Diablo, or the Devil's Nose, an old track up a steep mountain. Lots of people do it as a day trip from Riobamba, further north, but Alausi was closer to Cuenca, so I took a quick bus ride up and stayed the night. Not much in town, but I got a nice room and relaxed by myself for the first time in a while.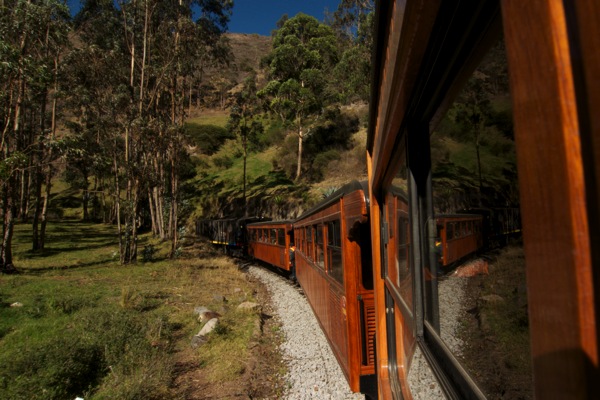 The next morning I dragged myself up at 7am and got an 8am ticket for the train ride, a whopping $25 for the short trip and snack. It was a nice train ride, but not as steep as I was hoping. Nice scenery, and I met an awesome Swiss girl who was going on the same train.
After the first part of the train ride, we got off at a little tourist stop where there were Ecuadorian traditional dances, a Llama you could pay to sit on, and a small snack and coffee. It made for a nice start to the day, though I don't know if I would've wanted to go out of my way for it.
From Alausi, the Swiss girl and I teamed up and took an interesting route she wanted to take to see a volcano (I forget the name, but it was nice), and we stopped at a completely random town (Guaranda) for the night. The next day we detoured to Salinas, a tiny town known for cheese and chocolate (different from the bigger one on the coast) for the morning, got a tour, and then headed over to Banos, one of the popular stops on the tourist/backpacker trail.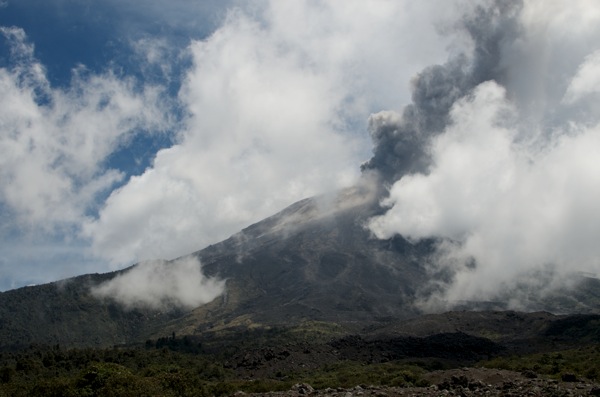 In Vilcabamba, I'd really enjoyed the horse ride we did, and was keen to do another one. Unfortunately, I was the only one in town who was trying to do it, so it wasn't looking promising. The Swiss girl decided at the last moment to join me, meaning we could do it, because it was going to the volcano she wanted to see anyway.
So the next morning we set off with our guide Pablo, and my crazy horse I nicknamed "Poco Loca", since she was a little insane. We walked, trotted and galloped up near the base of the volcano, having a picnic right next to where the lava from the 2006 eruption had carved out a trail, and talked about how fast we could get out if it erupted again. Meanwhile, the volcano rumbled and spewed ash just in time for the clouds to clear so we could get some good pictures. The horses weren't impressed.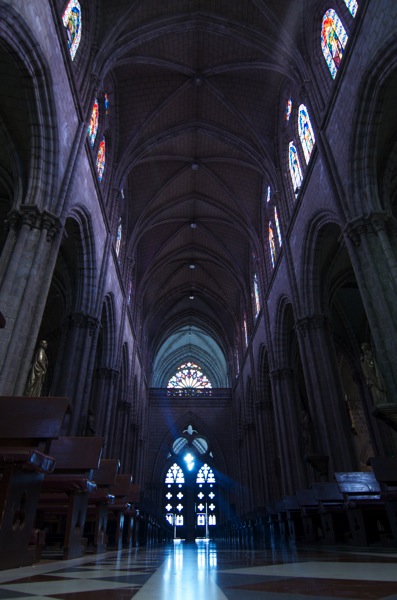 After Banos, we caught the bus to Quito, Ecuador's capital, which has a reputation for being dangerous. I'd met two other travelers who'd both been robbed in Quito, so I didn't have good expectations for it. However, since I wanted to try to get a last minute deal on diving the Galapagos, Quito was on the itinerary. 
I was pleasantly surprised. Quito's new city, Mariscal, was full of good restaurants, and right near the travel agency where I secured a spot on a dive boat. A bit too loud at night, though… I'm not really the partying type at this point.
After arranging the dive trip, we stopped at the Mitad del Mundo (middle of the world), the point on the Equator where the coordinates are all zeros. Actually, they originally built the monument on the wrong spot, so the huge park is wrong, and the real point is on the other side of the park wall in a private museum. We arrived at that spot right as they were closing, but hopped on the last tour. There were some neat demonstrations, the most interesting being that water pours straight out of a sink instead of swirling clockwise or counterclockwise. The guide also said you lose strength and weight when you're standing on the equator, which he demonstrated with us. Really interesting.
Our second night in Quito we moved to the old town, which is full of beautiful buildings and amazing churches (see left, the Basillica). I went completely batshit crazy taking photos, much to the amusement of my Swiss friend. There are times I wonder if I really love photography, or if it's worth it to do, but then I get photos like this, and everything becomes clear again.
There are two arguments I can see about churches, and any other religious building really. The first is that the money should be spent on the people instead of buildings. The second is that churches, etc, are an artistic expression of faith. I can understand both perspectives, but when I walk into a beautiful religious building, I can't help but admire it as a passionate art form. And take lots of pictures of it, of course.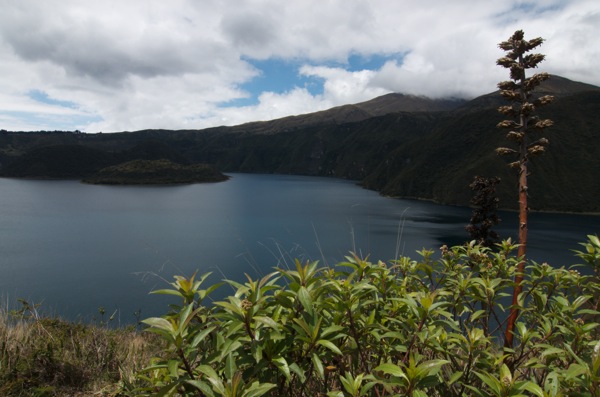 From Quito, my Swiss companion was headed up to Bogota to meet a friend and then travel Colombia, and I had a few days before leaving for the Galapagos, so we went to Otavalo, a small city further north known for its huge Saturday market. We arrived on a Thursday, found an awesome little hotel, and spent two nights, going to a nearby laguna, Cuicocha, and small town, Cotocachi, the next day. That trip was a pleasant combination of busses, the back of a pickup truck, and having lunch with a traveling Argentinian. The laguna was a lovely little walk, and the town had a lovely plaza but few food options.
The market on Saturday was indeed a huge market; nice to walk around, but we didn't buy anything. The nice thing was that there were a lot of Ecuadorians, not just gringo tourists. We also got stopped by a group of English students and helped them practice English for a little while. It was a nice last morning there, and at the bus terminal my Swiss friend and I parted ways after a week together… another sad parting, but we all must travel on! Ironically, I'm picturing riding off into the sunset on Poco Loca, only she would probably just ignore me and turn the wrong way…