Peru Part Three: Machu Picchu and the Sacred Valley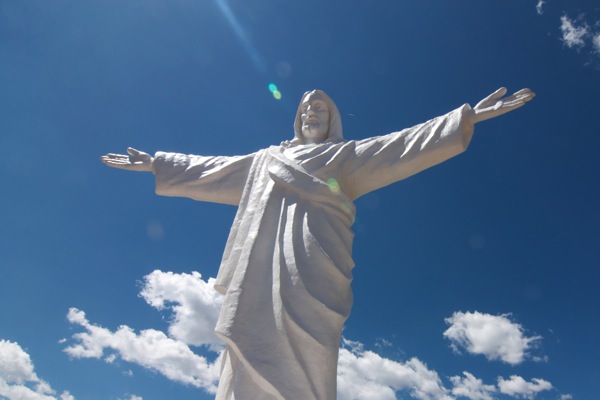 From the Galapagos, I booked a flight all the way down to Cuzco, not even needing to leave the Quito airport. I spent seven hours in the Lima airport, and finally got to Cuzco and just relaxed for the day. Cuzco is at high altitude (3,400m / 11,200ft) and so it's advised to spend a few days there to acclimatize. Unfortunately, I have a hard time adjusting to altitude, even over a few days. The next day, I did a walking tour with a cool English girl I met, and was breathing hard and drinking water the entire time. I don't know if my heart has ever beat so fast. In any case, I survived. The walking tour was free and surprisingly informative, covering a few neighborhoods and some of the major sites in those areas, including the beautiful churches with original, anti-siesmic Inca stone foundations. We also stopped at a store for a demonstration of traditional Peruvian instruments, and a few places for bites of food. Definitely worth the price, plus tip.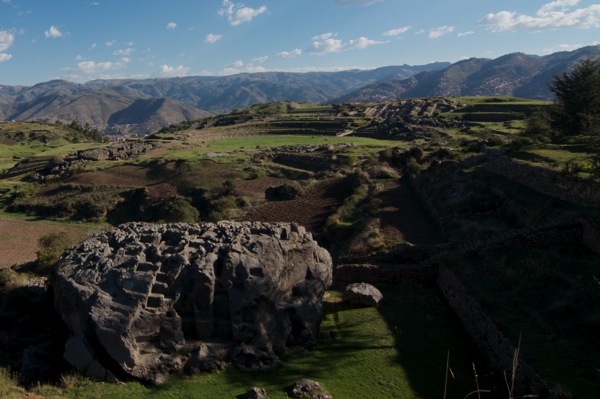 The next day, my companion and I bought sandwich supplies at the local market (avocados, tomatoes, bread) and went to check out the free ruins near Cuzco. It was a long, long day of more walking (and a short horseback ride), but we got to see some neat ruins and the gigantic white Jesus statue (pictured above) that guards over the city.
Towards the end of our walk we found a nice picnic spot overlooking the ruins (pictured), with no one else around, and we ate our sandwiches there before walking back via the giant white Jesus.
After that adventure, we opted for something slightly different, and booked a day tour to go river rafting in the Urubamba River. I've never gone river rafting before, but I've always wanted to, and I love pretty much anything to do with being on or under water. Very fun, and amazing scenery. Afterwards, we got a surprisingly good lunch at "Base Camp", and then almost everyone opted to do the zipline across the river. I'm too afraid of heights to do it, but I was satisfied enough with the rafting.
Finally, I made it out to Machu Picchu, or rather Aguas Caliente, the small town at the base of the mountain. AG was a sad specimen of a town, completely overrun by tourism with hostels and restaurants that were all exactly the same and overpriced. I wound up taking the train in from Ollantaytambo, which was cheaper than going all the way from Cuzco. I arrived in the evening, bought my entry ticket and bus tickets up and down the mountain. Spending the evening in AG was pretty boring, aside from the little girl at the restaurant where I had dinner, who was obsessed with my piercings and shiny computer. I showed her pictures and talked in my very limited Spanish.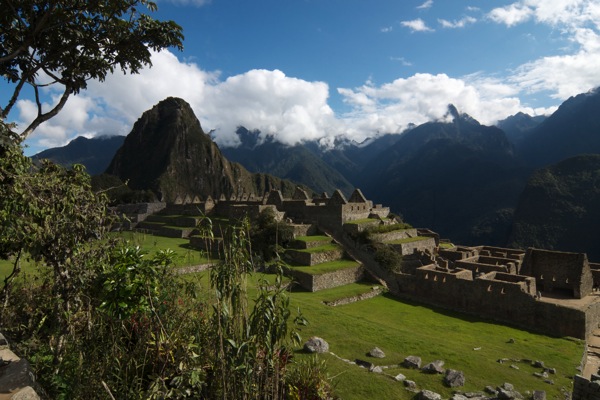 The next morning, I got up at 4:30am and walked to the bus stop at 5, to catch the first bus of the morning, which was at 5:30. There was already a long line. Luckily, they ran out of seats for couples and needed a solo person… so I skipped the line a bit and got the last seat on the first bus! After the half hour long, very winding bus ride up, I got to stand in another line before the gates opened. Once they did, I rushed ahead of the gathering tour groups and got my tourist-free Machu Picchu pictures.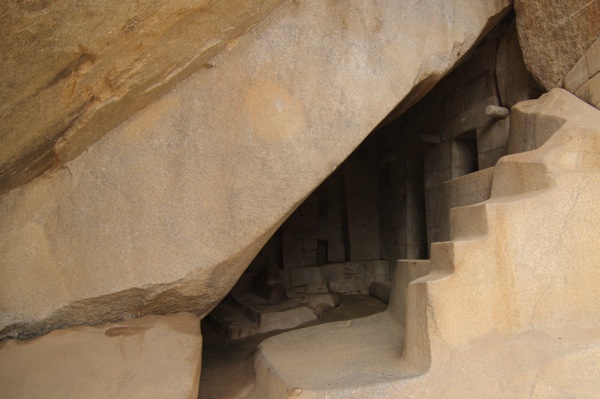 Machu Picchu is, of course, amazing. I think the main attraction of it is the sheer size and the beautiful settings. The narrow, tall mountain peaks in the background are an identifiable characteristic of the site, even though it lacks the intricate carved details of Angkor Wat, and the gorgeous pink and orange limestone of Petra. It does has the Inca attention to detail in terms of its orientation and position in the mountains, and the number of temples throughout the site (such as the Temple of the Sun, left). The stonework is nice and well engineered against earthquakes, but it's not very embellished. Throughout, you can imagine finding the sacred animals hidden in the walls: the serpent, for the underworld, the puma, for the living world, and the condor, for the overworld.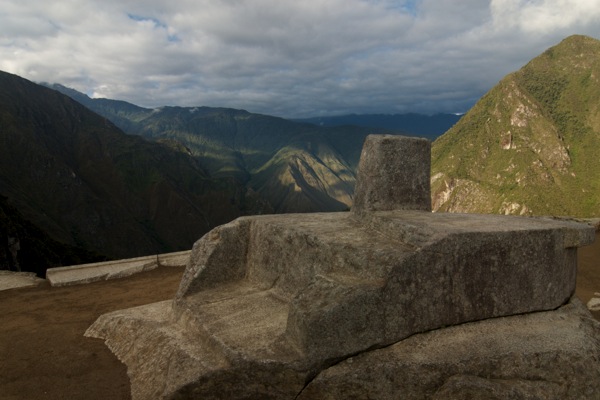 Sometimes, I linger at a specific spot and eavesdrop on the tours that pour through, contributing to my knowledge of what's what, like the energy stone (pictured), and the temple that was either damaged from a 1915 earthquake, or tourists walking on the top, depending on which tour guide was talking.
I spent over four hours total walking around Machu Picchu, from 6am until 10:30, when the hoards of tourists increased a thousandfold. I'd been walking through a number of passageways in the residential area, almost completely alone. This is my favorite way to see the sights; having enough time to take in all the small details as well as the overall, not being rushed through a tour with no time to take good pictures.
I wanted to visit a number of other sites, but unfortunately my bad knees and altitude sickness made trekking a very bad idea. That was one very disappointing part of the week, but considering how hard walking up and down the steps in Cuzco was, I don't think I'd make it through a trek without seriously injuring myself. At least I have scuba diving.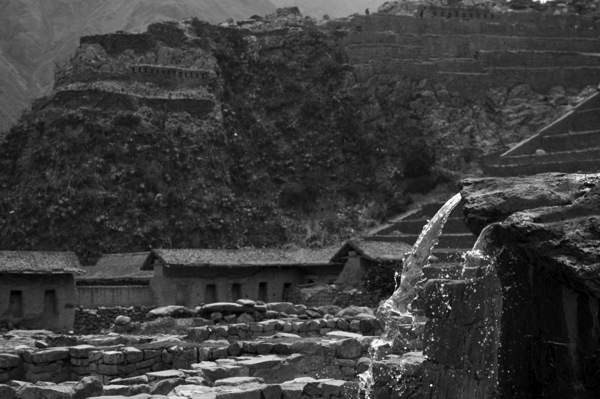 Two other sets of ruins I did get to see were Ollantaytambo and Pisac, both near towns that were easy to get to by public transportation. Naturally, they were a bit underwhelming compared to Machu Picchu, but they were a different enough style to be interesting. The Ollantaytambo ruins were a short walk from the main plaza of this lovely little town (I wished I'd stayed there a night), and consisting of terracing and some structures on the top and the bottom. There were some really neat examples of Inca irrigation systems as well (pictured).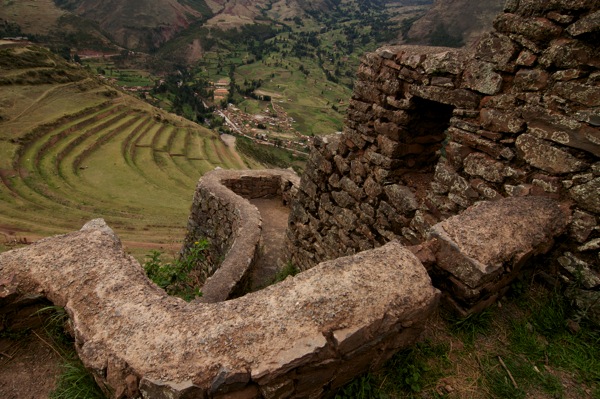 Pisac (pictured) was more difficult to get to; farther away from the town of Pisac, it required an expensive taxi ride to get to, and I had too little time to really enjoy it. Pisac was much bigger and more spread out than Ollantaytambo, with much more impressive terracing and a great view of the valley. Unfortunately it was also undergoing some restoration, so I had to edit out lots of blue tarp. Overall, both were nice to visit, but I wish I'd done them before Machu Picchu, and gotten a much early start before attempting to do both in one day. I regret not having more time for the entirety of the Sacred Valley. There's always more things to add to the list, another place to go back to someday!
Up next, a week and a half in Bolivia, and then on to Central America!