Scuba Report: Mexico
Note: These are not my pictures!
Tulum is a small city on the ocean, with its own ruins, beaches (which I don't really care about), and tons of cenotes nearby to explore and dive. I spent three days diving in the area, starting off with a bull shark dive off of Playa del Carmen, just 45 minutes north of Tulum. Though I didn't like that they baited the sharks, having huge sharks circling around is pretty cool. Don't worry, sharks don't kill nearly as many people as the media and Hollywood would like you to believe.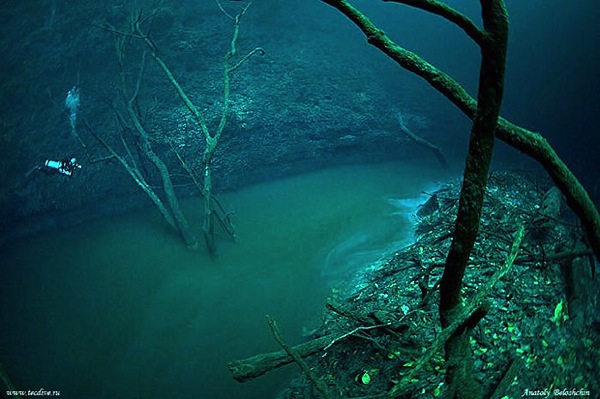 The cenotes, which are the main diving attraction in Tulum, were amazing to dive. In total I did 4 dives, my favorite one being Angelita (first picture), a deep sinkhole. We dove down to 30m / 100ft where the fresh water meets a cloud of hydrogen sulfate, colored from the rotting trees that are scattered around the cenote. 
Once you descend through the cloud, you wind up underneath, circling around in the dark surrounded by dead trees. Really, really cool dive. It's pretty much like falling into a horror movie set, which is right up my alley.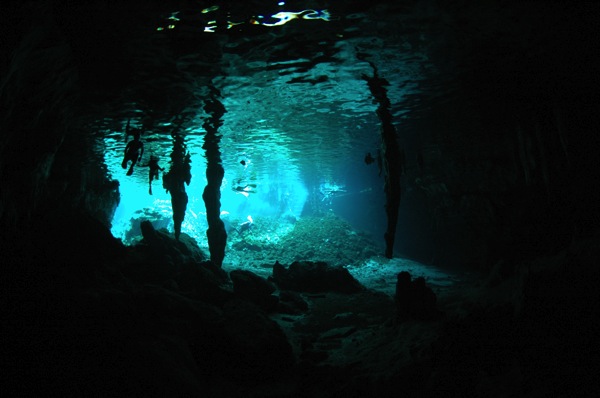 The other ones I did were Calavera, Gran (2nd picture) and Casa Cenote, all very beautiful but different from Angelita. 
Everywhere I've been, I've been unable to resist the urge to dive, so the month of December was absolutely wonderful for diving, but not for my budget!
I set aside a few days to dive in one of the most popular spots in the area, which is Cozumel. After my detour through Valladolid and Merida to see more ruins (see my previous entry), I took a bus to Playa del Carmen, and from there caught the ferry over to the island of Cozumel. I had a couple of hours in Playa, and found nothing there but a glut of tourist spots, gaudy, overpriced souvenirs, and lots of people trying to sell me everything. I was thankful to get on the ferry out to the island, though I expected Cozumel to be even worse.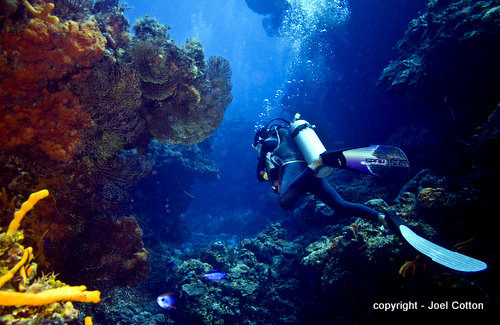 Luckily, it wasn't. There are lots of touristy spots all over, not to mention the all-inclusive resorts all over, but I stayed at a really nice, and inexpensive, hostel. A few streets over and the town turned into a normal place. The next day, I started the first of four dive days. Over the week I did nine dives, most in pretty nice spots, although some were just okay.
The best dives sites were the Palancars, one of which was basically walls of coral, forming arches and passageways that were great to swim through. The others, also good, were Paso del Cedro, Colombia, and then I finished the week with a night dive at Paradise Reef, which was nice, but very frequented. Over the last 6 months of diving, I've gotten much better and more natural, so these dives were very relaxing, and I got to work on perfecting some of the skills I'd built up. It was the perfect "vacation" while on my trip.