Russia Part Three: Moscow, Vladivostok & the 1st leg of the Trans-Siberian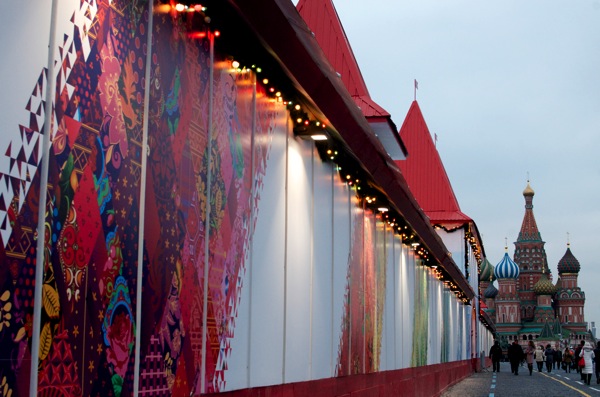 There's a place on earth where you can stand in one place, turn 360 degrees, and every single thing you see is epic. This place is Red Square, Moscow (and Russia's) penultimate tourist spot, where every single building in sight is a masterpiece. Even in the beginning of March it was crowded with tourists both foreign and Russian, and because of the Olympics there was a makeshift skating rink and stores with walls sporting the Sochi theme of Russian textiles. Red Square is a patch of pavement next to the walls of the Kremlin, an elevated, walled area containing cathedrals and museums. On another side of Red Square is the world famous St. Basil's Cathedral (shown, with the Sochi rink), an insanely decorative Russian orthodox church whose onion domes and bright colour scheme conjure thoughts of cake toppers. In any case, Red Square's hype lives up to itself.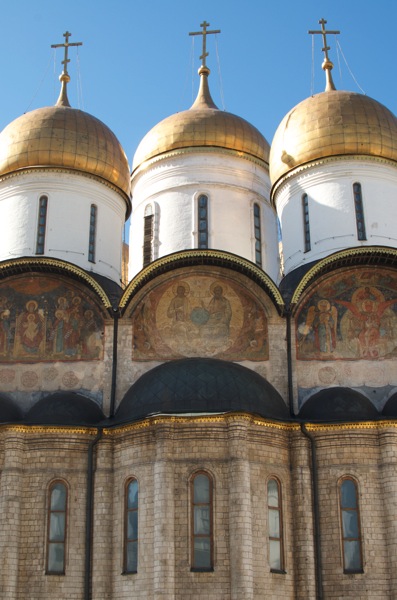 I wound up spending almost two weeks in Moscow, taking the time to slow down and just chill out while I figured out what to do next. I'd walked all over the city and made a map in my head, helped along by my iPhone, before I realised my hostel had a free map. With everything focused on Red Square, I could pick different areas to walk around each day, even getting away from the centre here and there.I'd come from St. Petersburg and other parts of Russia with the expectation that Moscow would be a big, drab city with a few nice areas, but I was pleasantly surprised.
There are a lot of nice areas, filled with beautiful old buildings, with lots and lots of monuments, museums, churches (like Dormition Cathedral inside the Kremlin, shown in 2nd picture) and various small parks. Outside the city centre it is more Soviet and grey, but that's most of Russia anyway.
I met up again with two Russian girls I'd met in Sochi during the Olympics, and got to spend some time with them. That was really awesome and made my time in Moscow even better. We went to Lermontov's estate outside of Moscow with some of their friends, something I probably wouldn't have been able to do with my limited Russian before then!
Women's Day rolled around while I was in town as well. I went out for dinner with a girl I met from Couchsurfing, at a nice, obscure restaurant a bit outside the touristy area. I walked back to my hostel through Red Square, and somewhere in the middle got caught by two guys who were going up to random women… to give them flowers. So they gave me flowers, wished me a happy Women's Day, and then walked away. How nice!
I always brace myself for guys asking for my phone number, or trying to catch me in conversation, but these guys were simply handing out flowers. Lovely, lovely Moscow.
I did a lot in Moscow, and will write some more specific stuff in an entry dedicated to literary stuff, but due to scheduling a flight home to visit my mom for the holiday, I actually flew out to Vladivostok in order to take the trans-siberian from the east back to Moscow in the west.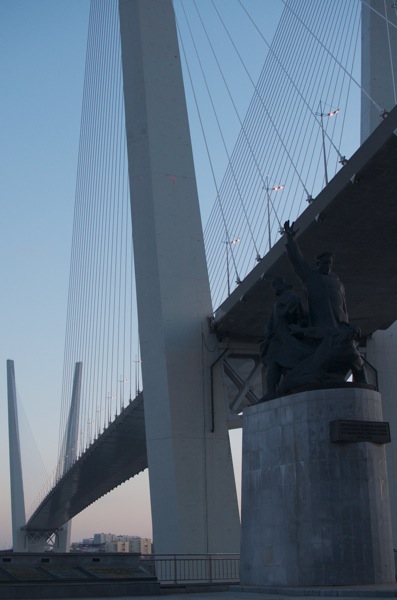 Vladivostok is a pretty small port city, where you can catch ferries to Japan, China and South Korea. It was refreshing to feel like I was back in Asia: I went nuts when I found a Japanese vending machine, and stocked up on Japanese and Korean instant noodles for the upcoming 3 day train ride out.
There wasn't really that much to see in Vladivostok, aside from the occasional Soviet monument (pictured, under the city's famous attraction, a bridge), a scattering of war memorials and paraphernalia around the edges of the water, and the touristy but cute promenade on the sea. I lost a day to being sick with a cold, but a full day in the city was perfect.
Next, I spend almost 3 days on a train, a total of 61 hours. It wound up being two nights in 2nd class, most of it I was actually alone for. When I did have company, it was a mother and small daughter, both of whom were sick and also didn't speak any English. Go figure!
My mission for this segment of the trip was to read Harry Potter. And I did, 5.5 books out of 7. It's the most relaxing thing to just lay around, sleep and eat, and have no other obligations than the ones you make to yourself, and mine were just reading. I spend my time doing just that, drinking at least 15 cups of tea a day, enjoying my Asian noodles, and occasionally sitting in the dining car with more tea (or overpriced food) for a change of scenery while following the adventures of the boy wizard and his motley crew of companions and nemeses.