Turkey Part One: Istanbul, Pamukkale en route to Cappadocia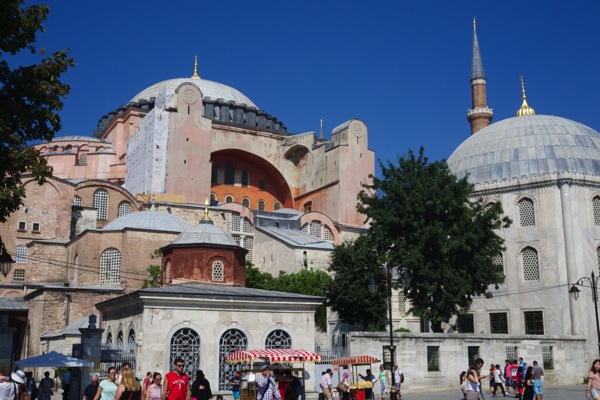 I landed in Istanbul in early August, which was hot but not completely unbearable. I'd been excited for years about the idea of visiting Turkey, a country full of history and ruins to see. Istanbul itself, Turkey's cultural capital although not its official capital, is chock full of sites to see, and can entertain tourists for weeks if not months. I started with just a few days there, visiting first Aya Sofia (also known as Hagia Sofia), a Greek orthodox church later converted to a mosque after the rise of the Ottoman Empire. You can see elements of both religions throughout the building, which is impressive in size and beauty. Intricate Arabic lettering decorates doorways and ledges and rings of domes, although the style is more simplistic compared to the architecture I'd last seen in Central Asia. Nearby, the Blue Mosque is an active mosque with its own impressive architecture, and a long line of tourists awkwardly trying to figure out how to put on headscarves.
After the relative dearth of tourists in Central Asia, Istanbul seemed completely packed. Wandering down the shopping street of Istiklal or the small alleys south of Taksim Square inevitably involved weaving through swarms of gaping tourists and their cameras. It didn't help that it was summer. My first night in Istanbul, I met up with a girl from Couchsurfing and spent an evening wandering around Istiklal, sharing beers in nearby metal bars, and radical opinions on politics among other topics. A few weeks later, I met up with her again, covering even more of the city.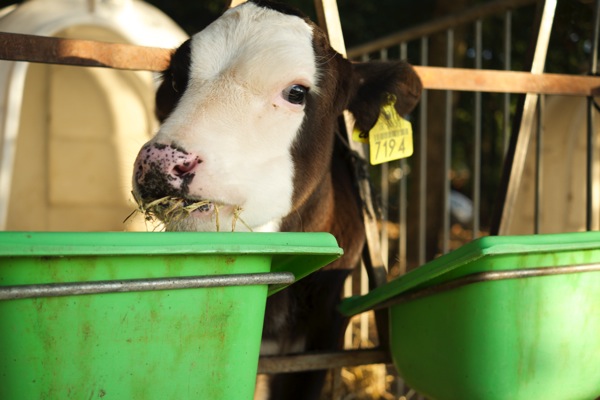 After Istanbul in those first two days, I went to a small dairy farm as a volunteer, which was a treat, a complete change of pace. After a relatively fast-paced romp around Central Asia, to be in one place for five weeks was amazing. The farm itself was pretty small, with tight-knit staff and a rotating but enjoyable group of volunteers living in the guesthouse. The numbers fluctuated between four at one point, to about fifteen at another. By choice, I wound up working a lot of mornings, getting up to help with the milking before the sun rose. Even cows don't want to get up in the morning, and pretty much glare at you and refuse to move when you want them to. Most of the work was shovelling cow poop, with a side of bottle feeding and cuddling baby cows. We stopped for tea at 16:30 every day and learned a few Turkish words to communicate with the non-English speaking staff. Overall, it was a rewarding and insightful experience. I had originally been waiting for a friend to come and travel with me, that didn't wind up happening, so instead I wound up deciding to travel with another girl, Leo, a German who was also volunteering at the farm.
We started back in Istanbul, just for a short stopover, staying with a friend of another Turkish volunteer from the farm. This girl was super smart and spectacularly good at languages, and practiced some German with Leo. It was sadly only a short stop, though, and the next day we took an early bus down to a city near Pamukkale, which took around 12 hours. Luckily, Turkish busses are extremely comfortable, and give you free snacks and drinks. We got there by evening and met up with our Couchsurfing host, another smart and multi-lingual Turkish girl with a generous heart and big personality. We had such a great time together we wound up staying longer with her.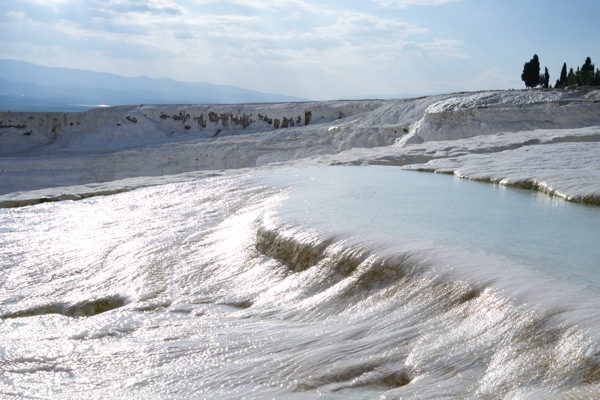 Pamukkale, famous for its white minerals and hot springs below a Roman ruins site, is a huge tourist attraction in Turkey, and sadly is mostly reconstructed at this point, after the government banned hotels that had been built on top. People have bathed in the natural pools for thousands of years, but at this point the pools are mostly artificial. Still, it was lovely to see, and Leo and I got a large pool all to ourselves for a bit, overlooking the travertine terraces.
From there, we went beachward, taking a few busses to get to Olympos, a small cluster of huts down a valley near the beach, with a walkway of ruins en route. This was a few days of utter relaxation, which I used to catch up on blog entries and generally laze around in the open-air lounge of the hostel. One night was spent swimming in the ocean with phosphorescence, little lights sparkling when you move through the water.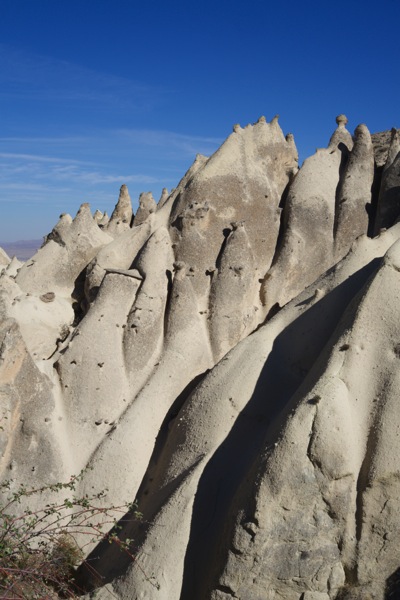 After Olympos we made a brief stop in Konya, where we visited the Mevlana Museum. This is the mausoleum of Persian poet and mystic Rumi, and the centre of Turkey's famous whirling dervishes. Finally, another bus ride later, we ended up in Cappadocia, famous for its "fairy chimneys" (pictured) and scenic hot air balloon rides. Cappadocia was 1000% worth the extra days we'd allotted for it. We found a cheap dorm room and bought groceries, making simple meals on the balcony and bringing snacks for the daily hikes we took. Since we were low-budget travellers, Cappadocia was perfect after we'd quickly (and independently) ruled out the obligatory balloon ride.
Cappadocia is a loosely defined, vast expanse of land consisting of many valleys of unique geological structures. My favourite hike out of these was Rose/Red Valley, which was incredibly painful to hike with bad knees, but well worth the views (see picture).
Another fascinating part of this place was the rock-hewn churches and houses. Some were simply spaces cut from the rock, such as the one you can see in the middle-right of the picture, but others were intricately carved churches with still-intact frescoes created by early Christians from the 4th century onward. Although I'm not usually a particular fan of frescoes, the age, simplicity and unique location makes them more interesting. 
There are also a few underground cities, including the one I visited that was complex and multilevelled, going down 60 metres / 200 feet underground! This was a fully functional city with an air ventilation system connected to the outside, but fortified to provide refuge to a population of 20,000 under persecution by the Ottoman Empire. It also included amenities like wine and oil presses, stables, cellars, and even a cruciform chapel at the bottom. A bit claustrophobic, but incredibly fascinating.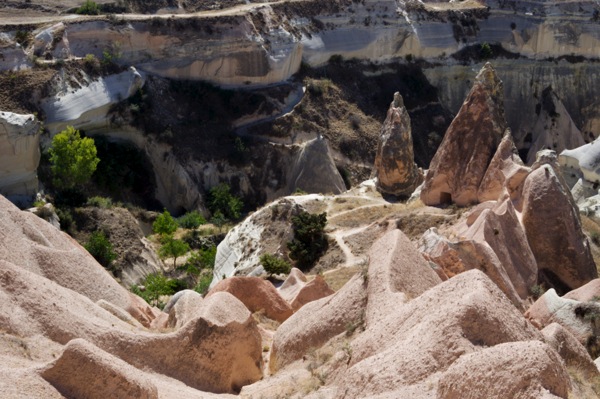 Overall Leo and I went on at least four hikes of varying lengths together, and although she was much faster than I was, she still waited around for me! On one day, a small dog started following us, or rather guiding us along one of the hikes, and followed us back into town. We named her Samwise for her faithfulness, and I threw her bits of flatbread once we got back to town for lunch. Stray, or at least loose, cats and dogs are all over Turkey, and are wonderfully friendly and not rabid. Turks are incredibly friendly and warm people, so it doesn't surprise me that the street animals are the same.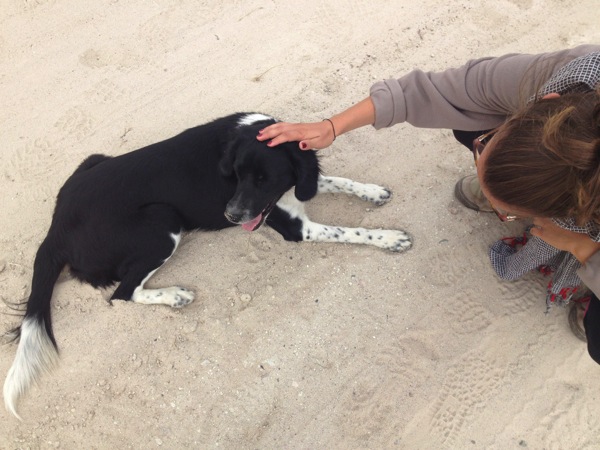 Leo was running out of time, so I saw her off on a bus back to Istanbul, and went back to a completely empty dorm room. In the end, I was so happy to be there that I wound up staying in Cappadocia another few days, taking more slow hikes and waking up to sunrises with a sky full of hot air balloons, and stopping for the occasional latte with a spectacular view.