Turkey Part Two: Urfa and around
After beautiful Cappadocia, I headed southeast to a city called Urfa (short for Sanliurfa), in the Kurdish region in Turkey. Close to the border with Syria, Urfa hosts a mixed population of Turks, Kurds, and Syrians. It was the first time in a while that I'd found great falafel — I wound up at the same restaurant four nights in a row! My main reasons for going to Urfa were archeology and culture. There are several monumental sites nearby, and I wanted to also learn something of Kurdish culture, since Urfa is on the western edge of the Kurdish region. I wound up with more than I bargained for, but I'll get into that later.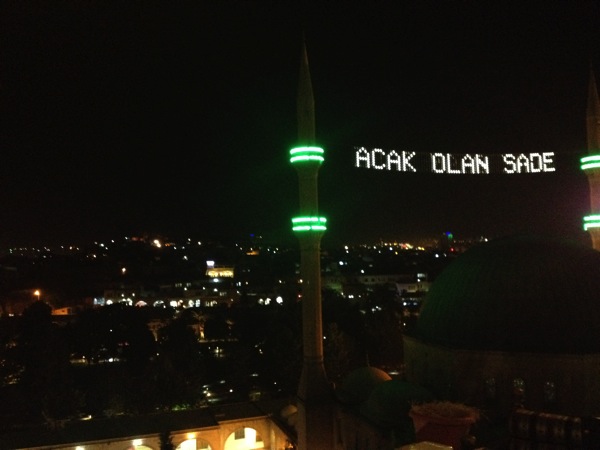 Urfa itself is a sizeable city with a historical area. It's home to several important sites, including cave thought of as the birthplace of Abraham, Urfa castle, and Balikligol, a pool of sacred fish. The legend goes that Nimrod sentenced Abraham to death for his ideas, but when Abraham was thrown into the flames, the fire turned to water and the logs into fish. It's now surrounded by a beautiful park, which makes for a nice walk and an opportunity to feed and commune with the fishes. Nearby, a steep walk up leads you to a variety of cafes on the cliff, overlooking the old city and the Mosque (pictured). I met up with a few people in the city, and spend a few evenings drinking coffee with that view in sight.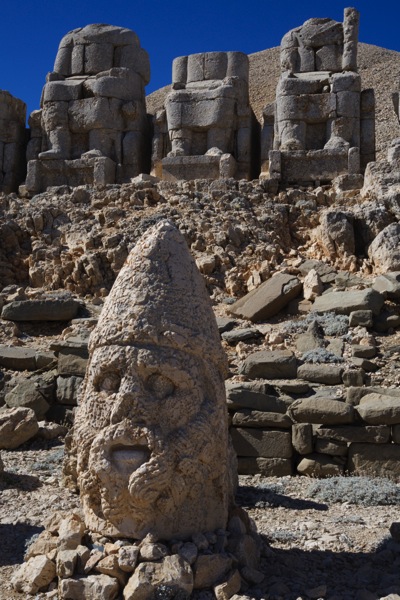 The first of the sightseeing was a day trip out to Mount Nemrut, a sanctuary of sorts created by Commagene King Antichus at the top of a mountain. The site, perhaps intended as a tomb (although no actual tomb has been found), contains sculptures of a variety of gods: Persian, Armenian and Greek. It's said he was creating a cult, and intended to be worshipped after death.
Nowadays, there's a steady trickle of tourists that come through the site to admire the huge statues; some of the heads are taller than me. There are two main sets of sculptures, placed on the east and west side the artificial conical mountain top. They have all been beheaded and defaced, likely a punishment against idolatry. The heads rest at the bases of their sitting Gods.
I went with three other people from the hostel I was staying at, which was an amazingly strange and interesting group of people. There was a dearth of tourists at the moment, which was nice. The main groups come for sunrise and sunset, but we arrived around noon, which was perfectly fine anyway. It was nice to have the site almost to ourselves. I shared some philosophical conversation with one woman while sitting in front the first batch of statues, a lovely Muslima from Malaysia.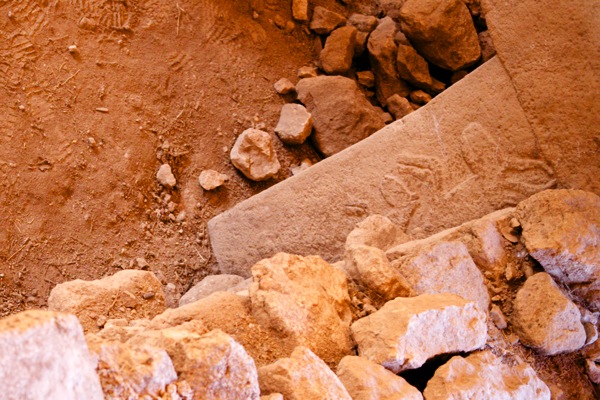 The next site of importance was Gobekli Tepe. This ancient site (almost 12,000 years old) was recently discovered, and provides compelling evidence of the earliest known city. Compared to Stonehenge, "Göbekli Tepe was built much earlier and is made not from roughly hewn blocks but from cleanly carved limestone pillars splashed with bas-reliefs of animals—a cavalcade of gazelles, snakes, foxes, scorpions, and ferocious wild boars. The assemblage was built some 11,600 years ago, seven millennia before the Great Pyramid of Giza. It contains the oldest known temple. Indeed, Göbekli Tepe is the oldest known example of monumental architecture—the first structure human beings put together that was bigger and more complicated than a hut. When these pillars were erected, so far as we know, nothing of comparable scale existed in the world." (Article at National Geographic)
I first learned of this site while watching a documentary about agriculture and wheat harvesting at the dairy farm I volunteered at, and added it to the list of places to visit. While I mostly like visiting sites that are photogenic, large and impressive, I can still appreciate seeing places that, while small and still being unearthed, represent important insights into ancient history. This is what that was: seeing a simply carved animal on a stone, and knowing how significant it was for the time.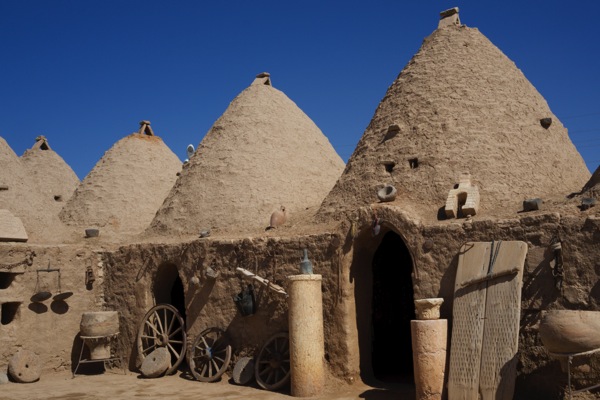 Another small stop I made near Urfa was the ruins of Harran, an ancient city in Upper Mesopotamia that was a commercial and cultural hotspot around the 3rd century BCE. While the ruins themselves were not very interesting comparatively, the beehive huts nearby are a major draw. These adorable mud brick buildings are actually very cool inside despite the heat.
The southeast of Turkey is an archeological gold mine. Unfortunately, it also comes with political conflicts, having history of major clashes between the Turkish government and the Kurdish independence movement. In addition to this, it's close to the Syrian border and the region has received hundreds of thousands of Syrian refugees, many of them Syrian Kurds. At the time I was there, the city of Kobane, only 60km/37mi away from Urfa itself, was under siege by ISIS. Although at the time I'm writing this ISIS has mostly been pushed out of the city by the Kurdish forces, at the time it seemed that the fall of the city to ISIS was imminent, and the tension of that had a major affect on the mood of the hostel I was staying at. The hostel was, at one point, half tourists and half journalists and photographers. In my next entry, I'll talk more about that situation.