The In Transit Report: Christchurch to Chuuk, Micronesia
I think this was the longest time I've spent flying, ever. About 32 hours of travel time total, from Christchurch to Guam, and that's not even counting the flight to Chuuk! I had a 11 hour flight from Christchurch to Singapore, where I had a 7-hour layover. Singapore Airlines might be the nicest airline I've ever flown with. The planes are so beautifully decorated… one of them had gold toned seats and carpet, and the pillow was actually frilly. I also had the whole row to myself so I did get some sleep. The food was good (and all free), and they served it with real silverware. Loved it! In Singapore, I left the airport and went into the city. First off, it was crazy hot and humid outside. And it was dark out. That's what I get for going straight from winter to summer.
Singapore reminds me a lot of Tokyo, in all the right ways. It's big, clean, has really neat new buildings, and even the public transit is clean and very organized. Definitely cheaper than Tokyo, though. A ride from the airport to the city cost $2 on the train, and my dinner (friend rice with veggies) was only $5. In USD, that works out to a total of $5.50. As was recommended to me, I checked out the marina, which had some live shows going on, and all the buildings were lit up and gorgeous. There were light shows all around the marina, and it was really great to just sit and watch everything going on around me. I'm glad I got out of the airport, though I didn't do that much. I think I would enjoy Singapore for a few days.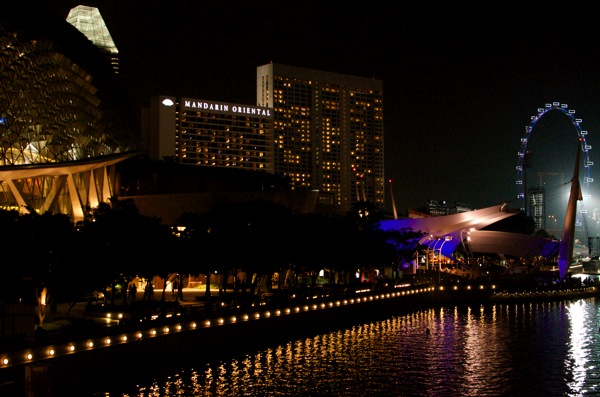 Next I got on a 7-hour flight to Nagoya, Japan, also with the whole row to myself. In Nagoya I had a two-hour layover, so I just hung out in the airport. It was nice to be back in Japan, though I wish I'd had some Japanese money for the vending machines. I remembered enough Japanese to order my coffee and answer some questions, and the baristas were nice enough to not switch to English. Good practice! I'm excited to go back to Japan, which is where I'll be around the second week of August. On the last flight, a 3.5 hour to Guam on a small plane, I also had the row to myself. Three for three!
I had about 24 hours in Guam, so I just got the cheapest hotel to crash at. There aren't any hostels here, so that was cringe-inducing. But I had a whole room to myself, something I'm not used to, and took the longest shower known to man. There was TV, too, which was soul-sucking. Guam feels very much like America, and considering it's technically a part of America (as a protectorate, territory, or something like that), I'm not surprised. I'm interested to see what's it's like outside of my 24-hour stint.
The next day, I wasted some time in the Micronesia Mall before my flight to Chuuk. It's a mall, obviously. Got some lunch, wandered around, debating buying an underwater camera for my dives in Chuuk. In the end I decided not to, for a few reasons. First, I don't want to buy more stuff, have to cart it around, and worry about it. Secondly, I'm not a skilled enough diver to manage diving and a camera at the same time without issues. Third, as much as I love photography, it can take away from the actual experience. Shipwrecks are definitely an experience. Having finished the dives in Chuuk, I have to say that not having a camera was absolutely the right decision. As for my time in Chuuk, that's for the next entry.